In this article, we cover a quick breakdown of removing and inspecting the stock brakes for all 2005-2014 S197 Mustangs. Visually inspecting the brakes on your Mustang is a necessary maintenance procedure to ensure your car stops on a dime. Whether it be a daily driver or an off-road warrior, if your brakes are not up to par, this can be a safety concern. We will show you how to remove all of your stock components within this article, including your rotors and calipers, for the front and rear. This will allow you to give your setup a complete inspection to see if any of these parts need to be replaced.
Today in the shop, we will be working on LMR Employee Jay Walling's 2012 GT500. This car is nearing 200,000 miles, and we have noticed some pulsation in the past few months when coming to a stop, so it is past due for a brake inspection. We would like to note that this vehicle will be equipped with factory Brembo brakes. These same procedures can be used on all 05-14 applications, but some hardware sizing could vary.
Tools Needed
Lift or a jack and a set of jack stands
Complete socket set
3/8" or 1/2" impact or ratchets
Breaker bar
Dead-blow hammer
Some assorted pry bars
Overall this one should take you roughly 1-2 hours to complete. Let's dive in, and we will show you how simple this is to complete.
---
Steps To Remove 2005-2014 Mustang Brakes
To begin, place the car on a lift or jack stands.



Remove both the front and rear tires.



Starting up front, locate each of the caliper mounting bolts. These will be 15mm bolts, go ahead and remove these at this time.



Pull the caliper away from the spindle, and using a small section of a metal coathanger, hang this up, so you do not damage or stress the brake hose.



Now you can remove the rotor.



If you are needing to remove the caliper completely start by sliding a drain pan under the main hose connection on the frame rail.



Next, using a 13mm line wrench, break the fitting loose from the caliper hose.



Once this is separated, cap off the hard line on the chassis side.



Now remove the 10mm bolt on the backside of the strut and the bolt located on the frame rail.



Now you can fully remove the caliper from the car.



Moving to the rear of the vehicle, Remove both of the 13mm bolts holding the caliper to the anchor. Once these are out, you will be able to pull these apart. Hang up the caliper as we did on the front end.



Now you can remove your stock brake pads.



The caliper anchor mount will be bolted to the axle flange by (2) 15mm bolts. Break these loose, and then you will be able to remove this from the car.



Tap on the backside of the rotor face in a few spots to free this if it is stuck in place.



To completely remove the rear caliper you can start by placing a drain pan under the car and you will break the fitting loose with a 13mm line wrench to separate this from the hose.



Remove the ABS sensor wire retaining clip & remove the 10mm line bracket bolt at this time.



Cap off the line at this time.



Dislodge the e-brake clip and remove the cable from the caliper.



Now you can fully remove the caliper from the car.



Take this time to inspect all of the components visually; this will include the following:


Caliper | (Check for leaking fittings and any worn seals or boots)



Brake Pads | (Check for thin pad lining or any cracks/damage to the pad face)



Rotor | (Check for excessive heat marks or cracks)



Dust Shield | (Inspect for any bends where this could interfere with the backside of the rotor)



Wheel Bearings & Hubs | (Look this over for any signs of wear or damaged/missing lug nut studs)



Brake Lines & Hoses | (Check for any leaks and possible chafing where something could have rubbed it)



Associated Hardware | (Inspect for rounded off heads or damaged threads)
If any of these parts appear to be worn or damaged, take this time to replace these. If everything is in good shape, reverse these procedures and tighten all components back to factory specifications.
One last area to inspect will be your master cylinder. Pop the hood and give this a once-over. Look for any leaking lines, missing or damaged cap, and any cracks or damage to the reservoir.
Also, inspect the condition of the fluid. If this looks dark or possibly contaminated, you may want to consider a proper brake flush. Check out our Mustang brake flush video if you want to learn more.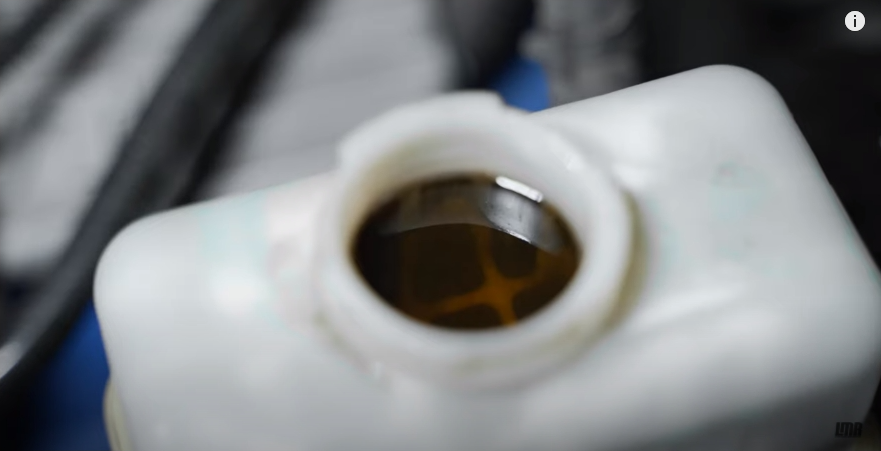 If everything is in good shape, make sure your fluid level is topped off and at its proper level.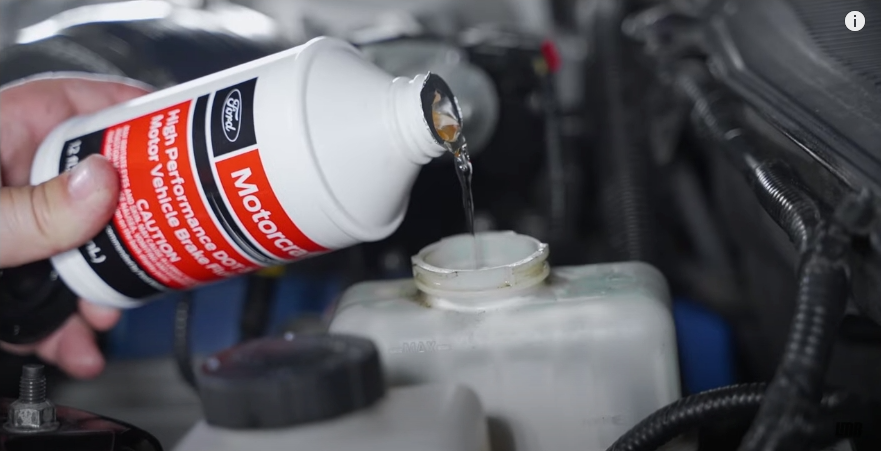 ---
We hope that this article has helped you and you have a better understanding of how to inspect your brake system for your S197 Mustang.
---
As always, make sure to keep it here with the Real Mustang Enthusiasts at LMR.com.
---