1989 Ford Mustang LX Hatch 5.0L Hits The Dyno!
Date Created: 7/28/2022
Last Updated: 12/9/2022
LMR team member Josh Williams just picked up his new to him 1989 LX hatchback 5.0L and is loving every minute of owning it. He has a few mods to the car so far, so let's see what it does on the rollers today!
FOLLOW: dyno , tech , 79 93 mustang , lx , hatchback , mustang
For this dyno article, we will cover our employee Josh William's 1989 LX Hatchback. This LX Hatch is a work in progress and has a list of parts he plans after this baseline dyno. Check out below for more pics, dyno technical data, and the dyno results!
---
Jump To:
Dyno Numbers & Photos
---
← Swipe For More 1989 LX Hatchback Photos →
---
Dyno Technical Data
SVE Rear wheels are 17x10 w/ 275/40/17 Nitto NT555 G2 Tires
T5 5-Speed Transmission So Dyno Pull Will Be Made In 4th Gear (1:1 ratio)
3.73 Rear-End Gear
Aluminum One-Piece Driveshaft
BBK long tube headers
Stock upper and lower intake
93 Octane Fuel
Custom off-road X pipe and Pypes M80 mufflers
SVE 70mm throttle body
Factory airbox
OEM Ford 5.0L Longblock
---
Dyno Results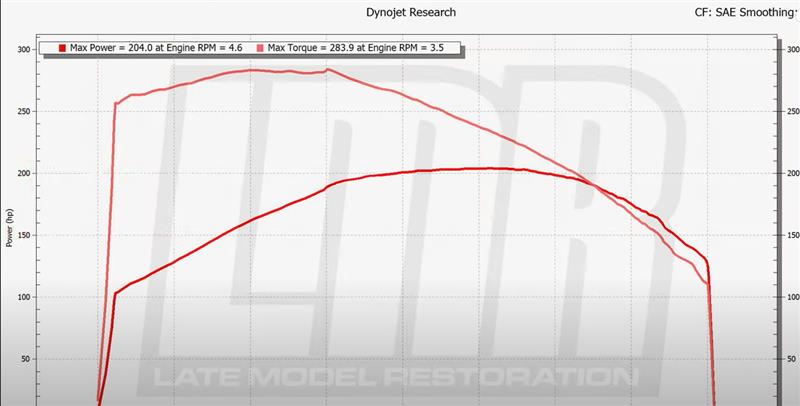 ---
Here are the results! Josh's LX made 204 horsepower at 4600 RPM and 284 lb/ft of torque at 3500 RPM. Josh wanted a good baseline for his future plans on his ride. He is possibly planning a heads/cam/intake upgrade or even a bit of boost down the road. Make sure to follow our YouTube channel for any updates! As always, keep a lookout for more dyno articles and videos right here at LMR.com.
---
About the Video
Ford Mustang LX 5.0 Hatch Dyno!
Check out our YouTube channel for even more tech tips, installation videos, how-tos, and more. The best place to go for anything Mustang related!
Published on 2022-04-14
Find out how much power this Ford Mustang LX 5.0 Hatch makes!

Josh's Fox Body LX Specs:
Factory airbox
SVE 70mm throttle body
Stock upper and lower intake
BBK long tube headers
Custom off road X pipe and Pypes M80 mufflers
aluminum drive shaft
373 gears
Wheels are 17x10 275/40/17 Nitto NT555 G2 Tires
93 octane

*Watch*

Ford Crown Victoria Police Interceptor Hits The Dyno!
https://youtu.be/l7J6T6i6N5E

Will A Stock 14,000 Mile Fox Body Make Decent Power On The Dyno?
https://youtu.be/rPZVqM2VHrA

All Things Mustang Dyno:
https://youtube.com/playlist?list=PLMti2eKQ3th_SMVaWhDt8PIAuuwAZBL0I

YouTube: https://latemodelres.to/youtube-subscribe
Facebook: http://www.facebook.com/latemodelresto
Instagram: http://instagram.com/latemodelresto
TikTok: https://www.tiktok.com/@latemodelresto

#LMR #FoxBody #MustangDyno

Use of this video is subject to the terms as set forth in our LMR Install Video Disclaimer | https://lmr.com/page/lmr-install-video-disclaimer