How much power will this 2015 Mustang GT make? This car is equipped with a host of aftermarket goodies featuring a Stage 3 Power Pack from Ford Performance, GT350-style cat back exhaust, Ford Performance track handling pack, and SVE R350 wheels just to name a few.
Also, check out our What is a S550 article to learn more about this chassis and how it is considered one of, if not the best, performance Mustangs Ford has ever produced.
---
Jump To:
Dyno Numbers & Photos
---
←

Swipe For More 2015 Mustang GT Photos

→
---
Dyno Technical Data
GT350 Intake Manifold
GT350 87mm Throttle Body
GT350 Cold Air Intake
19" SVE R350 Rear Wheel w/ 305/35/19 Michelin Tires
MT82 Transmission (Pull was made in 5th gear which is 1:1)
Ford Performance GT350 Cat Back w/ Resonator Delete
Stock Two-piece Driveshaft
3.73 Rear Gear Ratio
93 Octane Fuel
Ford Performance Tune
---
Dyno Results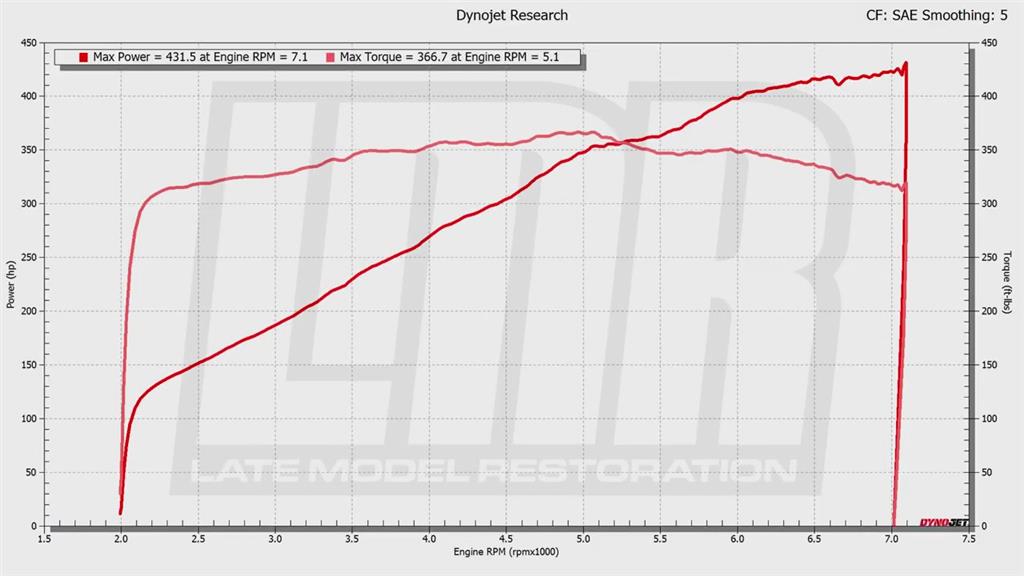 ---
When we first installed the Stage 3 Power Pack on the car, it made 432 horsepower and 380 pound-feet. Well fast forward 5 years later, we're still on the same dyno with a little bit different conditions. We originally dynoed the Mustang in January of 2017, so it was a little bit cooler outside. We do use SAE numbers so that calculation does stay the same. It was about 90 degrees and the humidity was extremely high and this S550 is still making 432 horsepower at 7,100 rpm. We did see a little bit of torque loss, 367 pound-feet at 5,100 rpm. But that torque loss could be a multitude of things. But needless to say, you know the car is still making around the same horsepower and the same amount of torque as it did five years ago.
We hope this dyno gave you some more insight on just what this S550 5.0L is capable of. As always keep a lookout for more dyno articles and videos right here at LMR.com. Shop our featured 2015-2023 Mustang Parts below!
---