The "S550" codename is the model of the 6th generation of the Mustang family and spans from 2015 to the present. This is the first Mustang to be marketed and sold globally, the first time that they have been produced as a right-hand drive and the traditional left-hand that we are accustomed to. This is all part of Ford's "One Ford" business plan, which applies to other Ford vehicles, not just the sports cars. In the article, we will go over every aspect of the S550 incredible design and how it has been improved from earlier versions.
BACKGROUND
This new Mustang model was released on December 5, 2013 with same-day media events in cities worldwide. This 2015 Mustang marked the 50th anniversary of Mustang production which first began in March of 1964. Development for the S550 began in 2009 under chief engineer Dave Pericak and exterior design director Joel Piaskowski. In December of 2010 an exterior design theme was proposed by Kemal Curic from Ford's Cologne, Germany design studios and was selected by Ford's design management team. So, Ford relocated Curic to their design studio in Dearborn on January 2011. During the middle of development, the original design made by Curic was rejected by Ford's executives, which resulted in rapid changes. 3 different exterior design proposals were made in September 2012 which resulted in the first proposal being approved by Ford management. The final design was locked in on December 2012 which was 20 months ahead of schedule. The interior design program had begun in Spring of 2010 under Doyle Letson and by late 2011 the final interior proposal was settled on and combined exterior theme proposals 1 and 2. As of June 2012, the final exterior was locked. So, the first test mules in 2010 model year bodies were spotted earlier in June 2012, and the first S550 prototypes were built five months later in May 2013.
FEATURES OF THE 2015 Mustang S550
Base V6 model came with a 3.7 V6 engine from the previous generation, AM/FM radio with six speakers, Ford SYNC, USB, iPod, aux input jacks, cloth front bucket seats, 17" alloy wheels, keyless entry with push start, and either a 6-speed manual, or automatic
The Ford Mustang Ecoboost model has similar features to the V6 but instead of the 3.7 V6 it has a new 2.3 turbocharged four-cylinder Ecoboost engine. Also, it adds power front seats
The Ecoboost Premium model has leather seats, MyFord Touch with Ford SYNC, HD Radio, and the SHAKER sound system
The Ford Mustang GT model comes with a 5.0 TI-VCT V8 engine
2015 FORD MUSTANG COLOR OPTIONS
| COLOR CODE | COLOR |
| --- | --- |
| CY | COMPETITION ORANGE |
| H3 | TRIPLE YELLOW TRI-COAT |
| HN | GUARD METALLIC |
| J4 | DEEP IMPACT BLUE METALLIC |
| J7 | MAGNETIC METALLIC |
| PQ | RACE RED |
| RR | RUBY RED METALLIC TINTED CLEARCOAT |
| UA | BLACK |
| UX | INGOT SILVER METALLIC |
| YZ | OXFORD WHITE |
2015 MUSTANG INFORMATION
2015 MUSTANG SPECS
SPECIAL EDITION S550 PACKAGES
Mustang 50 Year Limited Edition (2015)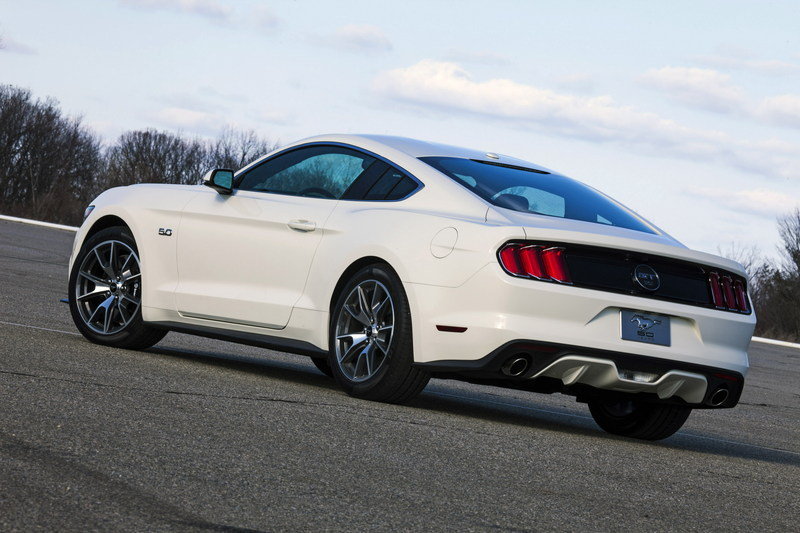 Only 1964 units were made of this 15' GT Coupe and came equipped with the performance pack (drivetrain improvements) and this was made to commemorate the 50th anniversary of the Mustang vehicle lineup. Also, this came with 2 special edition body colors from 1964 which were Wimbledon White and Kona Blue. This model was marketed as a 2014 ½ model which pays tribute to the original 1964 ½ model. One of these Limited Editions was also used as a pace car for the NASCAR Sprint Cup and Nationwide Series races during Ford Championship Weekend November 14-16, 2014.
F-35 Lightning II (2015)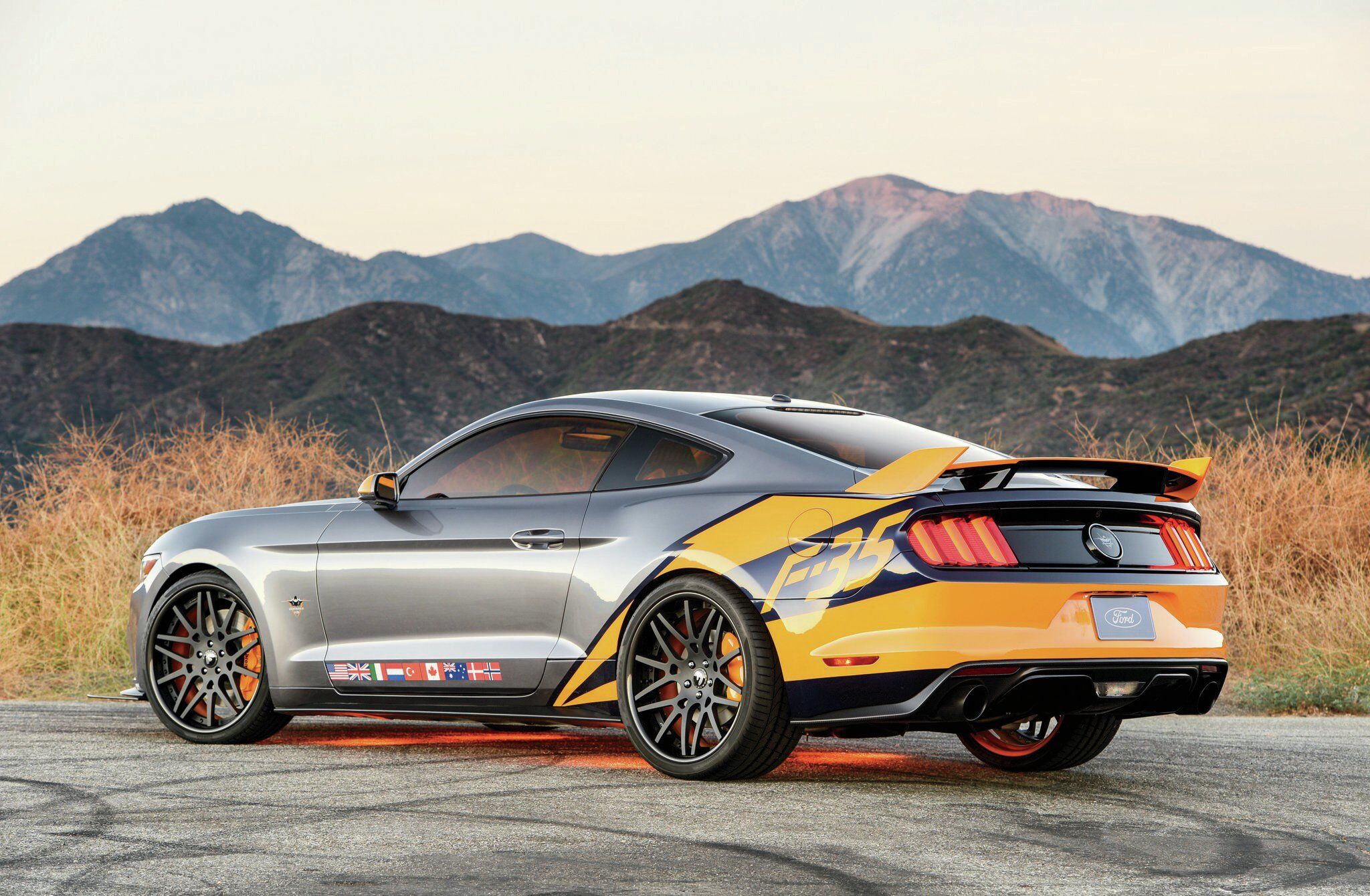 This was a special Mustang that was auctioned off at the EAA (Experimental Aircraft Association) AirVenture air show in Oshkosh, Wisconsin. All of the proceeds went to the EAA Young Eagles program. This Mustang was named after the F-35 Lightning II fighter jet and included a glossy and matte dark-silver paint with yellow hood stripes, mirror caps, and brake calipers. It also included gold tint on the windows as well as custom black and yellow Forgiato 21-in wheels. For suspension it had lowered Eibach springs and the exhaust had larger, ceramic-coated cans. It also included many carbon fiber components to match the fighter jet style which included a front splitter, rear spoiler, sill extensions, and a rear diffuser. To complete this one of kind vehicle it had a F-35 Decal on the rear quarter panel as well as the flags of all of the US allies on the lower doors.
Galpin Fisker Rocket (2015)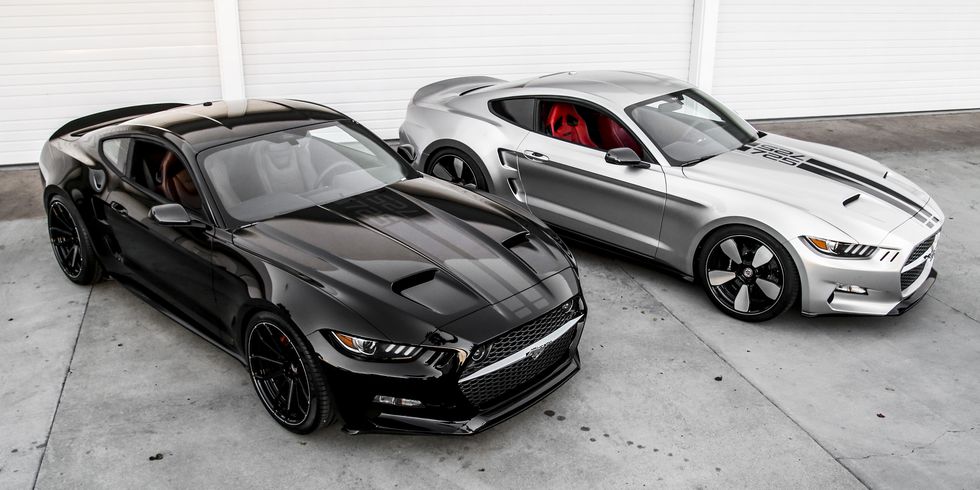 This vehicle was named the "Ultimate American Muscle Car" at the 2014 Los Angeles Auto Show and was built from Galpin Auto Sports with designer Henrik Fisker. Dubbed the "Rocket", this supercharged 725 hp V8 used a lot of carbon fiber for the body of the vehicle to add a sleek, lighter look. It also featured huge 15" Brembo brakes, special leather interior, and 21" ADV.1 wheels.
Roush RS Models (2015-2016)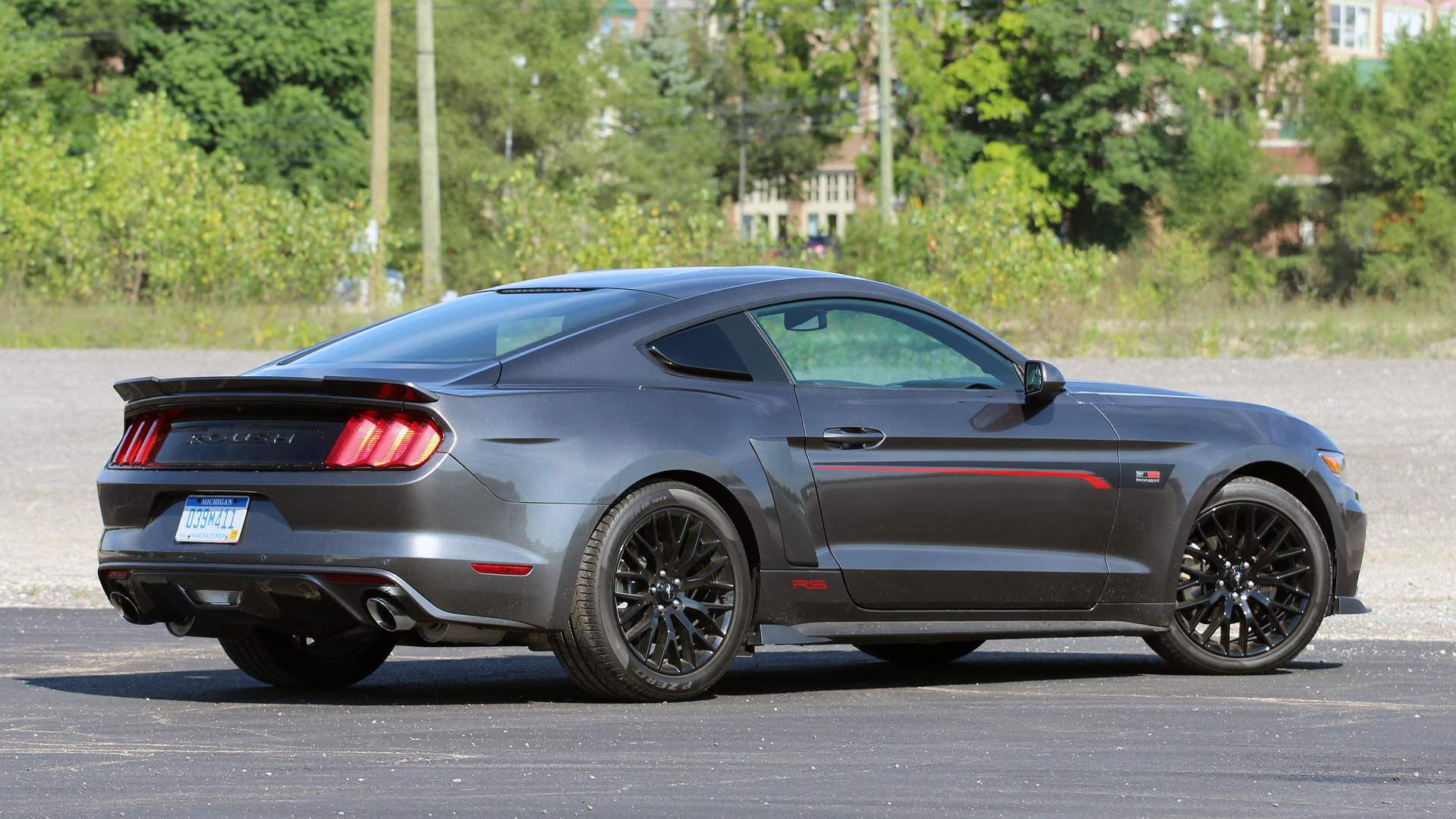 These are upgrade packages from Roush Performance, and for 2015's it included front and rear fascia's, driving lamps, new grille, side-sill extensions, rear spoiler, and embroidered floor mats. Stage 1 packages get a performance exhaust system while Stage 2 gets everything mentioned as well as a set of 5-spoke 20" "Quicksilver" wheels and Cooper RS3 tires. There are optional upgrades on both stages such as a hood scoop, window scoop, ball shifter, billet pedals, Roush gauges, and doorsill plates. For the 2016 models they are mostly the same package except a price raise of $5,995 on the basic RS. Also, the Stage 1 supports the Ecoboost which raised the price to about $8,000 with stage 2 having a raised price of $11,955. Lastly in 2016 Ford came out with a Roush Stage 3. It comes in at 670 hp with an option to upgrade to 730 hp. The lower hp version still retains the 3 year/36,000-mile warranty, but the upgraded hp option does not. Features include a Roush Quad-Tip exhaust, "R7" aerobody, single adjustable coilover suspension system, with an optional competition-tuned 3-way adjustable system.
ROUSH STAGE 1 & 2
ROUSH STAGE 3
Warrior Edition (2015-2016)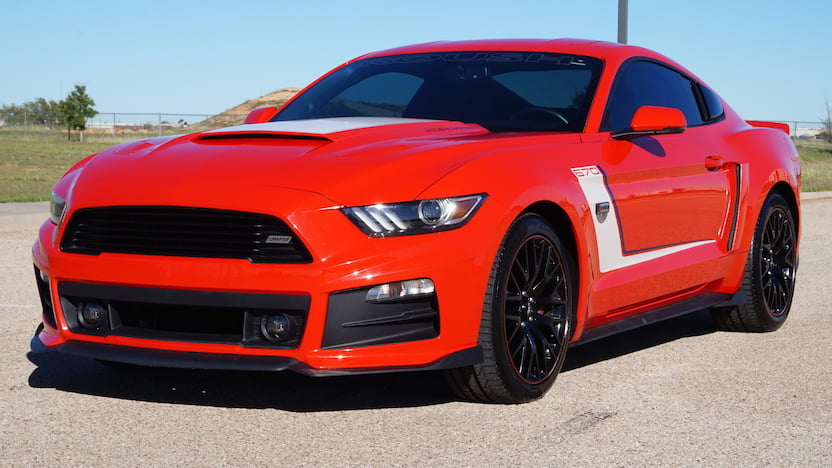 For 2015, Roush teamed with Military Auto Sales to build a Mustang for military members. They only produced 15 stage 3, GT 627 hp supercharged fastbacks and 30 Ecoboost 320 hp fastbacks. Only 2 color options were available in race red or midnight black. The opposite color was used on its stripes and decals. This model sold out in a record 12 minutes. In 2016 they did a similar build but only offered a V8 option with only making 45 in total. 15 in shadow black, 15, race red, and 15 deep impact blue.
Saleen S302 Models (2015-2016)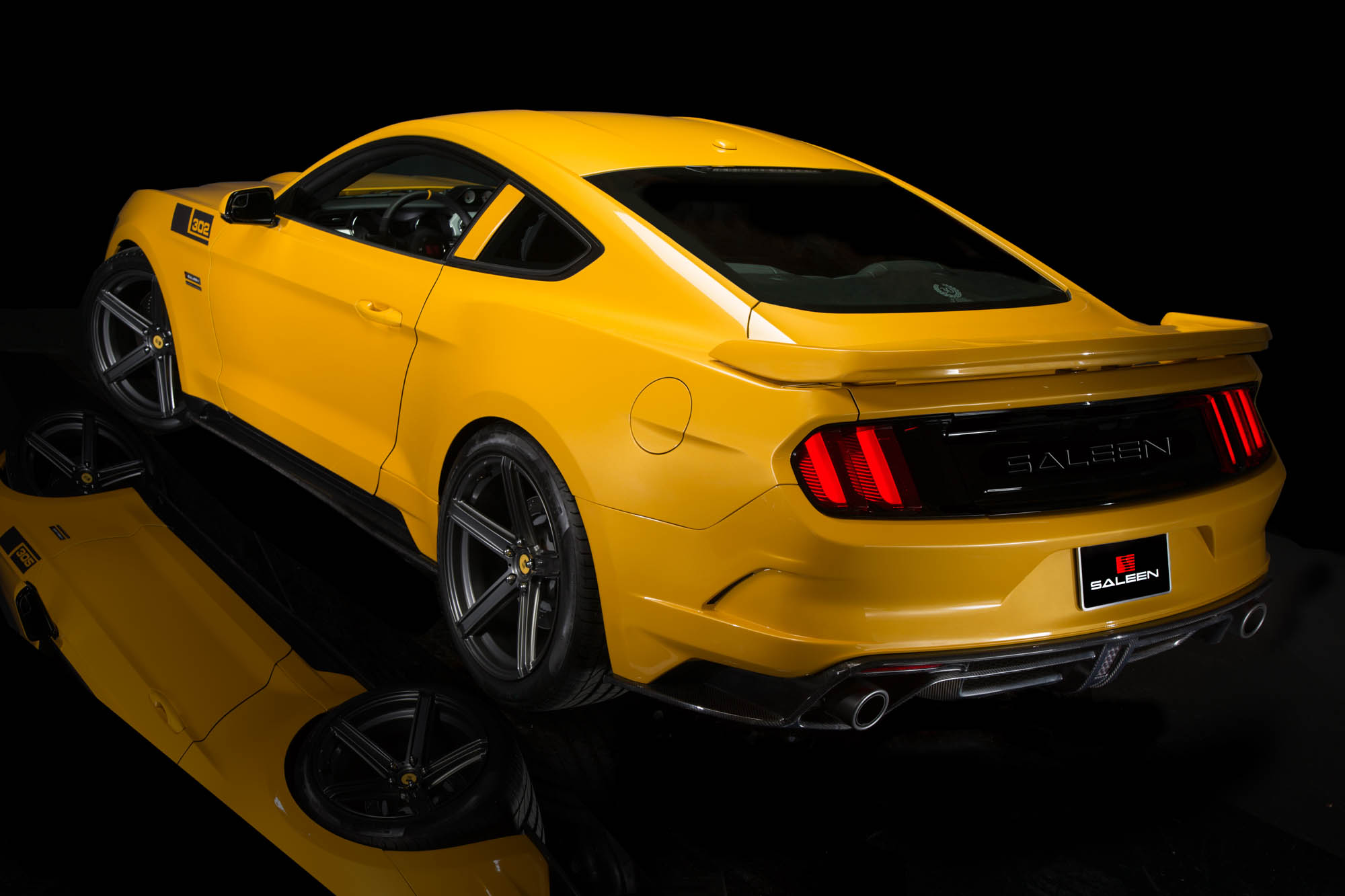 Saleen came out with 3 models that are the "White Label S302", "Yellow Label S302", and "Black Label S302". The White Label has a 450 hp 5.0 L V8 engine and contains the Saleen S302 styling package. This model is available in 23 different colors, with 2 different wheel size options. The Yellow Label includes everything that the White label has but it also has an eight generation Saleen Supercharger with 715 hp. Lastly, with the Black Label comes standard with a 450 hp 5.0 L V8 engine but is optional with a supercharge and powerflash calibration which will make it 730 hp. Also, some new additions are a standard S4 suspension package or an optional full suspension. Also, the 13.9" vented 4-piston brakes which comes standard or can be upgraded to 15" slotted 6-piston brakes. Many exterior parts of the black label are different than the other two options that is custom to that specific model.
Shelby American GT (2015-2016)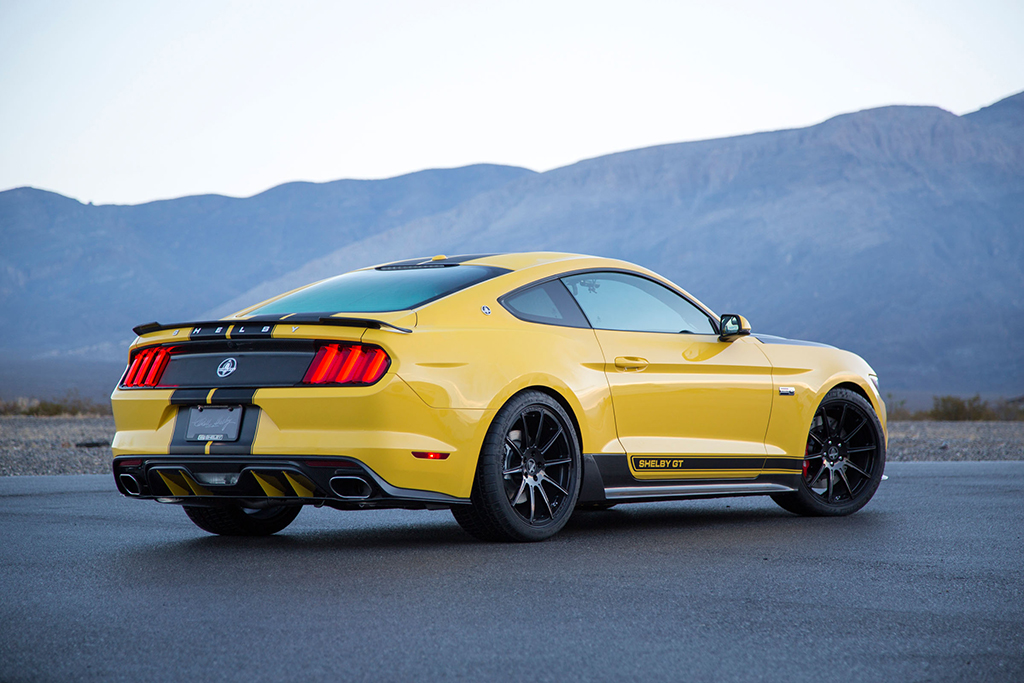 EXTERIOR
Any factory paint color, plus the option of 5 different color racing strip options.
20" WELD racing wheels in 3 different colors
Upper and lower grilles with Shelby GT badging in 2 different colors
INTERIOR
Embroidered headrests and floor mats
Optional is a Katzkin interior, Shelby valve cover, and an engine cap kit
PERFORMANCE
Ford performance handling pack
Optional is a ford performance supercharger, half shafts, differential and trans cooling, willwood brakes, camber/caster plates, brake duct kit, adjustable rear control arms, 3:73 rear gears, carbon fiber dash gauge pod
Shelby GT350 (2015-Present)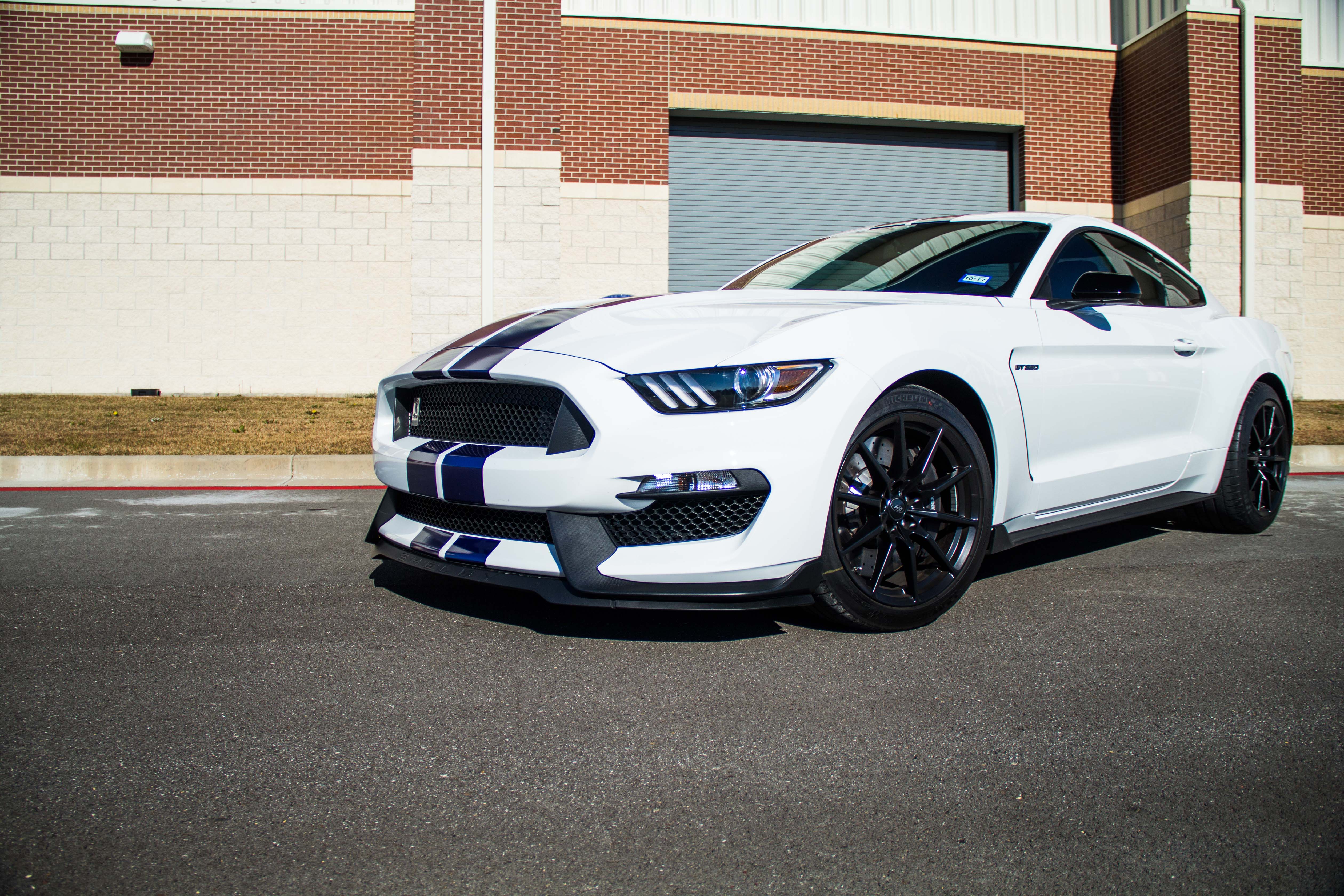 This features a 5.2L Flat Plane Crank V8 engine (code-named VooDoo) with 526 hp and 429 lb-ft of torque. This is more track focused than the GT500 with some significant features such as chassis tuning, lowering the hood around the engine, cross-drilled brake rotors paired with Brembo calipers, MagneRide damping option, Recaro seats, lighter Tremec manual trans, and other lighter components. Additional upgrades such as larger alloy wheels, electrical improvements being HID headlamps, backup sensors and camera, better sound system and so much more!
GT350 ORDER OPTIONS
GT350 SPECS
Shelby GT350R (2015-Present)
It was announced by Ford in 2015 that this model would only have 37 units being made. The first one sold for $1 million at Barrett Jackson. So many improvements went into this vehicle being weight reductions wherever possible and aerodynamic improvements. It was introduced with carbon fiber wheels and is the first major automaker to have this as a standard item. It is also more than 130lbs lighter the GT350 Track Pack. The "R" also comes with a larger front splitter and rear wing, red painted brake calipers, red pin striping on the edge of the stripes, and "R" badging.
GT350R SPECS
California Special (2016-2019)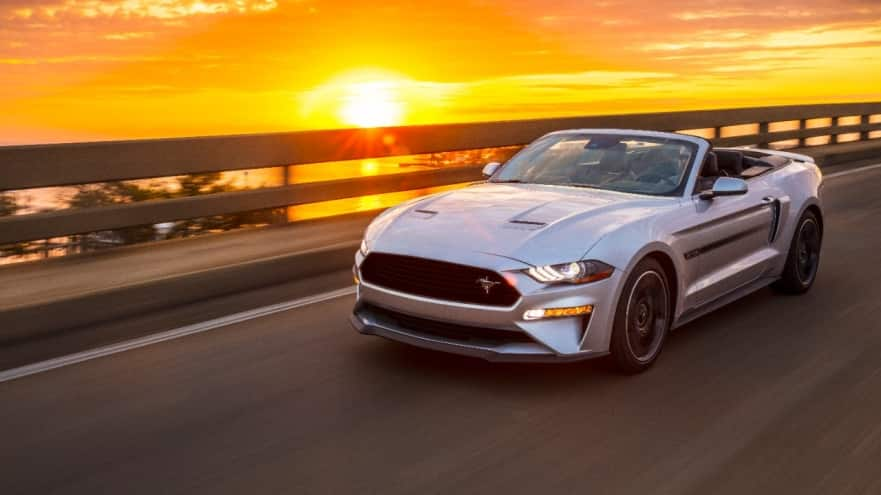 The S550 body style was introduced in 2015 but did not have a California Special edition package. Not until 2016 was this package offered and came with a 435 hp stock engine, performance strut tower brace with "California Special" badging, and ebony leather/miko suede seat inserts with red contrast stitching and embossed logo. For the 2019, stock horsepower increased from 435 to 460 as well as torque from 400 to 420.
CALI SPECIAL SPECS
Bullitt Mustang (2019)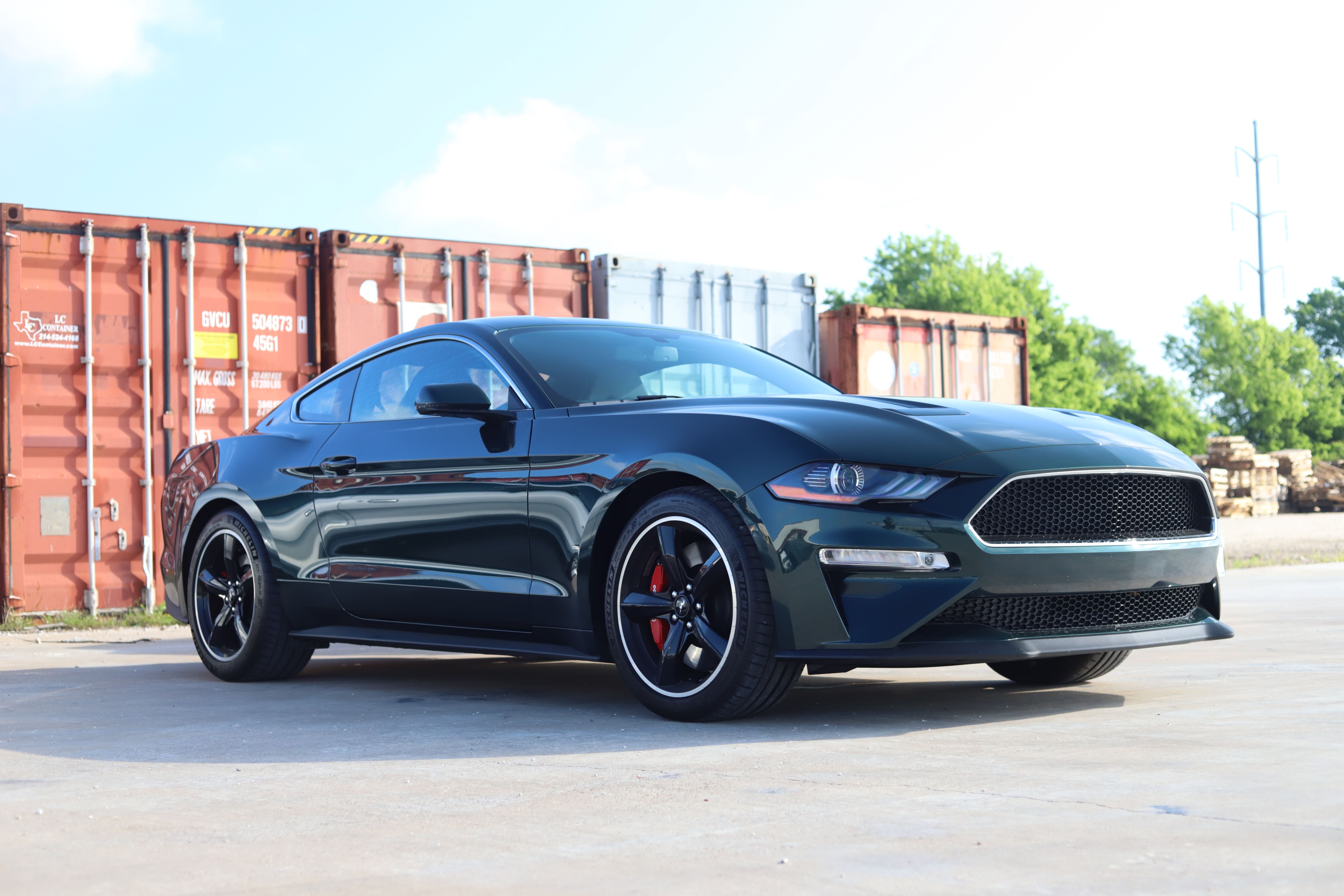 The new Bullit Mustang was to commemorate the 50th anniversary of the movie "Bullitt" and was unveiled at the 2018 NAIAS (North American International Auto Show). It was presented by Steve McQueen's grand daughter Molly McQueen. It is similar to the 1968 car in that it is offered in a Dark Highland Green color, but also comes in black. As well as a few interior upgrades, this 5.0 L V8 comes equipped with a larger 87 mm throttle body, enhanced GT350 manifold and re-calibrated cold air intake. This resulted in a hp increase to 480.
BULLITT SPECS
Shelby GT500 (2020)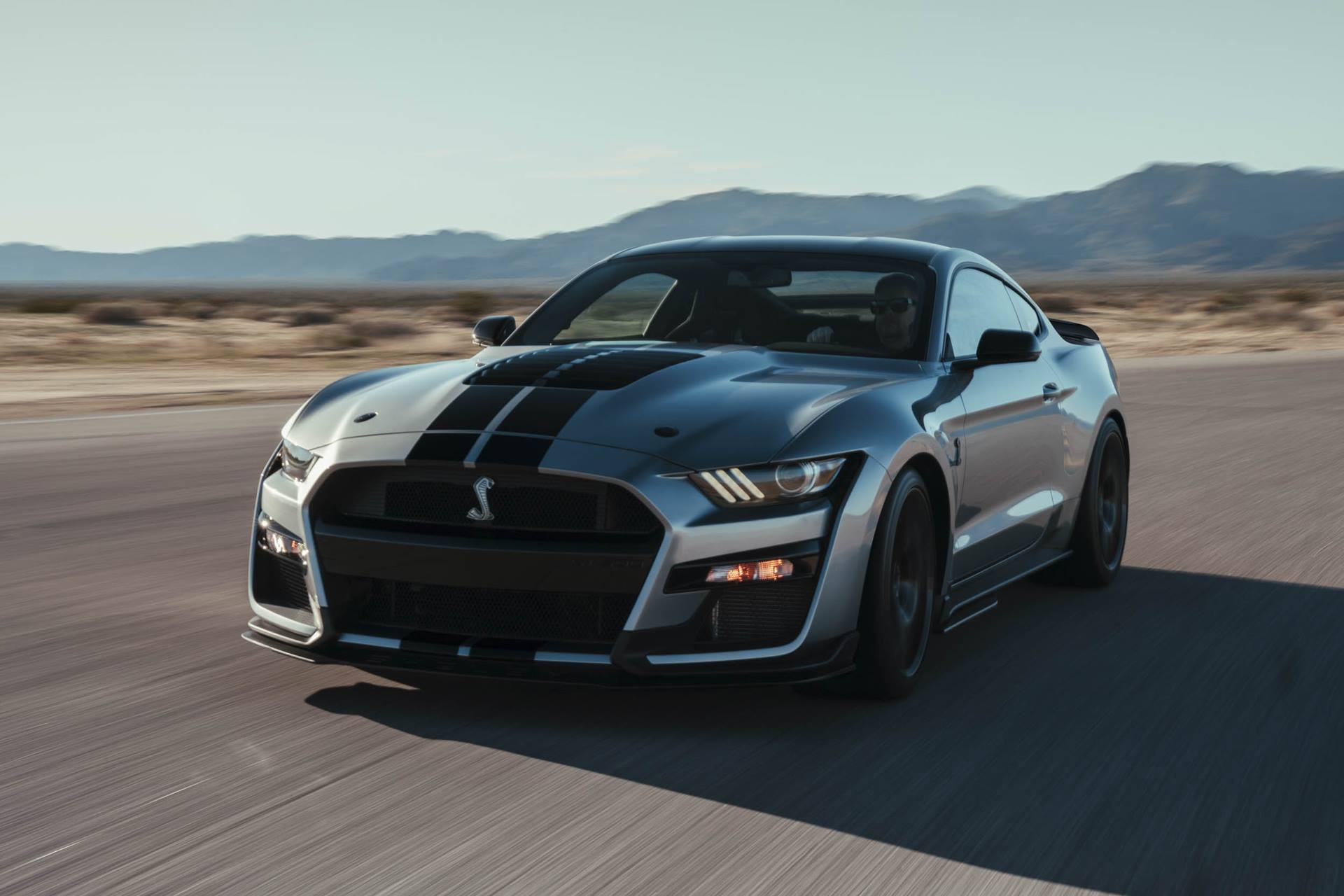 It was announced at NAIAS that this GT500 will return in 2019 as a 2020 model. It is slated to have a supercharged version of the GT350's 5.2 L V8, which will generate 760 hp and 625 lb-ft of torque. Check out our article going over all of the 2020 GT500 Specs
GT500 SPECS
Ford is constantly trying to innovate and stay ahead of the pack when it comes to performance, styling, and comfort. The coming years will be a testament to the Mustang's success and how we at LMR will provide the most updated content for your needs. Shop with us, the "REAL" Mustang Enthusiasts!
---