Ford just released the final teaser video showing off the all-new Shelby GT350. The vehicle shows off some SERIOUSLY aggressive styling cues that will be at the top of every S550 Mustang owner's mod list. Not only does it include aggressive styling, but it boasts performance to match!
As more official information becomes available, we will be updating this article. Be sure to check back often. This is one Pony car you do not want to miss out on!
Rumored Performance Includes:
5.2L Flat Plane Crankshaft V8 – Codename Voodoo
500+ HP
Massive Brakes – Brembo 6 Piston Fronts and 4 Piston Rears
Unique Hood, Fenders and bumpers – All functional performance enhanced
Unique GT350 Recaro Seats
19"x11" rear wheels & 19"x10" front wheels – wrapped in high performance tires

2016 Shelby GT350 Engine
One of the most speculated parts of the new Shelby GT350 has been what engine will power Ford's latest high-performance Mustang. Everything from EcoBoost engines to flat-plane V8s has been rumored to power the new Shelby. StangTV.com confirmed that the flat-plane engine would be the official power plant in the all-new track Mustang.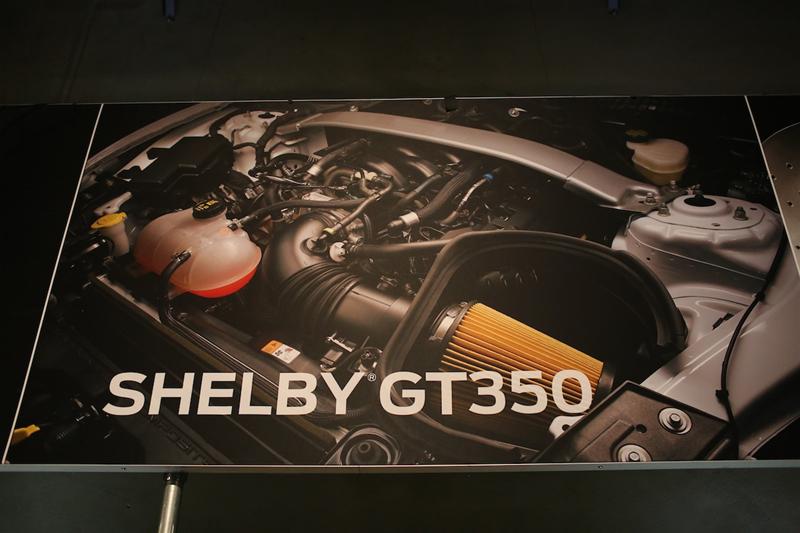 This new 5.2L flat-plane V8 will make power up to 8,000 RPM, and best of all, it will produce 500 plus horsepower and 400 plus ft-lbs of torque without any forced induction. Check out what the guys at StangTV.com had to say about the new Shelby GT350 motor.
A flat-plane crank places events 180 degrees apart, rather than the traditional American V8 90 degrees events. This permits the firing order to alternate between each bank of cylinders. This reduces the exhaust overlap that gives most American V8s their lumpy and smooth sound. "The flat-plane crank is something the engineering team fought for," says Farley. This, combined with additional advancements in the engine, including new cylinder heads, will yield what Ford says is more than 500 hp and at least 400 ft-lbs of torque. The torque curve of this engine is said to be broad and flat, allowing drivers to wring out the car.

Don Creason StangTV.com
2016 Shelby GT350 Exterior
The 2016 Shelby GT350 features refined yet aggressive exterior enhancements. These enhancements feature functional performance improvements to go along with their visible improvements. The most noticeable exterior improvements include the heat extractor hood, vented fenders, and quad exhaust tip rear diffuser.

The 2016 Shelby GT350 hood features pronounced bulged, and GT500 inspired heat extractor. The heat extractor hood produces improved aerodynamics to vent air and reduce high-speed lift. To further improve air venting and reduce lift, Ford incorporated fender vents. Not only do these vents add a unique look and performance enhancements, but they also appear to be wider than factory GT versions.
Ford uses some new build materials that have never made it into production Mustangs. That includes injection-molded carbon fiber that is found in the GT350 front grille. Ford also used plenty of lightweight aluminum in many other body panels, such as the hood and Shelby GT350 fenders.
2016 Shelby GT350 Suspension & Brakes
Building a purpose-built road race car requires power and ultimately the ability to control that power. Ford engines incorporated some of the most dynamic braking, and suspension improvement was ever seen in a production Mustang. This includes the MagneRide dampers that can make mind-numbing adjustments every ten milliseconds. The ride height has been brought down compared to the standard GT model. Ford engineers have also improved the IRS suspensions to improve the GT350 on the track.
The S550 Mustang features some of the biggest and best brakes that have ever graced a production Mustang. The engineers that worked on the 2016 Shelby GT350 took these brakes and vastly improved upon them. The front brakes feature 15.5-inch rotors and six-piston Brembo calipers. The rear brakes feature 15-inch rotors with four-piston Brembo brakes.
To ensure the brakes and the suspension perform at their best, Ford put massive 19"x10.5 wheels upfront and even wider 19"x11" wheels in the back. The 2016 Shelby GT350 wheels are wrapped in Michelin Pilot Super Sport tires engineered specifically for Ford's latest Shelby GT350.

Shelby GT350 History
The G.T.350 Mustang debuted by the great Carroll Shelby on January 27, 1965. This was the first performance Mustang produced by legendary Shelby American and was done to enhance the performance image of the then-new Mustang. Ford wanted to race bred image for the Mustang, and the G.T.350 was born to compete and win at SCCA road racing. Powered by Ford's High Performance 289 small block, enhanced by Shelby for more power output, these cars dominated SCCA competition, set drag strip records, and stole the hearts of those lucky enough to see one on the street.
The earliest cars were the most raw and uncompromising. As time moved on through the 1960's Shelby continued to produce the G.T. 350 but moved to a more distinctive car with more exterior enhancements, more creature comforts, and, unfortunately, less performance. By 1967 big-block V8's were available in Mustangs, and the G.T.350's big brother, the GT500, was created to keep up with the performance image of the muscle car era. But the GT350 continued in production from 1965 until Shelby ceased producing his specially equipped Mustangs in 1970.
It would be 41 years before we saw another Shelby G.T. 350 Mustang in 2011. Built to commemorate the 45th anniversary of the original G.T.350, the 2011 model features a supercharged version of the all-new Coyote 5.0 V8 being offered in the Mustang. These cars were offered white with blue stripes, just like when they were first introduced in 1965. This car was exclusive, with exterior enhancements to differentiate the GT350 from the awesome GT500.
Now, for 2016, Shelby is doing it again. The GT350 is making a comeback as the performance car to envy in the lineup from Ford. With a brand new redesign of the beloved Mustang, Shelby is unleashing the GT 350 to steal the hearts of performance enthusiasts once again worldwide. Sure to be true to its performance and image heritage, this car will likely write its own story as a worldwide supercar.

---