For this dyno article we will turn our attention to our 2018 Mustang GT with a Roush Supercharger Phase 1 Kit. If you are a 2018+ Mustang GT owner and you're in the market for a turnkey supercharger package then this is the one for you! This phase 1 supercharger kit is a co-engineered package through both Roush and Ford Performance the attention to detail and quality is at the highest level. Now let's take a look at what this supercharger kit consists of as well as the dyno results!
---
Jump To: What Comes With The Kit? | Dyno Numbers & Photos
---
← Swipe For More 2018 Mustang GT Photos →
---
Roush Supercharger Phase 1 Kit Components
Cold Air Intake
85mm Throttle Body
Lower Manifold Assembly w/ Fuel Charging
Fuel Rail Assembly
2650 Supercharger
Fuel Injectors
Spark Plugs
MAF Connector Plug
Intake Hardware
Grooved Idler Pulley - 77mm
Smooth Idler Pulley - 70mm
Idler Pulley Post
PCV Components
Intercooler Pump
Aluminum Intercooler
Intercooler Reservoir
Heat Exchanger
Full Face Radiator
High-Capacity Degas Bottle
All Needed Brackets, Hardware & Gaskets
All Needed Wiring
RDT Voucher Card
Fuel, Oil Specification Decals
Installation Instructions
---
Check Out Our Dyno Results!
2018 Mustang GT Specs & Additional Mods List
Before we install the supercharger we are going to dyno our 2018 GT that way we have some stock baseline numbers. The pull will be made in 7th gear which is the 1:1 ratio.
Performance Pack
10R80 10-Speed Automatic Transmission
3.55 Rear End Gears
93 Octane Fuel In The Tank
Carbon Fiber QA1 Driveshaft
SVE SP2 Wheels
Steeda Sway Bars & Shocks/Struts
SVE Lowering Springs
Check out our 2018 Mustang GT Shop Car Build Article to learn more about the additional modifications that we did to this S550 Mustang.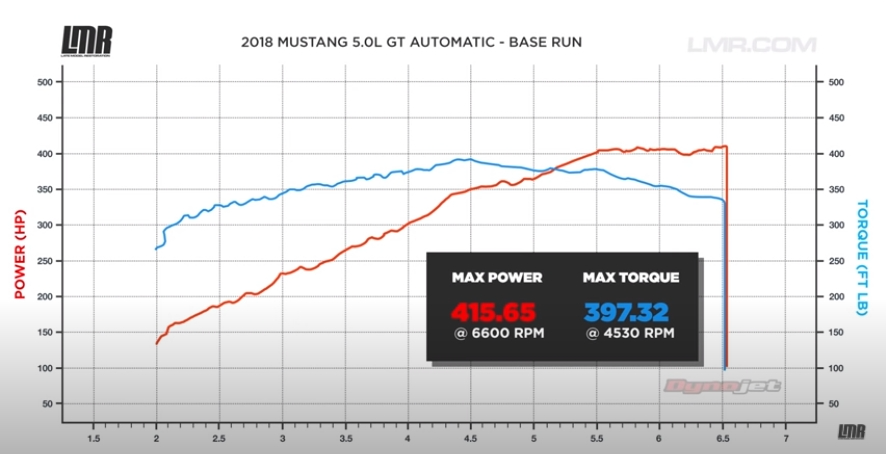 Here are the base run dyno results! Our 2018 Mustang GT made 415Hp and 397 lb-ft of torque. During this initial dyno, the speed sensor did limit the car during the dyno run which is why you see the graph stopped at 6600 RPMs. Regardless, this Gen 3 Coyote engine is making awesome power in stock trim. Now that we have solid baseline numbers to go off of, we're going to get this supercharger kit installed and will make another run!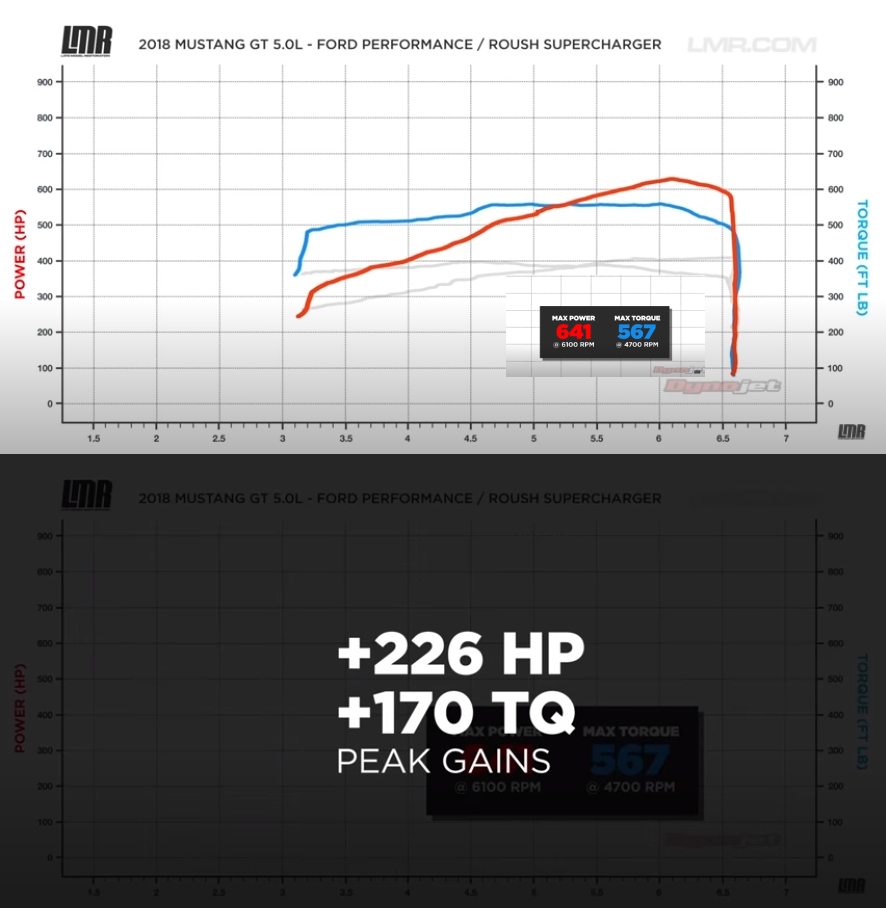 ---
Here are the final results! With the Roush Supercharger Phase 1 Kit this '18 GT made 641 HP and 567 lb-ft of torque! This resulted in peaks gains of 226 HP and 170 lb-ft of torque compared to the initial dyno run. We hope this dyno gave you some more insight on just what this Roush Phase 1 Supercharge can do. As always keep a lookout for more dyno articles and videos right here at LMR.com. Shop our featured S550 Mustang Roush Supercharger Kits below!
---