---
Jump To: Coupe | Mach-E
---
For the 2022 model year, Ford has decided to bring back a long-awaited color combination that hasn't been seen in almost 3 decades; a white-on-white Mustang. This was first revealed as a kick-off to the Woodward Dream Cruise that takes place on the popular Woodward Avenue in Michigan on the 3rd Saturday of every August.
This white color is known as the Ice White Edition Appearance Package that includes both the Mustang Coupe and Mustang Mach-E. This color combo is not only a first for the Mach-E but for the coupe as well which marks the first appearance package that is shared across multiple Mustang platforms.
While the exterior white appearance might be the biggest highlight of the car, it also brings the iced-out styling features to the interior as well! As many Fox Body enthusiasts know, the 1993 Triple White Fox Body Mustang became one of the biggest Mustang collectibles of its time so Ford wanted to recreate that by offerings new fresh styling options for the newer generations. This will empower the customer to really enjoy their new vehicle as not only a car but an extension of themselves.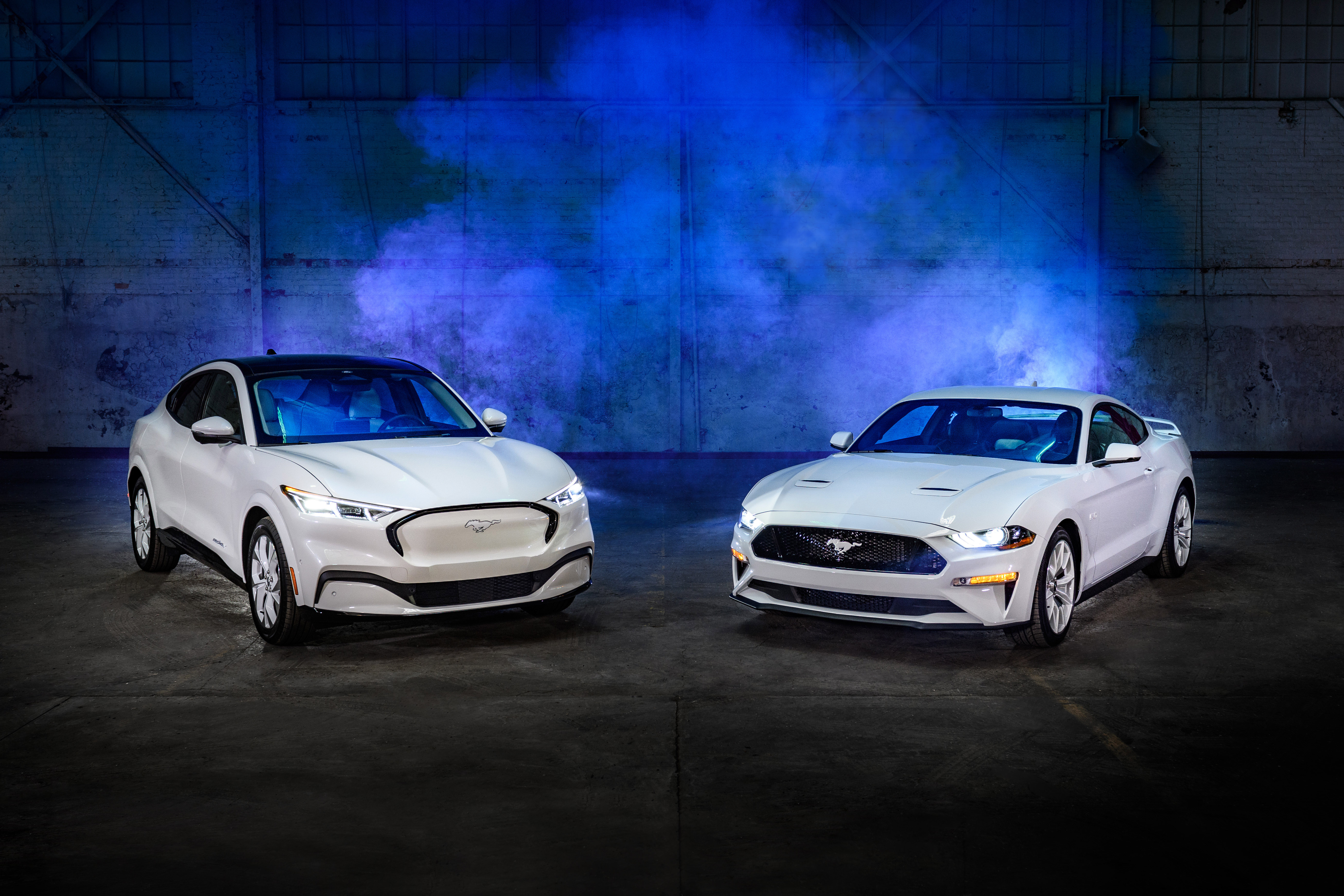 ---
2022 Mustang Coupe Ice White Edition
As mentioned earlier the '93 Triple White Fox Body was an iconic Mustang in Ford's history. Not only was this color iconic, but it added to the invaluable nature of only having 1,500 of these Fox Body's made. Fast forward to 2021, the term "Ice" won't only be known for Vanilla Ice and his iconic 5.0 Fox Body Mustang, but the Mustang Ice White Edition of 2022! Check out our Fox Body Paint Code Guide if you want to learn about all of the different paint codes that were offered on the Fox Body Mustang.
With the newest rendition of this color in 2022, the Mustang Ice White Edition from Ford has found a way to recreate this iconic color combo.
Images Courtesy Of media.ford.com
2022 Mustang Coupe Ice White Exterior Features
This iconic color combo will be offered on both the EcoBoost and GT Premium fastback Mustang models. This Oxford White Mustang EcoBoost and Oxford White Mustang GT (V8) will include iced-out taillamps with color matching heritage-inspired 19x9 inch wheels with machine-surfaced pockets. Also unique to this model are the Oxford White fender and Oxford White pony badges.
2022 Mustang Coupe Ice White Interior Features
The interior will feature a combination between black and white with the Oxford White leather seat inserts highlighting both the front, rear, and door panels of the car. Moving to the dash panel it features an aluminum applique for a sleek and simple appearance. White accent stitching is found all over the interior such as the center console and door panels, headrests, shifter boot, and much more!
---
2022 Mustang Mach-E Ice White Edition
Not surprisingly, the Mustang Mach-E took the auto industry by storm by winning the 2021 Car and Driver Electric Vehicle of the year, beating out the iconic Tesla. In 2022 Ford is adding even more style to this North American SUV by offering the new Mustang Mach-E Ice White Edition Appearance Package on the Mach-E Premium models.
Images Courtesy Of media.ford.com
2022 Mustang Mach-E Ice White Exterior Features
The exterior paint used on this model will be called Star White Metallic Tri-Coat Paint. Some highlights feature where this paint is used on the mirror caps and wheel lips moldings to provide that iced-out look all around the exterior.
Most notably on the exterior is the Oxford White pony badge that is added to both the center of the grille on the front as well as in between the tri-bar taillamps at the rear. Distinctive 19" machined-faced aluminum wheels are also featured with Oxford White painted pockets.
2022 Mustang Mach-E Ice White Interior Features
Moving to the interior cabin, it features a Light Space Gray color that appears on the seats, door-panel armrests, and center console. A Bright Silver hex-patterned instrument panel, as well as an Oxford White pony badge on the steering wheel, finishes off the ice-cold look of the interior.
---
Mustang White Ice Edition Final Thoughts
While both pricing and production quantities for these models are still not announced, you can be sure that additional info will be released soon. This long-awaited white-on-white Ice White Edition Package from Ford has been very missed and we can't wait to learn more in the coming months.
Keep an eye out for preorders because the Mustang EcoBoost and GT premium options arrive at dealerships as early as next year in 2022 with orders for the 2022 Mustang Mach-E starting as early as fall of 2021. We at LMR couldn't be more excited about this package and just shows that Ford is continuing to listen to their customers to recreate some iconic color combos from the past.
---