We've said it before, the Fox Body Mustang has proven to become today's 32 Ford. Today's hot-rodders install virtually any engine combination you can imagine into these cars. I've seen everything from a Duramax to a Cadillac 500 in a Fox Body Mustang. The options are endless, thanks to the 1979-1993 Mustangs' large engine bay, lightweight, low price, and parts availability.
Now, not everyone is hip to Mustang LS1 Engine Swap or Rat motor into their Ford. The Brand-loyal types want to look to their beloved blue oval offerings for solutions on getting the most bang for the buck while separating themselves from the pushrod 5.0 crowd.
Im here to offer you Mustang blue bloods with a viable option to your venerable 5.0 that's inexpensive (relatively speaking), plentiful, and easy to retrofit. What is it? Its Ford Racing Mustang crate engine – 4.6L 3v and controls package. Ok, now you guys are probably thinking "I thought he said cheap?"….

Well, relatively speaking, FRPPs three-valve 4.6 engines are cheap when you consider that you're getting a brand-new assembly, with Ford Racings proven reliability, in a complete package from intake to the oil pan. I recently rebuilt a 306 with aluminum heads and many new and used parts, and I can tell you that it wasn't "cheap". It also wasn't as reliable, didn't have the road manners, and arguably, was not as powerful (well, find out later on that).UPDATE: Since this article was written, the Mustang 4.6L 3V engines can be found in salvage yards for dirt cheap prices!
Ford's 3-valve is certain to become more and more of a viable swap option as time goes on. They are lightweight (about 420 pounds complete), they make great power (300 in stock form, the hot rod 3-valve is 350), they respond well to modifications, and they're plentiful. Ford recently released specs on the 2010 Mustang, including its virtually unchanged 4.6. That puts at least a successful 6 model years of the un-changed 3 valve. That kind of production will land scores of engines in salvage cars and fuel the aftermarket to create more and better replacement parts. This favors the 3V over the prior 2-valve and 4-valve options, both of which were heavier and endured numerous changes over their nine years in Mustang.

Until recently, the proven S197 powerplant wasn't easily swapped into a Fox Body. The complicated drive-by-wire throttle body and stringent engine control didn't allow the retrofit of the 05-09 Mustangs harnesses into an older car. Also, the return-less fuel system didn't revert back to older cars very easily. There are options if you're using the 99-04 electronics, but it's still complicated and almost requires an entire donor vehicle.
Well, Ford Racings changed all of that. They now offer a street rod stand-alone engine controls package to retrofit the newer 4.6 Mustang GT engine into older cars. The controls package is super simple and includes everything you need to get the new motor running, except for your fuel system. Included in the kit is the ECM, relay module, and simplified harness with a diagnostic port to make easy connections to virtually anything with 12 volts. The kit includes a Bullitt-style cold air kit and the drive-by-wire accelerator pedal. Best of all, the kit is designed to run in conjunction with a return-style fuel system.
We're performing this swap on a 79 fox to show you how easy it can be. We are using Ford Racing Hot Rod Crate Engine M6007A463NA, along with the Ford Racing 4.6L 3V engine control pack p/n M6017463V, designed for this swap but could just as easily be used on a salvage yard 4.6. The car will be a street-strip brawler with precious few amenities. The goal will be to show you guys how this can be done and what type of performance to expect from swapping the new 4.6 into a lightweight platform.
Follow along on this build. I think you'll be surprised at how easily this can be accomplished. You may decide to convert that old 4-banger or engine-less roller into a 3V fox of your own. We'll be the guinea pigs.

---
Dyno Numbers
For my dyno session, I loaded the car and took it to Gunter Specialty in Valley Mills, Texas. Jody's facility is top-notch, and he has a mobile Dynojet on site. Mike Wilson ran the dyno and performed the tuning mods using SCT software and an X3 hand-held tuner. Luckily, SCT had already performed some tuning on the FRPP PCM, so the strategy was already loaded in the programmer.
After a good warm-up and preparation for the dyno, the first couple of pulls were made without any additional tuning. As-delivered, the FRPP Hot Rod 4.6 engine netted 291.25peak rear-wheel horsepower. The outside air temperature for all pulls was approx 78 degrees, the pressure was 29 in-Hg, and the humidity was 67%. Calculating a 15-18% driveline loss, that number was almost dead-onFord Racing's advertised 350 engine horsepower. The a/f ratio told the tale that the car could use a bit more fuel, but the timing was the true teller. At 22 degrees total timing, there was definitely room to make more power. The torque was good but fell in the mid-range due to the lack of timing.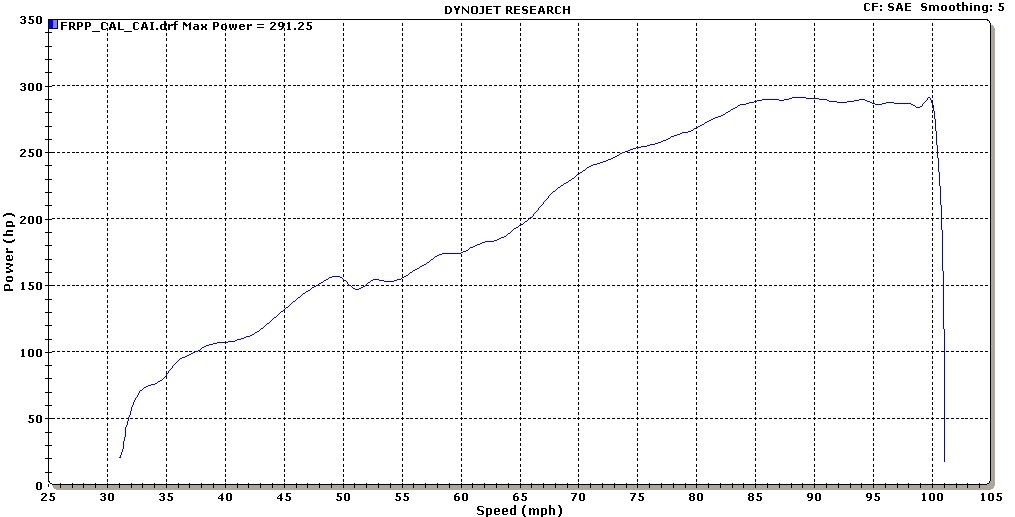 The next pull was made after a custom tune was loaded with the SCT tuner. The timing was bumped to a total of 35 degrees, and fuel was added to get the car to a safe a/f ratio. I'd hit the rev limiter a few times with the stock programming. The car felt like it had room to rev, so we increased the stock rev limiter from around 6200 RPM to 6600 RPM. Those few changes netted a staggering 325.75peak horsepower. Torque was even more impressive, as the dynojet reported gains of as much as 50 lb-ft in the critical 3500-4500 RPM range. Torque peaked at 314.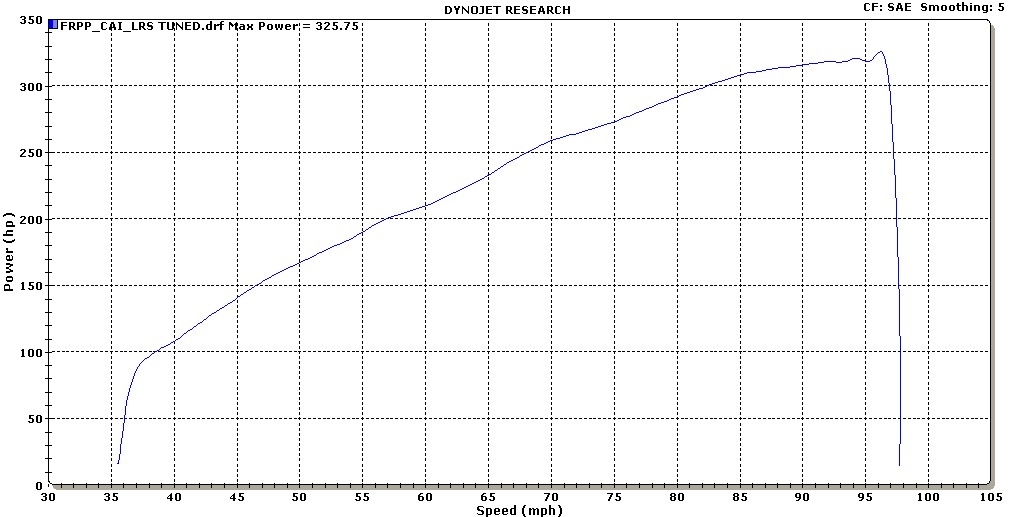 "Impressed" did not begin to describe our attitudes toward the numbers that the FRPP mill generated with the new-found timing. With numbers that strong, we were ready to call it a day but decided we would test the JLT cold air kit we brought home for the car. We were certain that the much-larger JLT kit would provide more air and power to the 3-valve than the smaller, more restricted-looking Ford Racing Bullitt style cold air kit that came standard with the harness and controls package. To our surprise, the JLT intake only made about a 2hp improvement over the Ford Racing kit on our application. The final peak hp with the JLT was 327.21. The torque stayed the same. We re-installed the FRPP cold air kit to keep costs down on the project.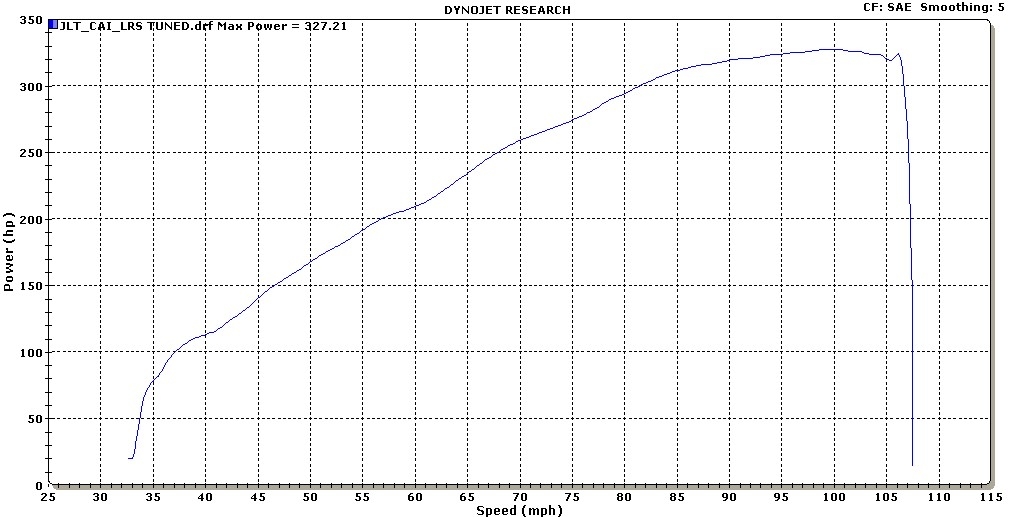 ---