Once we had the opportunity to establish what we are working with on Project IntroVert, the first thing we established is its pretty evident this thing is in dire need of a top frame! Several pieces were bent or missing and it was not repairable. Due to this being long n/a we started making phone calls and the local U-Pull-It just so happened to have a 4cylinder donor car there with what we were told was a perfect top frame. Tony and I packed up our tools, and headed out on the adventure to extricate this top frame from the donor car. Upon arrival it wasn't looking too promising since the top vinyl was destroyed, and someone had made several repairs over the years with what appeared to be tent material glued on with silicone. However, after pulling some material back, we established the frame was mint!. Here is what we were greeted with.

At this point, we tackled removing the frame. As you see, alot of the vinyl was already gone but we took box cutters to make quick work of removing what was left to free it up from the car as well as to gain access to the mounting points. It is surprisingly easy to remove the top frame from one of these cars. Some of the pictures I took came out blurry, so I didn't get to document this quite as well as I had hoped. Here you see one side next to the rear seat which has 3 bolts that need to come off. The other side is the same situation, just a mirror image of this.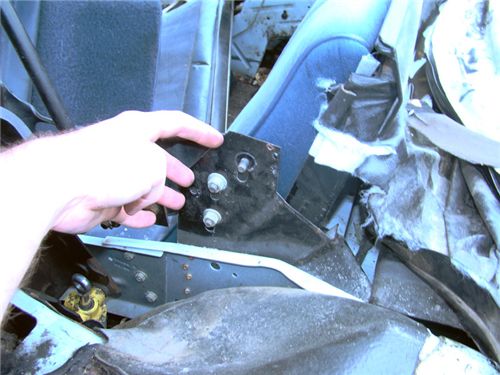 Next, if you lean over the quarter and look a bit lower down in there, you will see a 4th nut/bolt that holds this piece on. A bit lower than this, and you will see the top cylinders and their one mounting point to the body of the car. This also needs to be removed.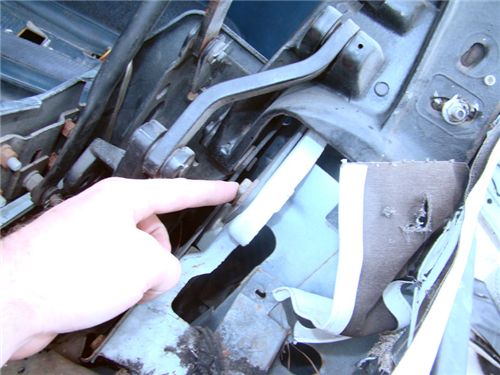 Once all of this is removed, the top frame will lift out as one unit. Thats it! It is really that simple. Here is a picture of what we we're left with once it had been separated from the car. Soon to come will be installation.

Soon we will remove the convertible top frame from our 1988 Mustang GT Convertible and replace it with this one. We will then add new black Mustang convertible top material and a Mustang convertible headliner. Keep checking back for updates!
---