What Is A VIN Number?
Starting in 1954 up to 1981, vehicle manufacturers used "VIN" numbers that did not have a standardized organization method for generating these numbers. Starting in late 1981 the National Highway Traffic Safety Administration standardized these numbers and changed the way we identify vehicles as we know them. This required a 17 digit value to be added to all passenger vehicles to identify many different aspects of them. In this article, we will break down the common aspects of the 17 digit VIN number. All VINs will be made up of letters and numbers (excluding I, O, and Q to avoid confusion with numerals 1 and 0).
---
Mustang Vin Decoder Chart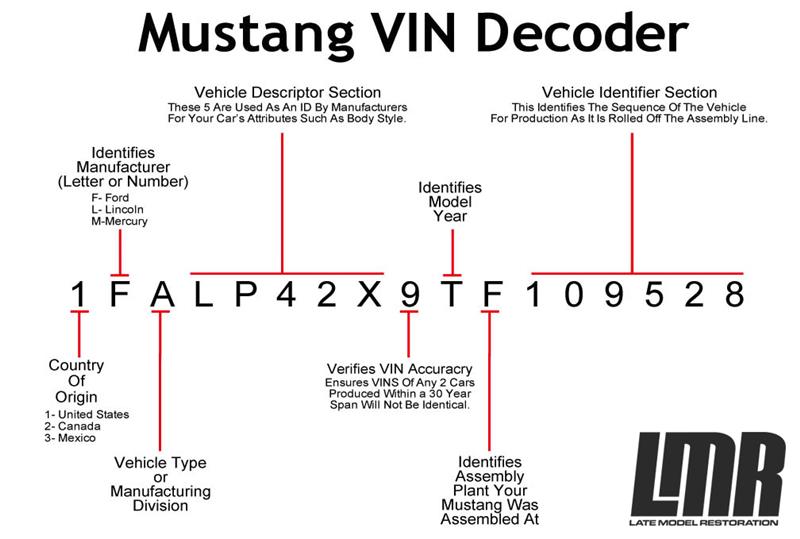 ---
How To Read Vin Numbers On A Ford Mustang
1st Character
Identifies the country of origin that the Mustang was manufactured. This can be a letter or a number.
1,4,5 = United States
2 = Canada
3 = Mexico
2nd Character
Identifies the manufacturer, and can be a letter or a number.
F = Ford
L = Lincoln
M = Mercury
3rd Character
Identifies vehicle type or manufacturing division.
4th-8th Characters
This is the Vehicle Descriptor Section. These 5 are used as an ID by manufacturers for your car's attributes such as body style, engine type, series, model, etc.
9th Character
It is used to verify VIN accuracy and ensures that the VINs of any two vehicles produced within a 30 year period will not be identical.
10th Character
Identifies the model year.
11th Character
Identifies the assembly plant that your Mustang was built at.
12th-17th Characters
This is the Vehicle Identifier Section. This identifies the sequence of the vehicle for production as it rolled off the assembly line.
---
Having the correct VIN can give you all of the important information about your Mustang so that you can identify any problems as well as purchase the correct part for your specific vehicle. Our handy VIN decoder will give you every detail of your 17 digit VIN to make a more informed decision!
---