Fox Body 5-Lug Conversion Kit Info
Ford Mustang 4-lug wheel options can be very limited for your 5.0L Mustang, which is why we have been offering our complete Mustang 5-lug swap kit for years! Installing one of our Fox Body Mustang 5-lug conversion kits will open up a wide variety of aftermarket and factory wheels for your Stang. Not only will our complete 5-lug conversion open the door to more wheel options, but it also supplies you with stronger rear axles (forged one-piece design) and new brake components.
Our kit uses all new parts. This eliminates the need for you to hunt down used or junkyard parts. We took all the guesswork out of the 4 to 5-lug conversion for your Fox Body. We used our years of Fox Body experience and knowledge to build these complete kits to help you take advantage of all the benefits of a 5-lug swap! Don't forget to check out our full selection of performance brake upgrades below. Get the maximum performance out of your conversion by upgrading your brakes!
Watch the installation video above or check out the installation steps below as we show you how to install one of our complete kits on an 87-93 5.0L Mustang. These kits will work on 79-86 models and 87-93 2.3L 4-cylinder models if you run 87-93 5.0L spindles, struts and calipers. This popular kit has been used by Fox Body enthusiast and media for years. They have been featured on StangTV.com, 5.0 Mustang Magazine and many more!
Tools Needed:
Lift or Jack Stands
Flathead Screwdriver
Needle Nose Pliers
Drill
Basic Automotive Hand Tool Set
Hammer
Basic Cleaning Supplies
---
Installation Instructions
To start out our 5-lug swap, support your car in the air and remove all four the wheels.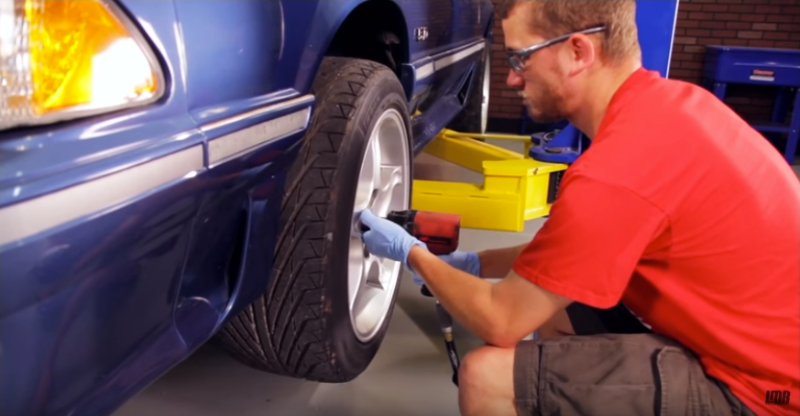 We'll begin with the front by removing the brake caliper. begin by removing the dust cap, cotter pin, castle nut and retainer, nut spacer washer and the outer wheel bearing.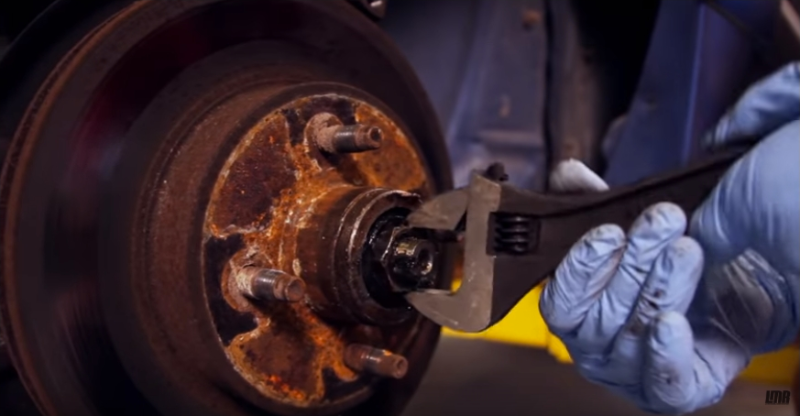 Then slide your old rotor off of the spindle. Go ahead and clean up all the old grease off the spindle, from the nut, spacer washer out of the grease cap, and retainer.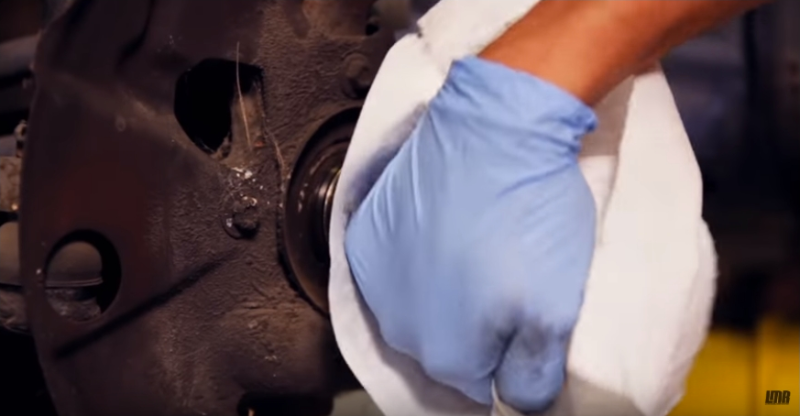 Wipe down the bearing races with brake cleaner. Pack the area between the bearing races with grease and smear some grease on the bearing races. Pack your wheel bearings with your choice of quality wheel bearing grease.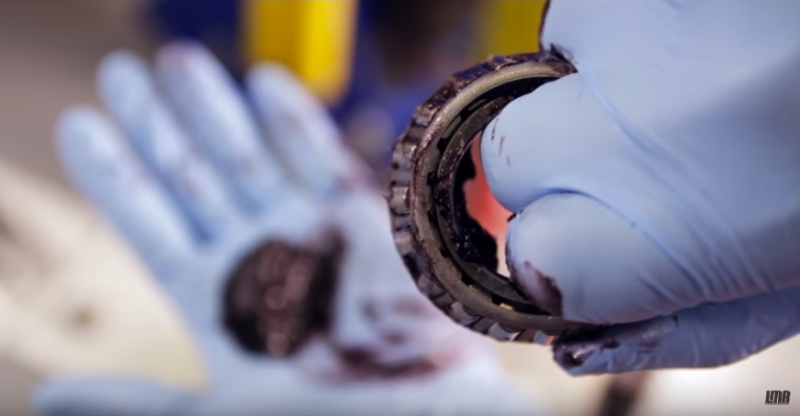 Install you're inside wheel bearing followed by the new grease seal. Apply a light coat of grease on the spindle and then slide the rotor into place.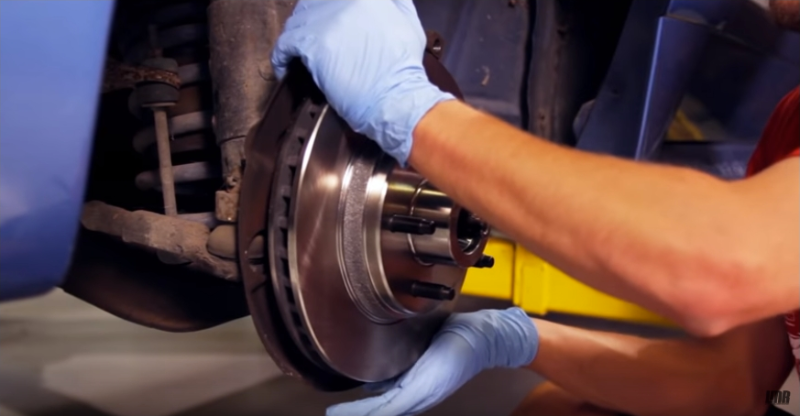 Slide in your outer wheel bearing, followed by the spacer washer and nut. Tighten and loosen the retaining nut several times while rotating the rotor to fully seat the bearings.
Once you feel the bearings are fully seated. Tighten the nut and loosen it by one flat. Rotate the nut retainer around until you can clearly see the cotter pin hole. Install your cotter pin.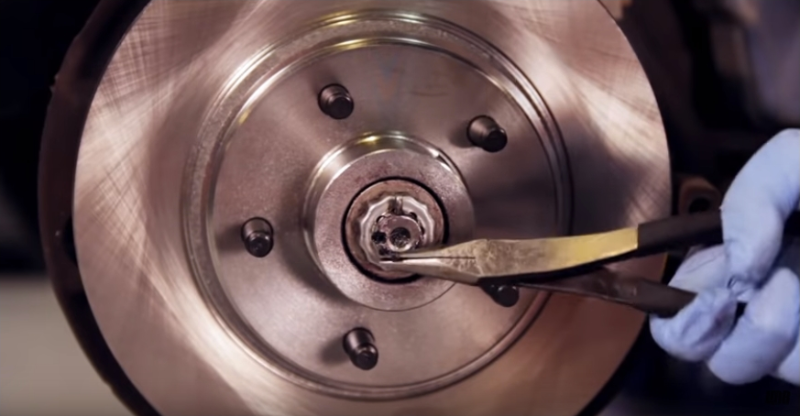 Pack some new grease inside the bearing dust cap. Install the cap into the brake rotor. Slide your caliper back into place and bolt it down. Repeat this for the other side.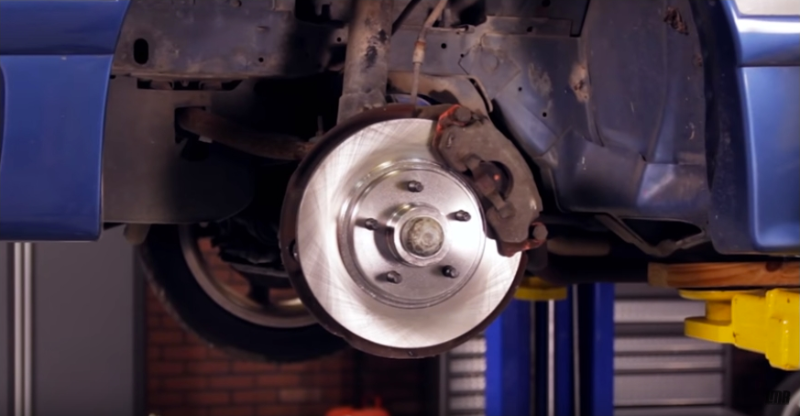 Remove the 10 cover bolts. You will want to grab you an oil drain pan and remove the rear cover.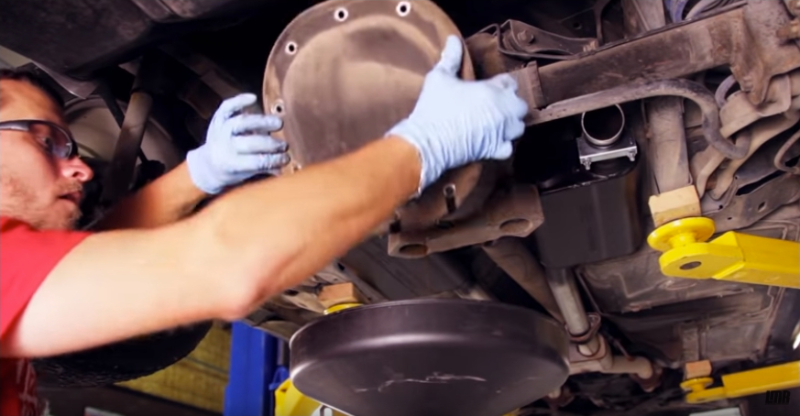 Slide your drums off. Rotate your axle around to where you can access the cross pin retaining bolt. Carfully remove the cross pin retaining bolt and then remove the cross pin.
Slide one axle inward, remove the c clip, and repeat this for the other side. Remove both rear axles. Grab your new axles and the included ten-wheel studs. There are several different ways to install these wheel studs. The tried and true method is to hammer them into place. When using the stock wheel studs, it doesn't take a whole lot of effort.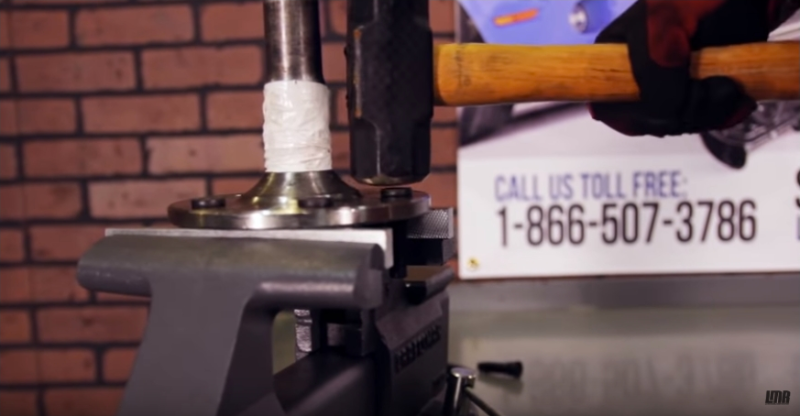 If you're using aftermarket style ARP extended length wheel studs, you will need to enlarge the holes on the axle flange and use a hydraulic press. Slide your new axles in the housing, and be careful not to damage the outer oil seal. Slide one axle all the way inward.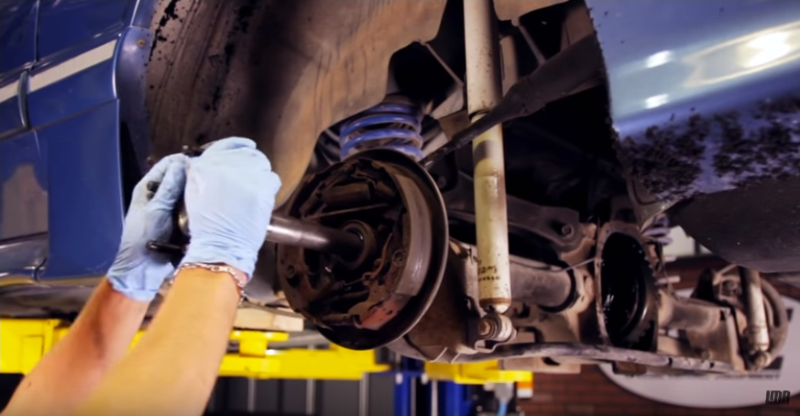 Engage the c-clip and push it back out till it seats and locks in place. Do this for the other axle. Reinstall your cross pin and the cross pin retaining bolt.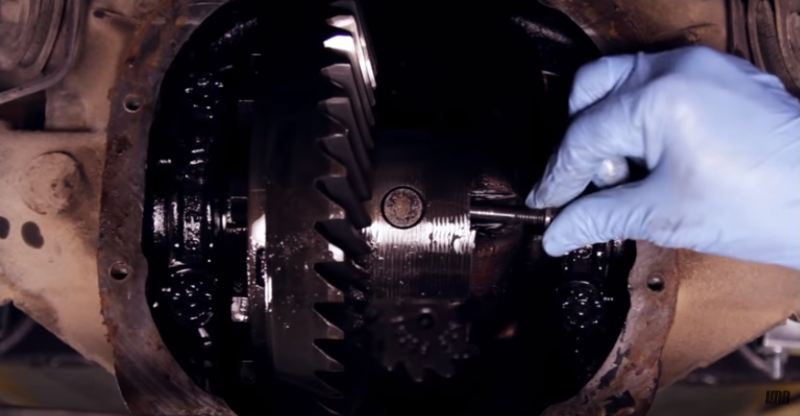 Thoroughly clean the face of the axle housing along with the differential cover. We always recommend using one of our reusable differential gaskets. This way, we will not have excessive RTV silicone spilling out of the differential cover. Reinstall the rear differential cover.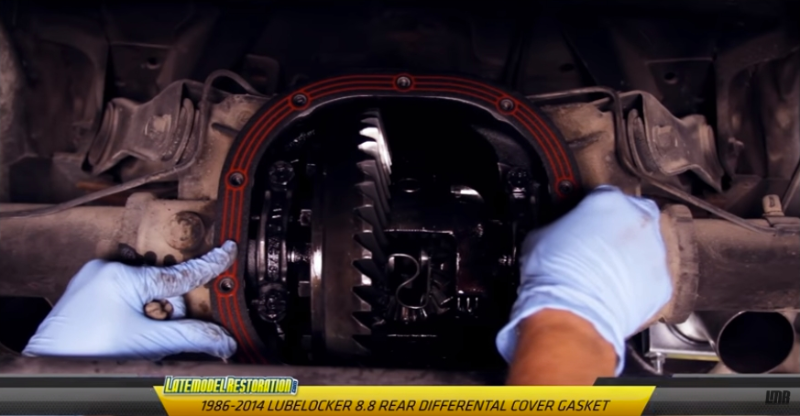 Tighten down all 10 retaining bolts. Remove the fill plug from the front axle housing. On the second bottle we normally put in about half the bottle.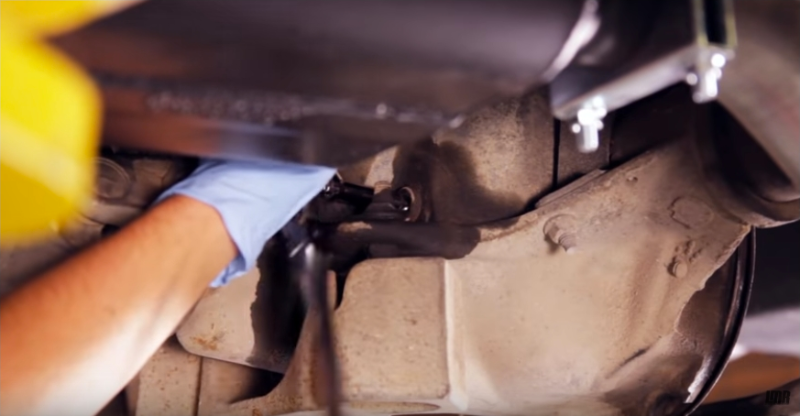 Then add the bottle of Ford Racing friction modifier to the remaining half bottle of oil. Finish filling the axle. Apply some thread sealer to the fill plug and reinstall the fill plug.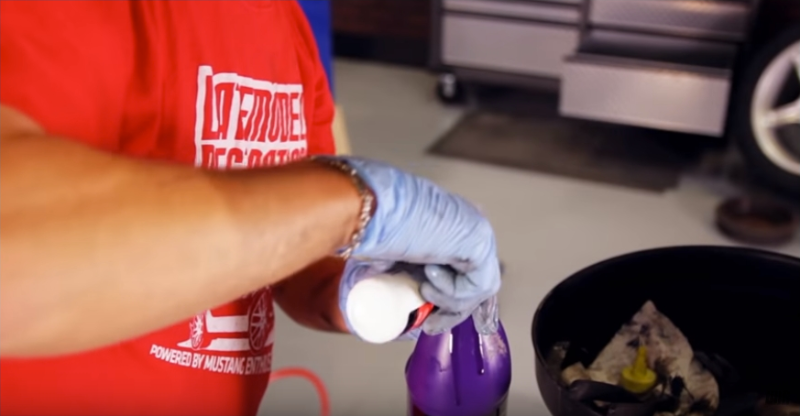 Slide your new brake drums into place. Install your new wheels and lower the car onto the ground. Of course, the perfect finishing touch to any 4 to 5-lug conversion is a new set of 5-lug wheels. We chose to go with a set of our chrome SVE Drag Wheels.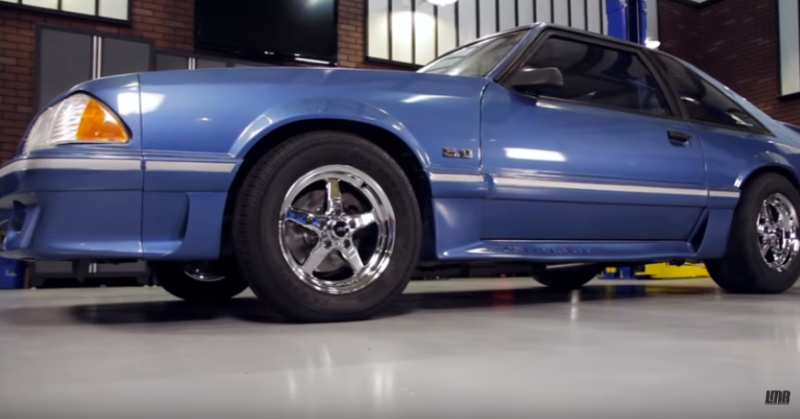 ---
Since this kit utilizes the Fox Body spindle, Here is a list of wheels that will work with this kit without modification:
94-98 16" Waffle Star Pony Wheel
94-97 Cobra Wheel
94-04 15" V6 Wheel
94-04 16" V6 Wheel
Weld Draglites
Weld Prostars
Weld RT-S S71
---
Conclusion
Not that you have this Fox Spindle 5-Lug conversion kit installed, adding more modern 5-lug wheels and designs is much more attainable! Keep in mind that many 94-04 wheel offerings we sell will not fit due to center bore and grease cap fitment issues. Refer to the list that we have above with wheels that we know will fit your Fox Body Mustang!
For more informative articles, tech info, and videos, keep it here with the real Mustang enthusiasts, LMR.com!
---