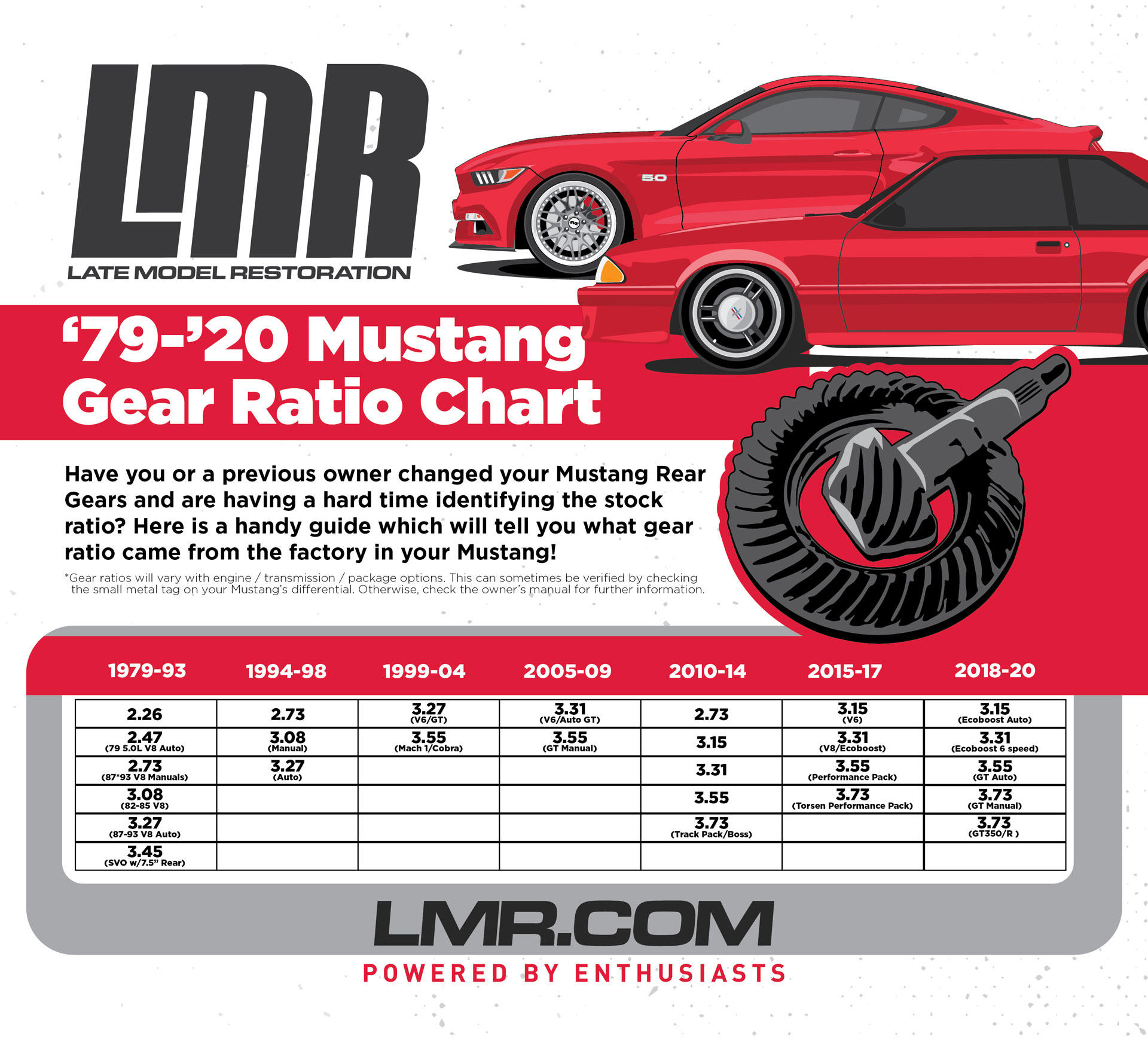 1979-1993
1994-1998
1999-2004
2005-2009
2010-2014
2015-2017
2018-20120
2.26
2.73
3.27
(V6/GT/99-01 Cobra)
3.31
(V6/Auto GT)
2.73
3.15
(V6)
3.15
(Ecoboost Auto)
2.47
(79 5.0L V8 Auto)
3.08
(Manual)
3.55
(Mach 1/03-04 Cobra)
3.55
(Manual GT)
3.15
3.31
(V6/Ecoboost)
3.31
(Ecoboost 6 Speed)
2.73
(87-93 V8 Manual)
3.27
(Auto)
3.31
3.55
(Performance Pack)
3.55
(Performance Pack/GT Auto)
3.08
(82-85 V8 Auto)
3.55
3.73
(Torsen Performance Pack)
3.73
(GT Manual)
3.27
(87-93 V8 Auto)
3.73
(Track Pack/Boss)
3.73
(GT350/R)
3.45
(SVO w/ 7.5" Rear)
If you own a 1979-2014 Mustang, then it came equipped with one of the two Ford rear ends – Ford 7.5 rear end or the Ford Mustang 8.8 rear end. All 1979-1985 Mustangs featured the 7.5 rear end. Starting in 1986 Ford introduced the popular 8.8" rear end in the Mustang. From 1986-2010 the Ford Mustang 8.8 rear end went into all V8 Mustangs (5.0L, 4.6L and 5.4L) and the Ford 7.5" rear end went into all 4 cylinder (2.3L) and V6 Mustangs (3.8L). The 99-01 and the 03-04 Mustang SVT Cobras were equipped with an Independent Rear Suspension (IRS) that used the Ford 8.8" differential. Starting in 2011, both the V6 (3.7L) and V8 (5.0L Coyote) Mustangs used the Ford 8.8 rear end.>p>

Ok, so you know what Mustang rear axle assembly went into what years – now let's look at what axles are in your Mustang rear end. All 79-04 Ford Mustang Rear Ends used 28 spline axles except for the 2001 and 03-04 SVT Cobras – they used a 31 spline axle in their IRS rear end. The 2005-2010 V6 Mustangs with a Ford 7.5 rear end used 28 spline rear axles whereas the 2005-2010 V8 Mustangs with 8.8" rear ends used 31 spline rear axles. For 2011-2014 Mustangs, both the V6 and 5.0L V8 Mustang were equipped with 31 spline axles.

Now that we've cleared up the issue of what rear end you have and what Mustang axles are in your rear end cleared up - does this mean that your Mustang is still equipped with the rear end that it had from Ford? No! Many things could have transpired over the years to have let your Mustang end up with a Rear-End it did not originally come with. Here are a few things to help you differentiate between a 7.5 & 8.8 rear ends.
The following information does not apply to IRS equipped Mustangs
Compare your Rear End Differential Gaskets to these pictures to start off with – 7.5" rear ends have two flat sides and two rounded sides where the 8.8" rear end has four flat sides: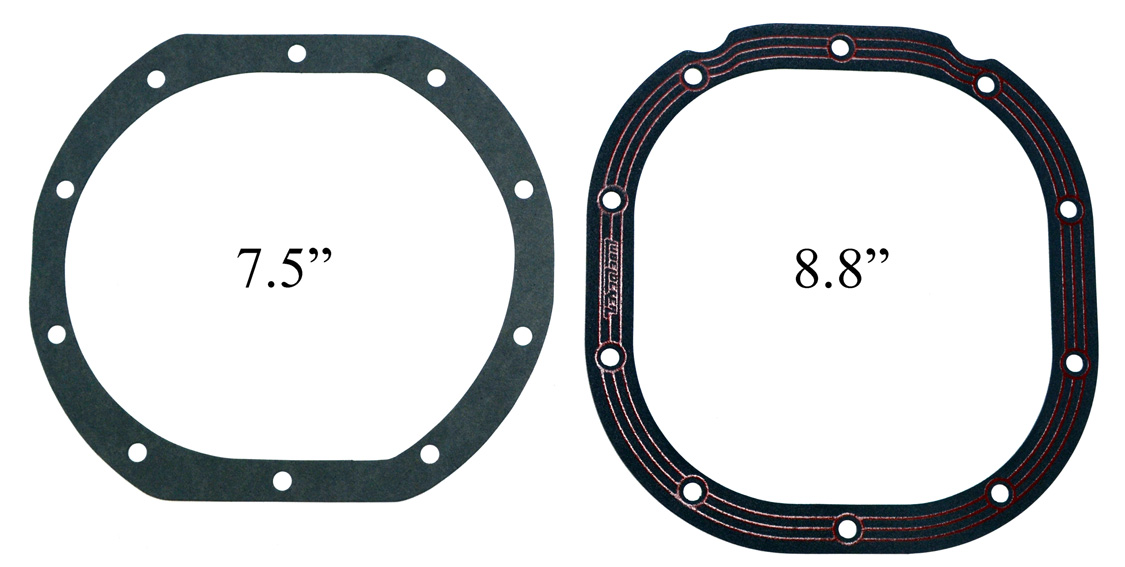 If you are only working with a Rear Gear Set, here are a couple of things to check:
Measure the diameter of the ring gear. A 7.5 Ring Gear will measure 7.5. An 8.8 Ring Gear will measure 8.8.
You can also count the splines on the Pinion Gear. A 7.5 Pinion will have 28 splines & an 8.8 pinion will have 30 splines.
With this new information, you should be able to easily tell what rear end you have in your Mustang!
---