With a 2015-2023 Mustang rear spoiler, you can give your S550 Mustang the downforce it needs. Your Mustang GT rear wing will assist in keeping your back tires planted as you shift through the gears, providing stability and a next-level style rear end. A Mustang trunk spoiler is a must-have addition for any S550 owner, with a more aggressive look and improved handling.
When shopping for spoilers for your S550 Mustang, you are presented with so many options that it can be challenging to decide. We at Late Model Restoration put together some of the best S550 Mustang wing options that money can buy.
We have all you need to modify the look of your S550, whether it's a Mach 1 Mustang, Shelby GT 500, or GT350 rear spoiler! Pick from a variety of pre-painted rear spoilers. There are wicker bill race type rear spoilers, pedestal rear spoilers, and even high mount rear spoilers. Whatever type of 2015-2023 Mustang rear wing you're looking for, we've got it! Take a look below and purchase a 2015+ Mustang spoiler for your S550 today!
---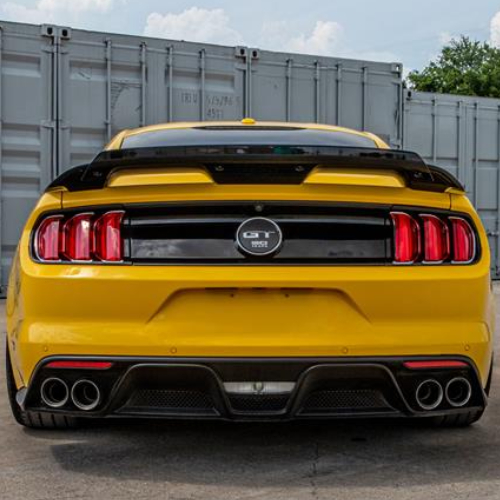 About This Spoiler
Coming in at #1 is the performance-inspired spoiler from Ford Performance that will transform the back end of your 2015-2023 S550 Mustang! This popular spoiler, which comes standard on the GT350, GT500, and Mach 1 S550 Mustangs, will give the extra aesthetic and aerodynamics you've been looking for.
This spoiler is made of lightweight ABS plastic and has a unique design that includes two channels for turbulent air to pass through while three other portions of the spoiler trap air to keep the rear end fixed. Ford Performance features a gurney flap for added downforce and aerodynamic gains on the track, allowing for better grip and handling.
A precise mounting template, complete installation instructions, and all essential mounting hardware are included to make the installation process as simple as possible, guaranteeing that your spoiler remains safe for years to come. This spoiler is finished in a high gloss black paint that will look great on any color S550 Mustang!
Along with the gurney flap installation hardware, the spoiler will feature four pre-installed screws. These short screws are designed to be used on their own (i.e., the gurney flap is not mounted). To remove these screws and insert the long mounting screws for the gurney flap, you'll need a Torx T20 bit.
We also have made an install article for this Ford Performance Rear Spoiler with Gurney Flap to better help you with any questions you may have. So, if you're searching for a great, bold-appearing rear spoiler for your 2015 to 2023 Mustang, you should select Ford Performance's spoiler with a removable gurney flap.
Application
Fits 2015-2023 Mustang Coupes
---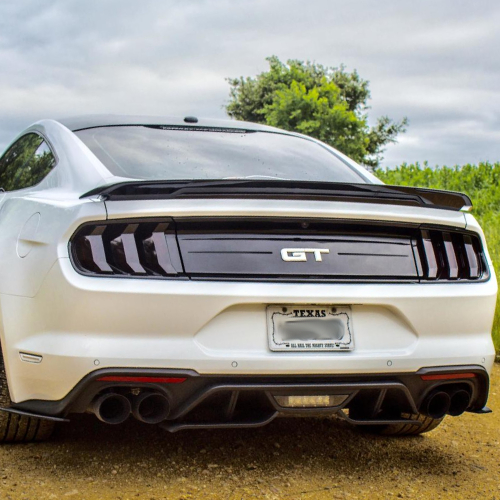 About This Spoiler
Our #2 pick is this Ford Accessories 2015-2023 GT350 Track Pack rear spoiler that can set your 2015-2023 Mustang apart from the crowd! The GT350 boasts several distinctive aesthetic cues from the standard Mustang. The rear spoiler on the Track Pack variant is one of these characteristics. This is the same spoiler Ford revised in 2019 for the 15-18 GT350 Track Pack. On the other hand, this spoiler will fit all Mustangs from 2015 through 2023.
For a more aesthetically pleasing aspect, the Track Pack rear spoiler attaches to the rear decklid and extends past the trunk. If your Mustang doesn't come with a spoiler or only has the small flush-mounted spoiler, this will complete the look. Ford Accessories includes all installation hardware needed as well as a locating template for an easy installation.
To properly install this GT350 spoiler, new holes will need to be drilled, and this item will not fit a convertible. Due to the stock GT/CS spoiler's design, California Special Mustangs may have exposed mounting holes. It is not recommended to install on GT/CS models.
You should also check out our Ford Accessories GT350 Track Pack Spoiler Install Article to better help you! It covers any needed tools and detailed steps to ensure you can install them without any issues.
Application
Fits 2015-2023 Mustang Coupes
---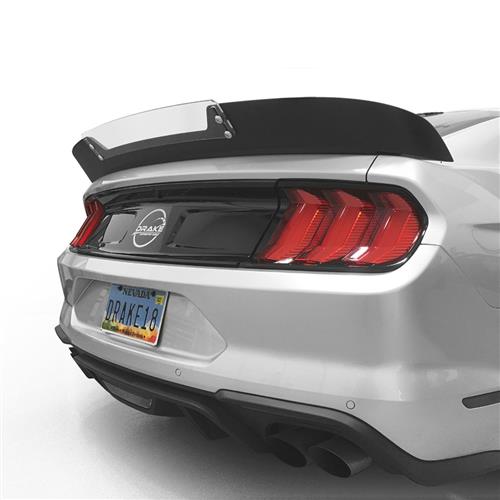 About This Spoiler
Coming in at #3 is the popular Scott Drake Wicker Bill Spoiler. Scott Drake recognizes the importance of speed, and the factory spoiler on the back of your late-model 5.0 Mustang isn't going to cut it. That's why they came up with this Wicker Bill-inspired rear spoiler instead! With this Scott Drake 2015-2023 Mustang Wicker Bill type race spoiler, you can drastically increase the look and performance of your S550!
This spoiler improves rear downforce and keeps the rear of your S550 planted during spirited driving thanks to an adjustable, clear Lexan flap. This spoiler is lightweight blow-molded ABS plastic and provides good performance without adding weight.
Scott Drake gives the S550 a semi-gloss black touch that looks excellent on any Mustang color! Custom machined hardware is supplied, and the spoiler is a direct bolt-on to any Mustang with a spoiler from the factory! If your Mustang doesn't have a factory spoiler, you'll have to drill holes to add it.
Due to the stock GT/CS spoiler's design, California Special Mustangs may have exposed mounting holes, and it is not suggested to install on a GT/CS. It's critical to utilize an adhesion promoter on the surface where the double-sided sticky tape will be put.
Application
Fits 2015-2023 Mustang Coupes
---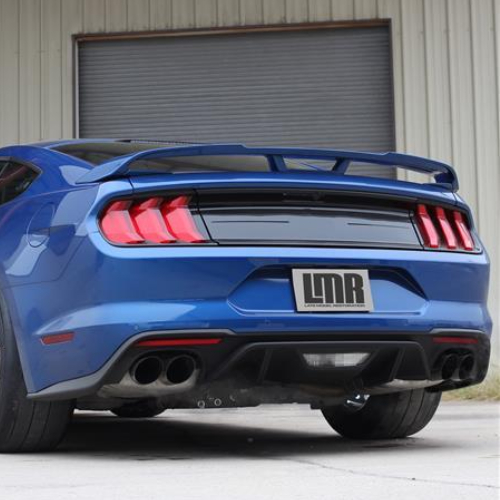 About This Spoiler
Ford Accessories' 2015-2023 Mustang Performance Pack rear spoiler adds performance styling to the exterior of your S550! If your S550 Mustang didn't come with a spoiler or only had the little flush-mounted spoiler from the factory, this rear OEM-style spoiler will complete the look.
This 2015-2023 Mustang Performance Pack spoiler that we rank at #4 on this list is made of high-quality ABS plastic and comes in a black finish that is ready to prep and paint. The spoiler and wings have studs and gaskets for a simple and secure installation. It cannot be fitted on a convertible because the third brake light will be obstructed.
Drilling is required for alignment dowels and mounting studs on 2015-2023 Mustangs without spoilers. Due to the stock GT/CS spoiler's design, California Special Mustangs may have exposed mounting holes. It is not suggested to install on a GT/CS Mustang.
Application
---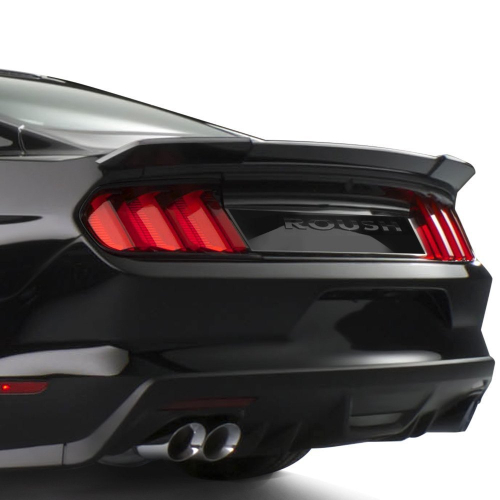 About This Spoiler
Rounding up our list is the Roush rear spoiler in which you can transform the look of your 2015-2023 Mustang! This spoiler is designed to blend in with the body of your S550 and is the ideal accessory to complete the look of your Mustang. Roush improved this rear wing for optimum rear visibility. This spoiler is lightweight and sturdy ABS plastic and is built to last.
ROUSH spoilers are developed and built with OEM CAD data and manufacturing techniques, ensuring quality and a perfect fit. Roush ships this Mustang spoiler unpainted; thus, it must be painted to match at a body shop.
The Roush spoiler should not be used as a replacement on a Mustang that came from the manufacturer's spoiler. If the factory spoiler is removed and this spoiler is added, the deck lid will have visible holes. It is impossible to place it on a convertible since it will obscure the third brake light.
Application
Fits 2015-2023 Mustang Coupe WITHOUT Factory Spoiler.
Installation on 2015-2023 Mustang Coupe With Factory Spoilers Will Have Exposed Holes
---
Conclusion
We at LMR hope this quick and easy guide has made it easier to compare some of the best S550 Mustang rear spoilers. Each of these spoilers is unique in providing variety to the varying interests that Mustang enthusiasts have. Some of the spoilers on this list are registered trademark products of Ford Motor Company which enforces our opinion on the quality level of the rear spoilers that we sell.
Please be sure to reference our installation notes and application requirements to ensure these spoilers will work with your Mustang. Currently, we offer rear spoilers for 2015-2023 Mustang models. Also, it would be best if you looked into pairing your new spoiler with additional exterior parts such as a new rear bumper or decklid to completely change the look of the rear of your S550 Mustang.
---
As always, for all things S550 Mustang, keep it right here with the Real Mustang Enthusiasts at LMR.com
---