For this dyno article, we will be covering our friends of the LMR family, the Schoppes. Cody and his father Scott picked up this 1993 Foxbody Convertible Mustang as a father and son project to help raise awareness of Muscular Dystrophy. Check out below for more pics, dyno technical data, and of course, the dyno results!

Also, check out Cody's website PROJECT MAYNARDSTANG to learn more about his story and how mile by mile, the Schoppe family will help support and raise money for the Muscular Dystrophy Association. Cody took his passion for raising awareness of muscle disease and disabilities in general combined with his passion for cars. Project Maynardstang raises funds and awareness for Muscular Dystrophy and the disabled. On Project Maynardstang, you will also see car content, Mustang content, Disability content, and Muscular Dystrophy content. Content is received through our A Day in A Life YouTube Videos, Motivation Monday Posts, Talk with Maynard Tuesday Podcast, Wheel Wednesday Posts, Think about it Thursday Videos, Fun Fact Friday Posts, and Summary Saturday Blogs.
---
Jump To:
Dyno Numbers & Photos
---
← Swipe For More 1993 Mustang Photos →
---
Dyno Technical Data
SVE 17-inch Saleen SC Wheel
Ford AOD Automatic Transmission So Dyno Pull Will Be Made In 3rd Gear
4.10 Rear-End Gear
Factory Driveshaft
Ford Performance E303 Camshaft
BBK Cold Air Intake
93 Octane Fuel
BBK Shorty Headers
OEM Ford 5.0 Longblock
---
Dyno Results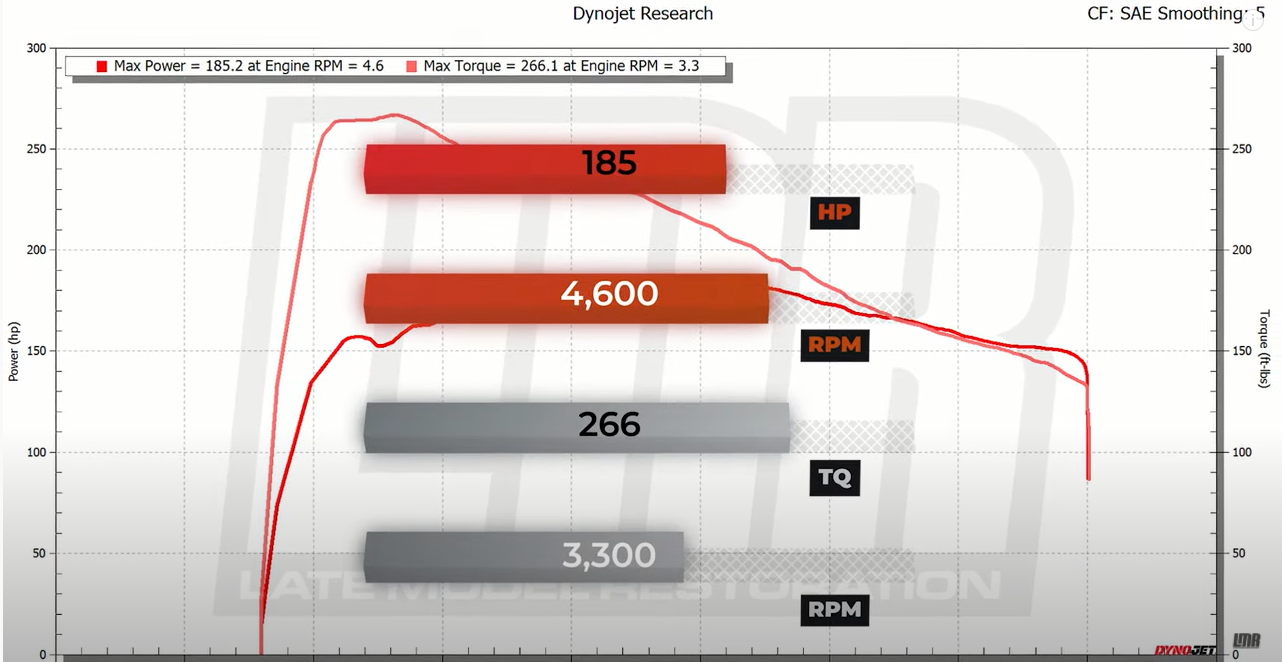 ---
Here are the results! Cody's '93 Mustang produced 185 RWHP at 4600 RPM and 266 RWTQ at 3300 RPM. With the AOD transmission and the higher drivetrain loss figured in, these numbers are right on the money with other similar 5.0L Fox's. As always, keep a lookout for more dyno articles and videos right here at LMR.com. Shop our featured Fox Mustang Performance Parts below!
---