Throughout the years of late-model Mustangs, we have seen several different suspension setups. For their time, they got the job done, delicately balancing the duties of daily driving and light racing applications. The simplicity of these kits made them very easy to upgrade for more spirited driving and racing applications, but they all had one thing in common - you can't adjust them on the fly. The 2013-14 GT500s had Bilstein adjustable dampening suspension, but it wasn't until the GT350 that we saw Ford go all in on adjustable suspension.
In 2016, with the release of the iconic GT350/GT350R, Ford introduced the MagneRide suspension, which would become a standard feature on higher trim Ecoboost and GT Mustangs starting in 2018. The MagneRide system allows for drivers to select three different suspension modes to cater to their current driving style. Today, we are going to look at what MagneRide is, and how to tell if your Mustang has MagneRide.
What Is MagneRide?
MagneRide is an adaptive suspension with a magnetorheological fluid damper system that uses shock absorbers as well as magnetically controlled dampers for a highly adaptive ride. What sets this apart from traditional suspension systems is that it has no mechanical valves or small moving parts that can wear out. The MagneRide System consists of four monotube dampers that are located on each corner of the vehicle. It also consists of a sensor set and ECU to maintain the system.


Benefits Of Mustang MagneRide Suspension
There are many reasons why Ford Motor Company equipped their higher-performance vehicle with MagneRide suspension. MagneRide offers unparalleled suspension performance when compared to traditional shocks and struts, giving you the ability to switch between three different modes for virtually any type of driving.
Improved Road Isolation - Road isolation is significantly enhanced by MagneRide, leading to a reduction in driver fatigue.

Better Handling - Unlike traditional dampers, MagneRide enables tires to maintain consistent contact with the road across a broader range of conditions. This helps to reduce body roll and increase overall suspension handling.

Rapid Response To Changing Road Conditions - This system also boasts rapid responsiveness to quickly adapt to changing driving dynamics. The result is a refined ride quality, instilling both smoothness and confidence in handling.

Selectable Modes - S550 Mustangs equipped with MagneRide can choose from three different modes: Normal, Sport, & Track

No Mechanical Valves - MagneRide's design eliminates the need for mechanical valves and delicate components, reducing concerns about wear and tear.
Does My Mustang Have MagneRide?
There were a handful of Mustangs that feature MagneRide as standard equipment and some were offered as an addable option.
2016-2020 Shelby GT350/GT350Rs (Standard)

2018-2023 Mustang EcoBoost & GT W/ Level 1 Performance Package (Option)

2018-2020 Mustang GT w/ Level 2 Performance Package (Standard)

2019-2020 Bullitt Mustang (Option)

2020-2023 Mustang EcoBoost w/ High-Performance Package/Handling Package (Standard)

2020-2022 Shelby GT500 (Standard)

2021-2023 Mustang Mach 1 (Standard)


How To Determine If Your Mustang Has MagneRide
There are a couple of different ways to determine if your Ford Mustang came equipped with the MagneRide suspension system.
Window Sticker
If you still have your vehicle's window sticker, you should see Magne-Ride Damping System listed under the optional equipment. Since many S550 owners do no have access to their window stickers, you can check this a few other ways.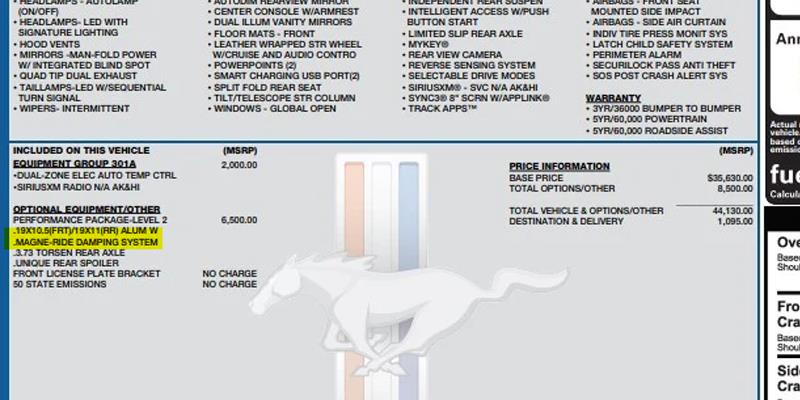 Vin Number
Looking at the vin number, which can be found at the bottom of your windshield on your dash or on your door tag, you can call your local Ford dealership to have them look up the options that came with your vehicle.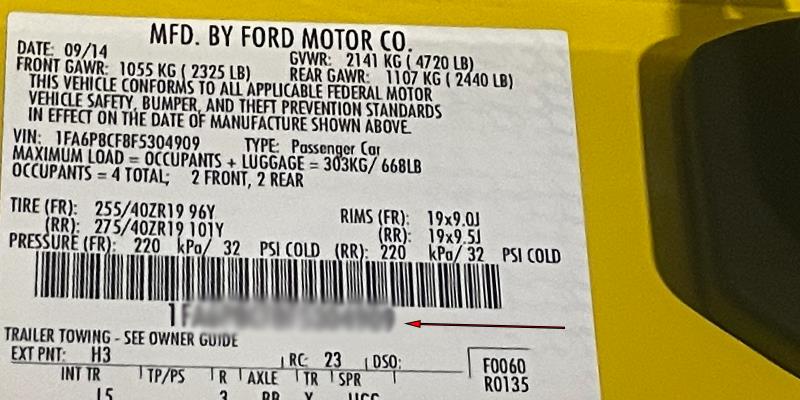 Look For MagneRide Lines/Ride Height Sensors
If you would rather have a look for yourself, you can identify MagneRide suspension by taking a look at the front and rear shocks and struts. On MagneRide systems, the front shocks will have a MagneRide line next to your ABS line. You will also see a wiring harness behind the brake caliper, along with a ride height sensor. On the rear, you will notice that the rear shock features a wiring harness coming out of the top of the shock, above the shock mount.


Is MagneRide Worth It On Mustangs?
With the MagneRide suspension system being a nearly $2,000 option, there can be some hesitation on choosing this upgraded suspension. So, is MagneRide worth it? Well, that depends on what you will be using the car for.
For those who are simply going to be daily driving their Mustang on city streets and highways, MagneRide may not be worth it.
If you plan on tracking your Mustang or want to get the best-performing suspension available from the factory, MagneRide is a great option that is comparable in price to similar aftermarket suspension setups.
---