For this dyno article we will be checking out this bone stock 2011 Mustang GT and the power gains it receives from this Gen 3 intake manifold from the factory 2018 Mustang GT. Check out below for more pics, dyno technical data, and of course the before and after dyno results!
Also, check out our 2011 Mustang Colors to learn more about this S197 Mustang and how it is considered one of the best performance Mustangs that money can buy!
---
Jump To:
Dyno Numbers & Photos
---
← Swipe For More 2011 Mustang GT Photos →
---
Dyno Technical Data
Factory 18-inch Rear Wheel
MT82 6-Speed Transmission So Dyno Pull will be made in 5th gear (1:1 ratio)
3.31 Rear-End Gear
Factory Two-Piece Driveshaft
2018 Ford Intake Manifold
93 Octane Custom Tune and SCT X4 Tuner
---
Dyno Results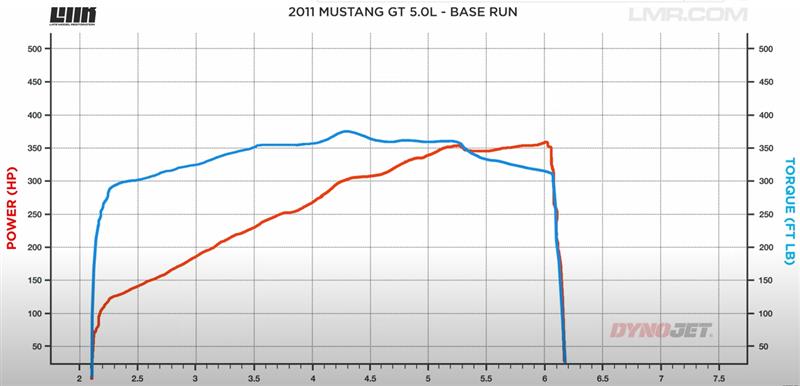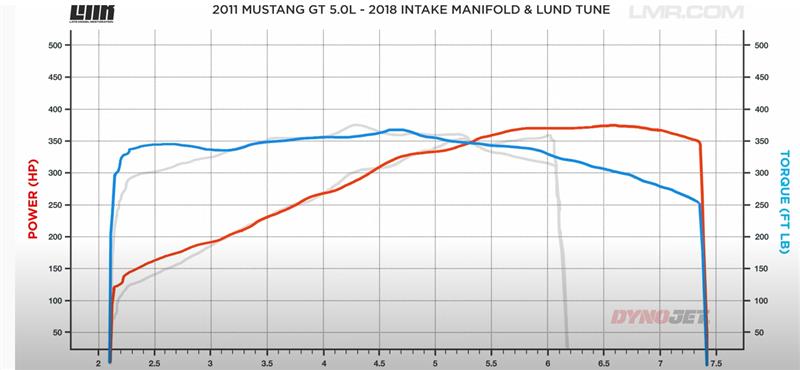 ---
As a baseline to compare, this 2011 GT made 356 RWHP at 6000 RPM and 372 RWTQ at 4300 RPM.
This is about right on the money with other stock 11-14 Coyote's we have strapped down to the dyno in the past. The after dyno with the 18 GT intake Intake manifold and the Custom tune produced a gain of 376 RWHP at 6600 RPM and 364 RWTQ at 4600 RPM, this increase over the 11-14 manifold was great in comparison.
This 18 manifold is one of the best "bang for the buck" bolts-on modifications you can do! Like any Mustang enthusiast, we have big plans for this car and we can't wait to see this build in the future. I can guarantee you that this 2018 intake manifold will not be the last mod on this car.
We hope this dyno gave you some more insight on just what these 2011 Mustang GTs can do. As always keep a lookout for more dyno articles and videos right here at LMR.com. Shop our featured 2011 Mustang GT Parts below!
---