Just barely in the new year we have already heard of some exciting things about the Electic F-150 Lightning! Back in September of 2021, we heard of the doubling of production from 40,000 to 80,000, but recently Ford has increased production even more! It is now reported that Ford is nearly doubling the annual production capacity from 80,000 to 150,000! This is to ensure that as many enthusiasts as possible can get their hands on one and has been strategically planned so that they can begin to take actual orders for this truck.
Due to the high demand of potential buyers, the initial reservation holders will get first dibs by being sent a notification. This notification will mention that not all of them will have an opportunity to place an order for the Ford F-150 Lightning model year, unfortunately. We at LMR hope this new annual production amount will get this exciting electric truck into as many hands as possible by year's end.
---
Updated: 9/20/2021
The Electric Ford F-150 Lightning is now going into pre-production! The first examples are to be used in real world testing. Some other popular news is that Ford has also doubled the production volume of this pickup from 40,000 to 80,000 units a year to keep up with the demand. This has led it also to have to add 450 jobs across 3 Michigan facilities which include the Rouge Electric Vehicle Center which is building the truck. These changes have left the Detroit automaker to invest an additional $250 million to keep up with demand.
---
Updated: 5/20/2021
The official reveal from Ford is now over! The Electric F-150 Lightning has been announced to come out with the base model at a reasonably priced $39,974. While some of the most premium models like the loaded Platinum series are expected to peak in prices close to $90,000, it just shows that Ford is trying to make this vehicle available for everyone due to their variety of trim options. Below we included the official reveal video from Ford as well as all of the details that we know so far:
---
Electric F-150 Lightning Prices & Trim Options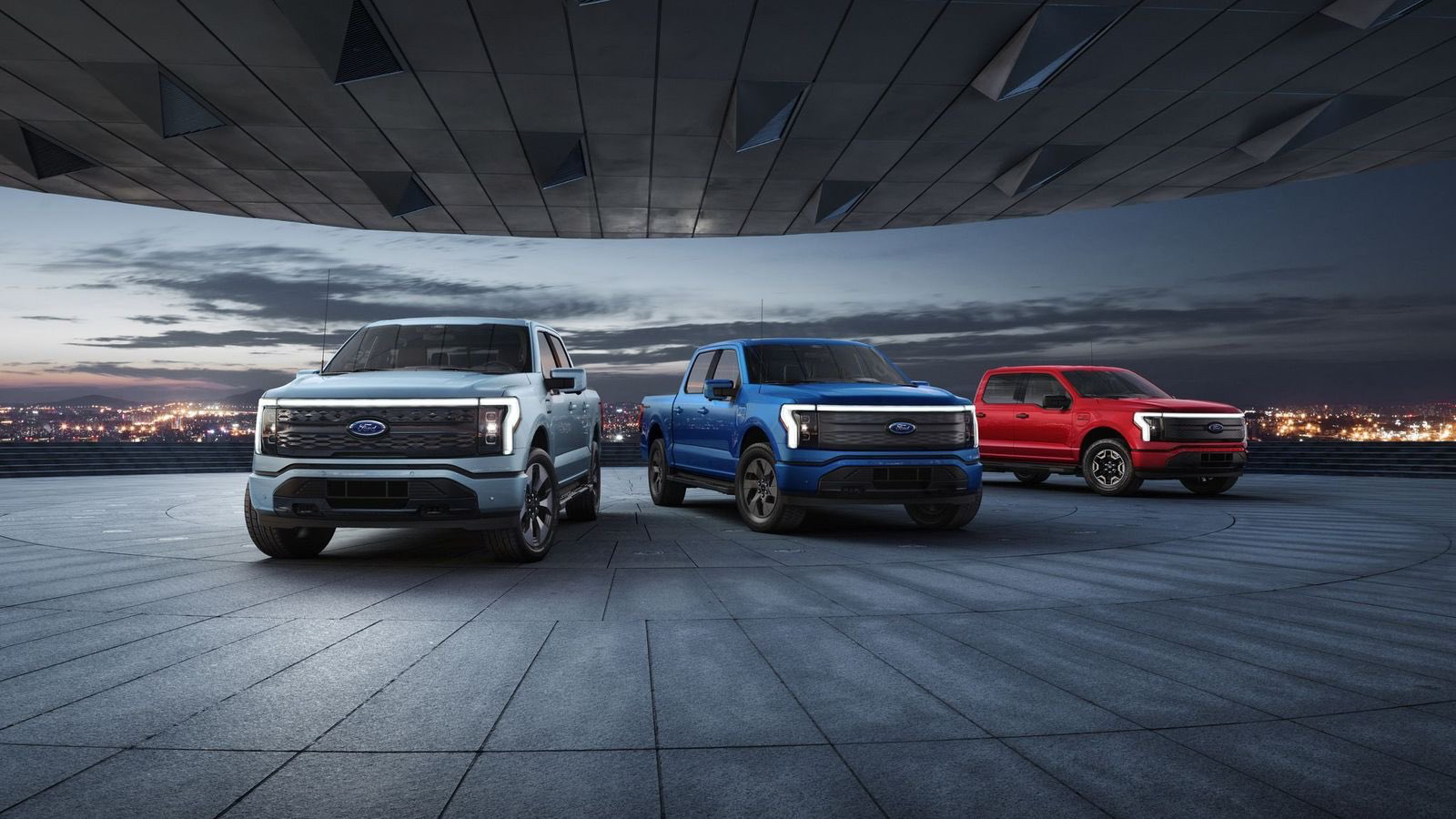 While the Electric F-150 Lightning is only available as the SuperCrew model with a 5.5-foot box, there are still different trim options to highlight. Ford made it very reasonable to get on the waiting list for these models with only a $100 reservation deposit.
Base/XLT Trim Level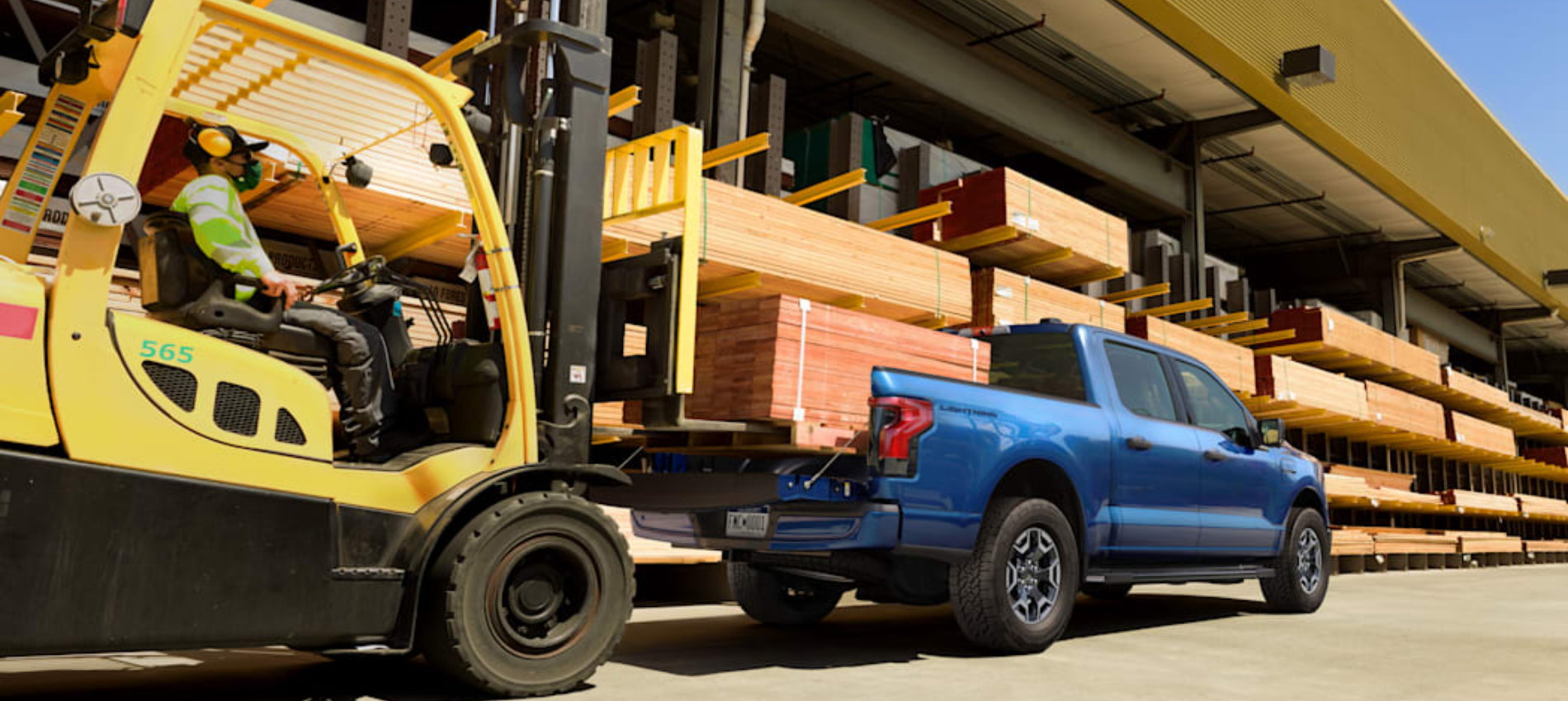 The base version is expected to come out at $42,000 with a $39,974 MSRP while the XLT version is looking to be the mid-level trim option starting out at $55,000 with a $52,974 MSRP. The Base package will mainly be marketed to commercial and fleet buyers, but individual retail buyers can still buy one for personal use. Unfortunately, Ford hasn't revealed any additional details about the base trim at this time, and it will be revealed later when they talk more about their fleet options. For the time being, we will list features of only the XLT trim:
Comes with the Standard Range battery with the larger pack being an optional upgrade.
Doesn't include the light bar that connects to the taillights like the Lariat & Platinum trim options.
LED Bed Lightning & Power Tailgate are optional.
Can tow up to 10,000 lbs which are 4,000 lbs less than the highest gas-powered F-150.
2,000lb payload capacity for the Standard Range Battery & a drop to 1,800lb for the extended range due to the battery's increased weight.
Ford's onboard scales display on the touchscreen how much weight someone has loaded in the truck and the estimated driving range when hauling and towing. This adjusts based on the tongue weight.
The front trunk or "Frunk" has a volume of 14 cubic feet and can hold up to 400 lbs. There are also 4 electrical outlets and 2 USB ports available. This also has a basin on the floor which features a drain.
Comes with 18" Aluminum Wheels with black accents. 20" dark grey wheels are an optional upgrade.
Ford's Sync 4 entertainment system is the only option with a 12" touchscreen.
Standard cloth seats with an option to upgrade to heated seats.
The electrical output for the XLT gets the 2.4kW ProPower Onboard system as a standard option with the ability to upgrade to the 9.6kW version.
Includes the Tow Technology package that includes the Max Trailer Tow package and trailer backup assist.
BluesCruise hands-free driving is not available on the XLT model, but the Co-Pilot360 Assist 2.0 package with adaptive cruise control, built-in navigation, and lane centering is included.
Lariat Trim Level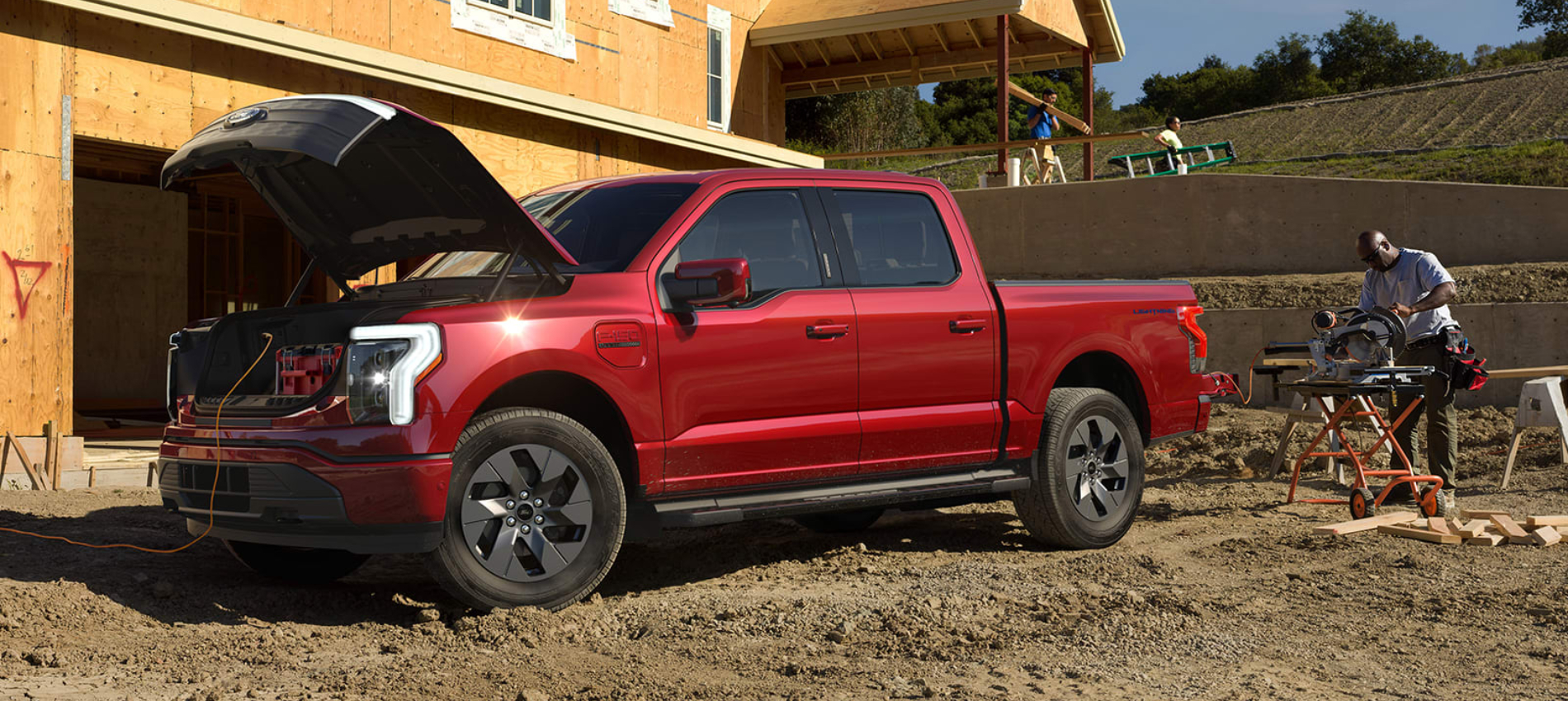 From what has been released, it is expected that the Lariat trim will come in at just under $60,000. While the Lariat has many of the same options as the XLT, it does come with a few additional features:
Comes with Standard Range Battery with options to upgrade to the Extended Range Battery option.
Comes standard with the Gray 20" Wheels.
While all Lightning trim options come equipped with fixed running boards, the Lariat & Platinum models have both retractable running boards and a power tailgate.
Has both cooled and heated leather seats.
15.5" vertically oriented Ford Sync 4A Entertainment System touchscreen.
A Bang & Olufsen 8-Speaker Sound System.
Ability to use your phone as a key.
The upgraded electrical output system (9.6kW ProPower Onboard) comes standard as well as the Co-Pilot360 Assist 2.0.
Both BlueCruise & Active Park Assist are available as well as both tow packages.
Platinum Trim Level
The Platinum trim level will start out around the $70,000 mark, but the fully loaded option is rumored to approach the six-figure number at $90,000. Here's what you get for this premium price:
Only available with the Extended Range battery pack & the 9.6kW ProPower OnBoard electrical output system.
They come equipped with 22" wheels with black accents.
Nirvana leather ventilated and heated seats with black stripes.
The 15.5" touchscreen.
Upgraded Bang & Olufsen sound system from 8 speakers in the Lariat to 18 speakers.
Maximum reclines front seats that are only available on the Platinum model.
Both towing packages come standard as well as BlueCruise.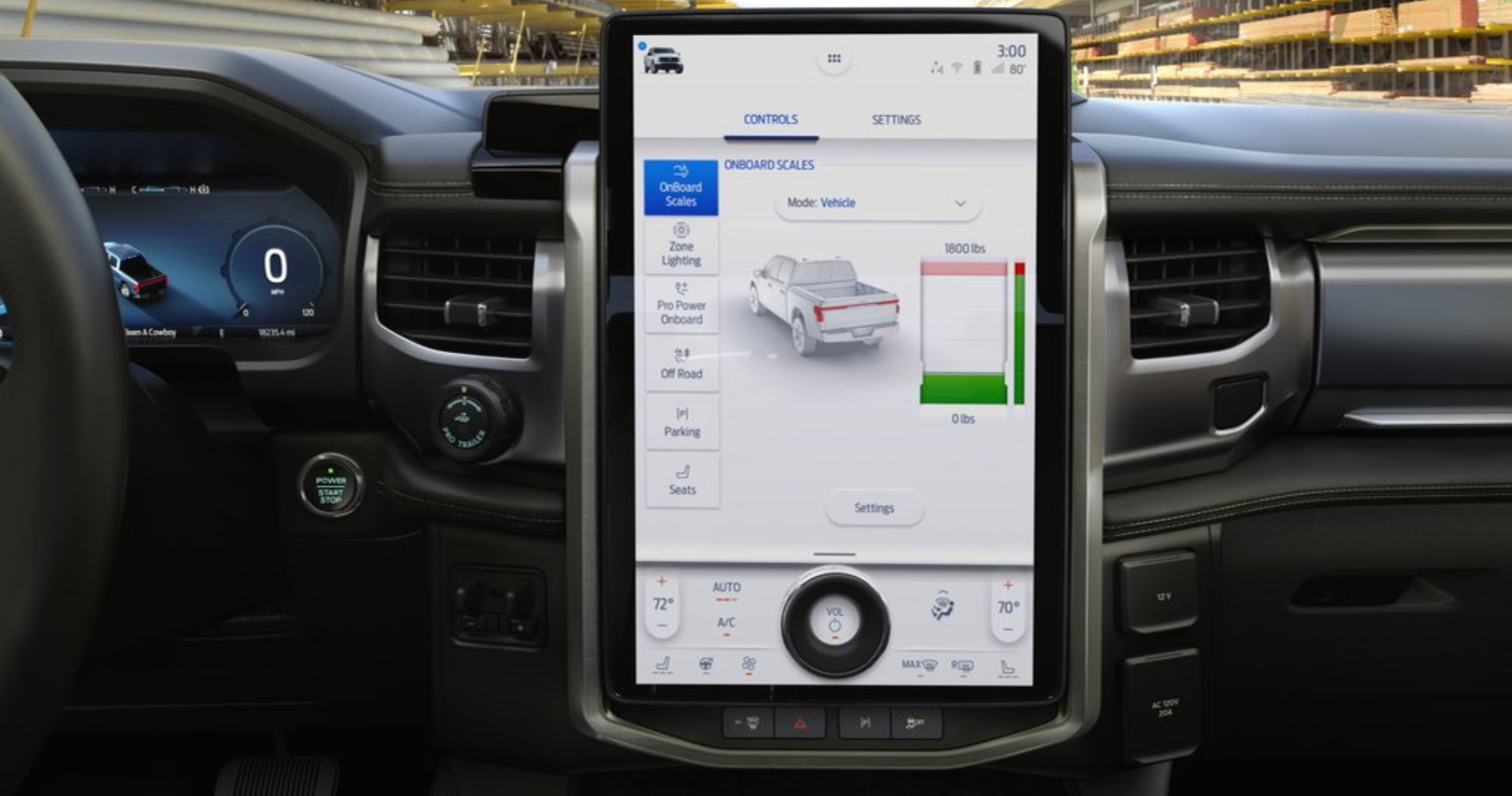 ---
Electric F-150 Lightning Specs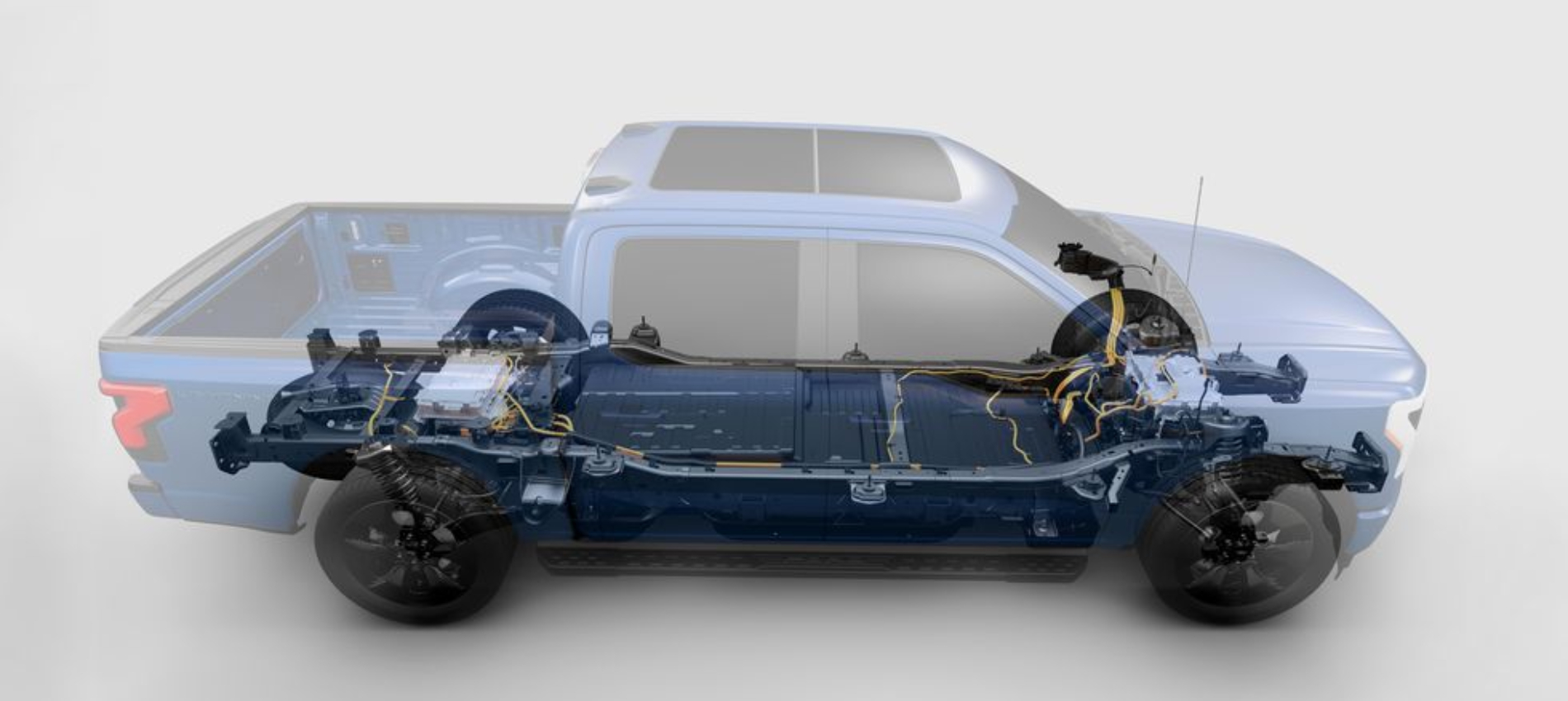 2 Lithium-Ion Battery Pack Options: Standard Range with a 230-mile estimated range and the Extended Range battery which Ford claims can reach the 300-mile range.
While the battery pack capacity hasn't been released, we're estimating 115 kWh and 150 kWh.
The Standard Range Pack is rated at 426 HP.
The Extended Range Pack is rated at 563 HP.
Both Range Packs will be rated at 775 lb-ft of torque. This is 205 more torque than the F-150's new PowerBoost hybrid V6.
It is estimated that the 0-60 times will reach the mid-4 second range with the upgraded battery pack. This is in comparison to the 2017 F-150 Raptor which hit the 4.9-second mark and the 2001 SVT Lightning which came in at 5.2 seconds.
While the standard F-150 comes with a live rear axle, the Electric F-150 Lightning has an independent rear suspension setup. This change and having a lower center of gravity should result in being at the forefront of one of the best-handling trucks.
---
Electric F-150 Lightning Battery

The 150kW DC fast charger can add 54 miles in 10 min to the larger battery or charge from 15 to 80% in 41 minutes.
If plugged into Ford's standard 80-amp home charging station, this electric F-150 Lightning can supply up to 9.6 kilowatts to the home during power outages. Once the power to your home is back on, the truck will automatically switch back to charging.
It has been estimated that this truck can power homes for 3 days with the larger battery back.
Provides either 2.4 kW from the base model or a combination of 2.5 kW from the frunk's outlets and 7.2 kW in both the bed and cab from the top two premium trims (Lariat & Platinum).
The status of the battery can be checked in the FordPass app and it will send an alert when the charge dips below 33%. This can be manually set to automatically stop supplying power when there's not enough range to make it to the nearest charging station.
There's definitely much to be excited about with the official reveal of the different trim options for the Electric F-150 Lightning. We at LMR will continue to update you with the latest news.
Image Credits: ford.com
---
Updated: 5/18/2021
May 19th was supposed to be the official reveal, but the cover may have been blown! During President Biden's visit to Ford's Rouge Electric Vehicle Center, the Electric F-150 Lightning is clearly shown in the background during his speech. What do you think? Could this be the new Electric F-150 Lightning?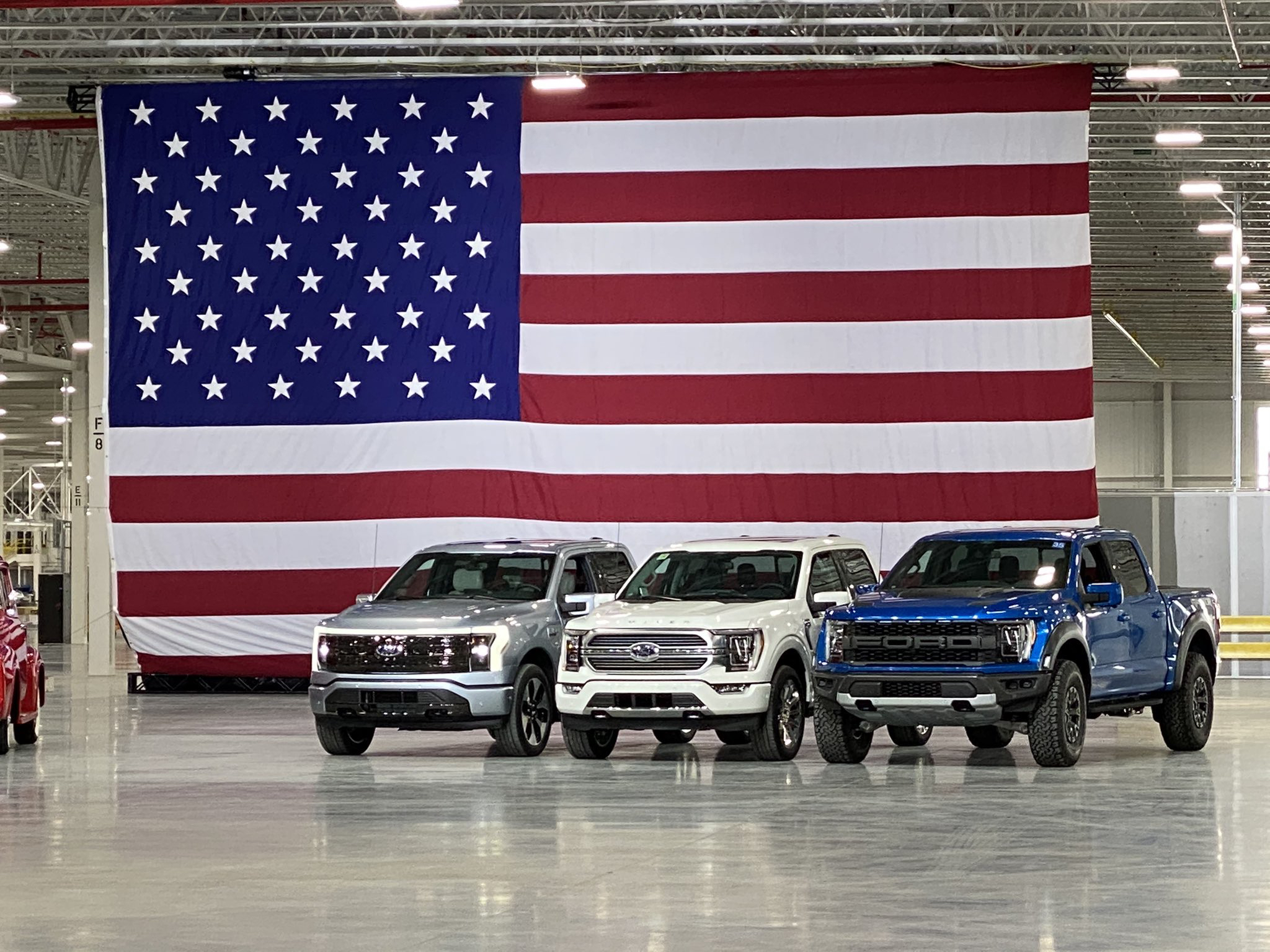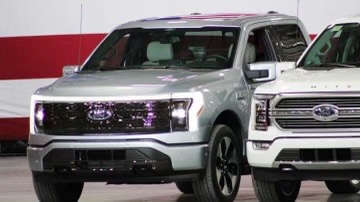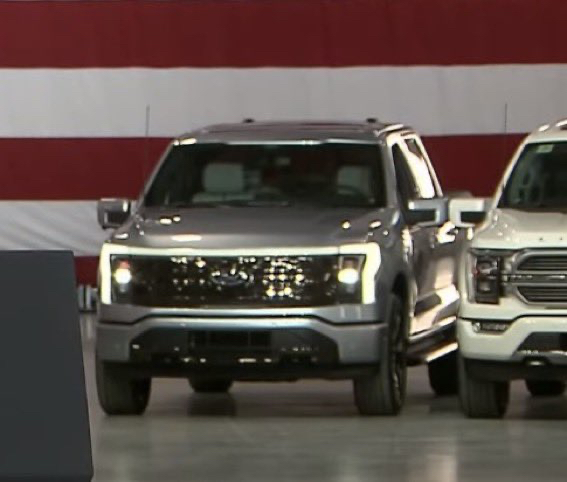 ---
Updated: 5/10/2021
On May 10, 2021, Ford officially released the teaser for the upcoming All-Electric F-150 Lightning! The official reveal is scheduled to be May 19th at 9:30 PM/ET at their Dearborn, Michigan headquarters. To hype up this major event, Ford is creating many different ways to tune into this reveal as well as hosting many different in-person events around the country (some of which are in Las Vegas & Times Square). Check out Ford's teaser video below, and we hope you are as excited about the resurrection of the F-150 Lightning as we are!
According to a Ford document given to Car And Driver by a source, Ford's latest electric pickup truck will be called the F-150 Lightning. It was first used on the 1st Gen SVT F-150 Lightning truck, which was offered from 1993-95 and was followed by the 2nd Gen Lightning from 1999-04. Unfortunately, the iconic SVT (Special Vehicle Team) name won't be associated with this model, but it's estimated that the electric Ford F-150 Lightning will be available for purchase in the middle of the year.
When Car And Driver reached out to Ford, a spokesperson responded by saying "we're excited to introduce the all-electric F-150 very soon, but we don't comment on speculation about future products". When Ford put the Mustang name on the first electric crossover, it attracted a lot of publicity, and now the electric version of its best-selling pickup will bring back an iconic nameplate from V-8–powered street trucks. While we don't know much about the exterior changes, the biggest change we do know is the large light bar that spans the grille. Last year, Ford sold 787,422 F-Series trucks, and the new electric model will compete with other upcoming electric pickups including the GMC Hummer EV Pickup, electric Chevy Silverado, and Tesla Cybertruck. All of these competitors claim to have a range of more than 350 miles so the electric F-150 Lightning will have plenty of competition to live up to.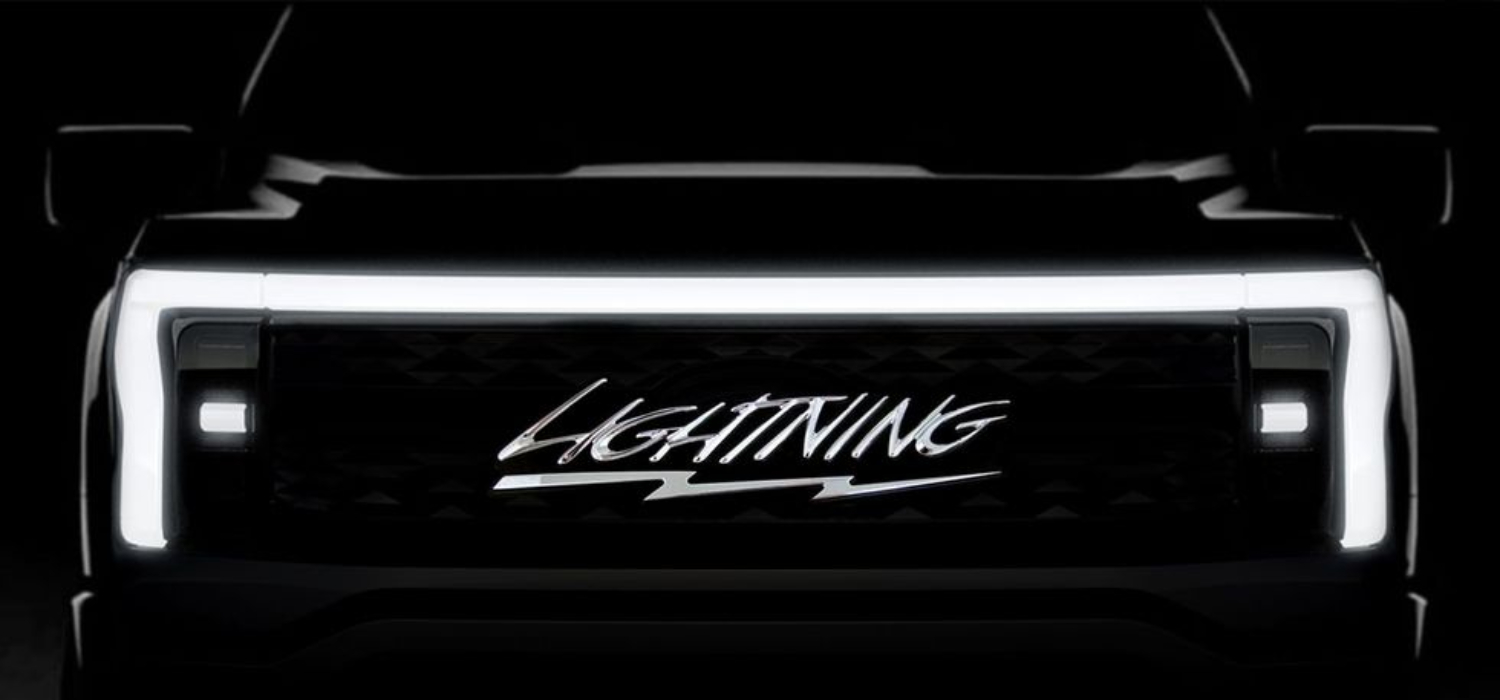 caranddriver.com
While no details of the Lightning's powertrain have been released, it has been revealed that it will have a dual-motor setup that provides an all-wheel drive. Ford has stated that this electric F-150 Lightning will come equipped with both more horsepower and torque than any F-150 that is currently on the market. This means that it will have at least more than 450 HP with a 0-60 time in less than 5.0 sec. This is in comparison to the 2nd Gen 2001 SVT Lightning which had a 0-60 time of 5.2 sec with a 13.8 sec. 1/4 mile at 104 mph.
Since the longest-range Mustang Mach-E is EPA-rated at 305 miles of driving range, we expect the F-150 Lightning's battery pack to have more than 300 miles of range. Ford also invented a range extender that could be removed and stored in the truck's cab. The Ford F-150 Lighting and its batteries will be manufactured at Ford's Rouge Center in Dearborn, Michigan, in a new electric vehicle factory. It will appear in the second half. Stayed tuned with LMR.com on all of the latest updates!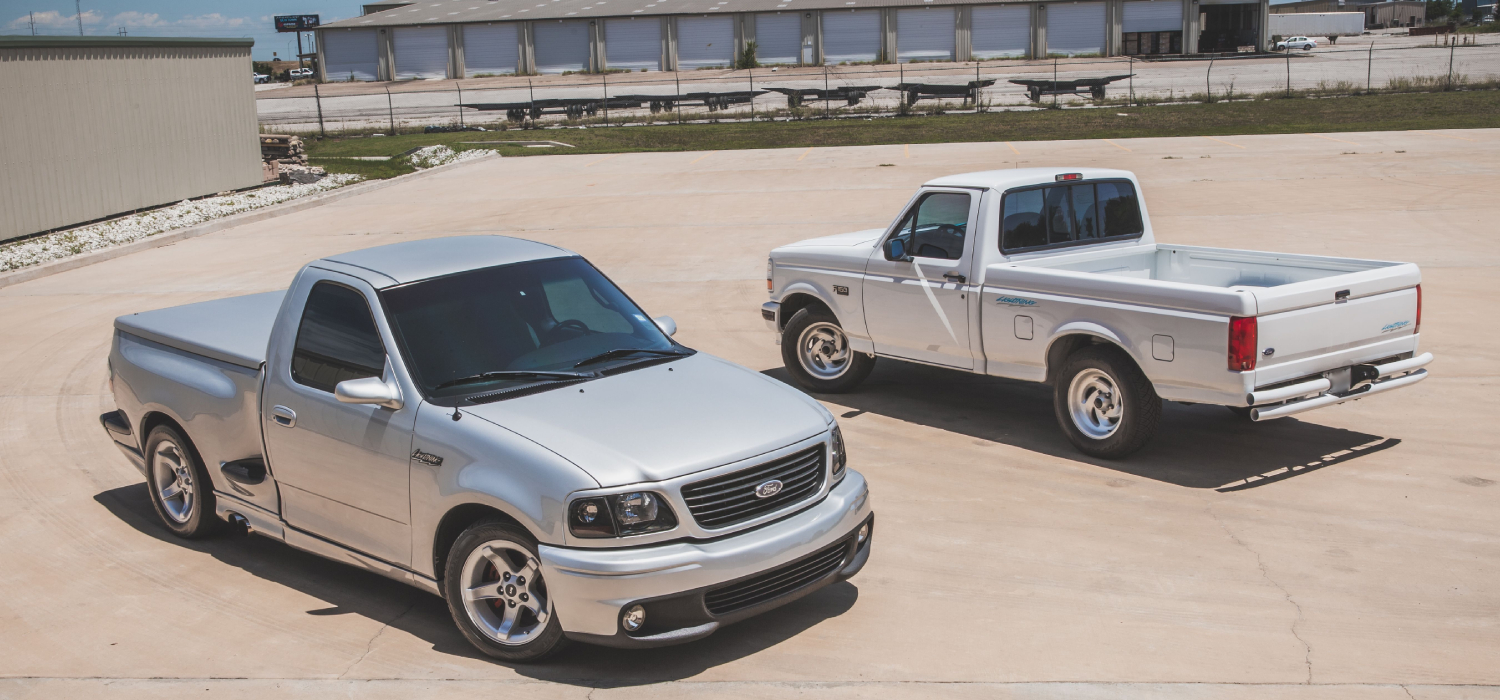 Summary
The F-150 Lightning is the name of Ford's upcoming electric pickup truck.
The Lightning name was first used from 1993-95 with the 1st Gen SVT F-150 Lightning.
The electric F-150 Lightning will come equipped with both more horsepower and torque than any F-150 that is currently on the market.
The new electric truck will be available next year and will feature a dual-motor system with all-wheel drive.
---