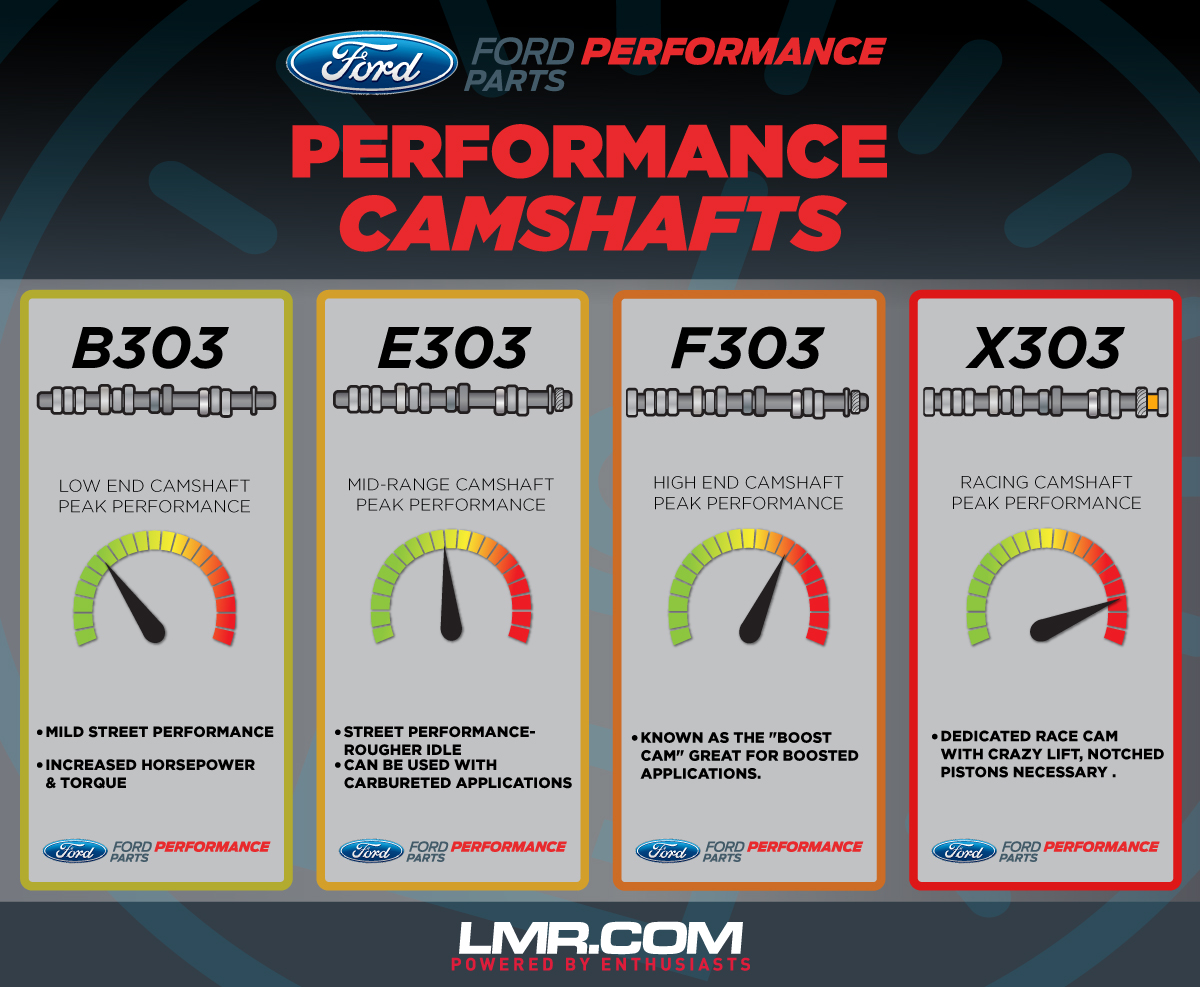 Ford B Cam
This Ford Performance B303 hydraulic roller camshaft, also known as an B cam, is a great way to add horsepower to your 5.0L 85-95 Mustang. Fox Body cams not only add performance, they give your Mustang an aggressive lope exhaust tone. This Mustang B Cam offers a more aggressive idle and excellent low-end torque for your 302 Fox Body engine. Perfect for a bolt-on modified Mustang. While it adds a noticeable power improvement, it maintains great drivability characteristics for daily driving. Works well with manual transmission, automatic transmission, carburetor, and mass air fuel injection.
B303 Cam Specs
This Ford Performance M-6250-B303 camshaft has a 224° intake duration at.050", and a 224° exhaust duration at .050". This B Cam also features a 0.480" intake lift with 1.6 rockers. Requires upgraded valve springs and a high stall torque converter is recommended for automatic transmissions.
Notes
- On EFI engines, performance camshafts work only with mass air induction systems. Will not work with Explorer EEC-V EFI.
- Also fits 1994-95 351W with factory roller cam when used with mass air EFI.
- Stock 5.0L HO cam advertised specs are 266°/266° duration, 0.444"/0.444" lift.
Application
- Fits 1985-1995 Mustangs 5.0L w/ hydraulic roller tappet cam
Ford E303 Cam
This Ford Performance E303 hydraulic roller cam, also known as an E cam, is a great way to add horsepower to your 5.0L 85-95 Mustang. Fox Body cams not only add performance, they also give your Mustang an aggressive lope exhaust tone. This Mustang E Cam, M-6250-E303, offers good idle quality and excellent low and mid range power for your 302 engine. While it adds a noticeable power improvement, it still maintains great drivability characteristics for daily driving. Works well with manual transmission, automatic transmission, carburetor, and mass air fuel injection.

E303 Cam Specs
This Ford E303 camshaft has a 220° intake duration at .050", and a 220° exhaust duration at .050". This E303 camshaft also features a 0.498" intake lift with 1.6 rockers and a lobe separation angle of 110°. Requires upgraded valve springs to a higher lift spring for proper operation. A high stall torque converter is recommended for all automatic transmissions.

Notes
- On EFI engines, performance camshafts work only with mass air induction systems. Will not work with Explorer EEC-V EFI.
- Also fits 1994-95 351W with factory hydraulic roller cam when used with mass air EFI.
- Stock 5.0L HO cam advertised specs are 266°/266° duration, 0.444"/0.444" lift.

Application
- Fits 1985-1995 Mustangs 5.0L w/ hydraulic roller tappet cam
- Fits 1994–1997 351W blocks with factory roller cam
- Fits 1979–1993 non-roller cam 351W blocks when used with hydraulic roller lifters
Ford F Cam
This Ford Performance F303 hydraulic roller camshaft, also known as an F cam, is a great way to add horsepower to your 5.0L 85-95 Mustang. Fox Body cams not only add performance, they give your Mustang an aggressive lope exhaust tone. This Mustang F Cam offers a good idle quality and great mid to upper RPM power for your 302 Fox Body engine. While it adds a noticeable power improvement, it maintains great drivability characteristics for daily driving. Works well with manual transmission, automatic transmission, carburetor, and mass air fuel injection.

F303 Cam Specs
This Ford Performance M-6250-f303 camshaft has a 226° intake duration at.050", and a 226° exhaust duration at .050". This F Cam also features a 0.512" intake lift with 1.6 rockers. Requires upgraded valve springs and a high stall torque converter is recommended for automatic transmissions.

Notes
- On EFI engines, performance camshafts work only with mass air induction systems. Will not work with Explorer EEC-V EFI.
- Also fits 1994-95 351W with factory roller cam when used with mass air EFI.
- Stock 5.0L HO cam advertised specs are 266°/266° duration, 0.444"/0.444" lift.
- May require piston modification for piston-to-valve clearance. Valve clearance should be checked.

Application
- Fits 1985-1995 Mustangs 5.0L w/ hydraulic roller tappet cam
Ford X Cam
This Ford Performance X303 hydraulic roller camshaft, also known as an X cam, is a great way to add horsepower to your 5.0L 85-95 Mustang. Fox Body cams not only add performance, they give your Mustang an aggressive lope exhaust tone. This Mustang X Cam offers an aggressive idle and excellent torque and horsepower gains through 6200RPM for your 302 Fox Body engine. Perfect for a bolt-on modified Mustang. Manual transmission recommended, auto transmission will require a stall converter.

X303 Cam Specs
This Ford Performance M-6250-X303 camshaft has a 286° intake duration at.050", and a 286° exhaust duration at .050". This X Cam also features a 0.542" intake lift with 1.6 rockers. Requires upgraded valve springs.

Notes
- On EFI engines, performance camshafts work only with mass air induction systems. Will not work with Explorer EEC-V EFI.
- Also fits 1994-95 351W with factory roller cam when used with mass air EFI.
- Stock 5.0L HO cam advertised specs are 266°/266° duration, 0.444"/0.444" lift.
- May require piston modification for piston-to-valve clearance. Valve clearance should be checked.

Application
- Fits 1985-1995 Mustangs 5.0L w/ hydraulic roller tappet cam
---