So for quite some time now we've been pursuing a viable solution for COMPLETE Fox Body front seat assemblies and matching rear upholstery that references the factory sport seats from the 1992 and 1993 Mustangs. Like most things, none of this happens overnight, and after several months of nit-picking and a lot of back and forth on feasible ideas, we finally nailed down the path we wanted to take.
For years, there have been several options to choose from when it comes to seats and upholstery for the Fox Body. From aftermarket race-inspired seats to recovering your existing seat frames with new foam and new upholstery... both of which are great by the way; but we wanted to add another alternative to the mix. So the outcome of this "somewhat" long journey resulted in a complete front seat assembly and matching rear upholstery in both gray and black cloth options for the Fox Body Mustang!
---
Jump To: Front Seats | Rear Seat Upholstery | Fitment Details
---
5.0 Resto Front Seat Assemblies
Starting with the front seats, if you've been around the Fox Body Mustang community for some time now, then I'm sure you are all too familiar with the laundry list of issues that factory seats possess. Whether you're dealing with the infamous broken seat frame or worn-out upholstery and seat foam; our 5.0 Resto front seat assemblies are the perfect solution to any of your existing problems or frustrations. So if we take a closer look at the front seat assemblies, you'll see a factory-style stitch pattern, low-profile headrests, and factory-style bolstering.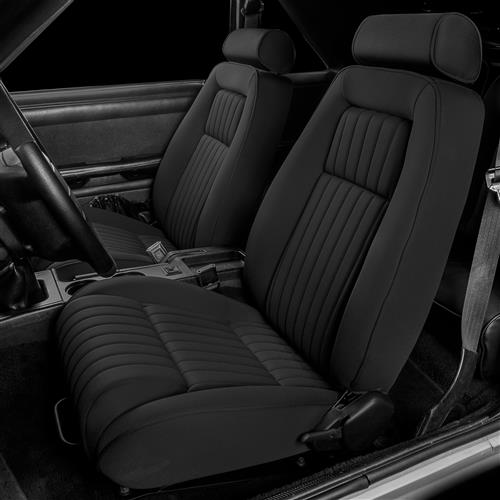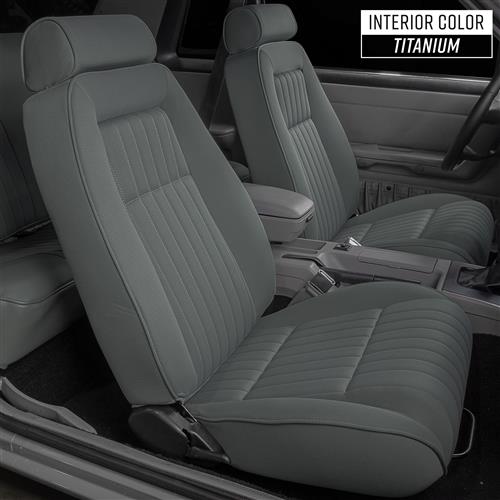 These are currently available in a black or gray cloth and this premium material does incorporate UV inhibitors which will help reduce premature fading and black or gray piping to further boast the factory-style look and feel. Underneath the black or gray cloth will be high-quality, injected-molded seat foam that will provide comfort and support which is what a lot of us look for in a good quality seat. Because of the lightweight and durable steel frame, these seats are noticeably lighter and stronger than the stock seats. For what it's worth, the front seat assemblies without seat tracks tip the scale around 24 pounds. Both the driver and passenger side seat assembly will feature a full range reclining mechanism which allows you to dial in the position of your seat right where you like it.
---
5.0 Resto Rear Seat Upholstery
The rear upholstery is pretty simple! Just like the front seat assemblies, the seatbacks and seat bottom sections will reference the factory-style stitch pattern and the fabric includes the same UV inhibitors. Now since this is upholstery only, you will have to recover your existing seatbacks and seat bottom. Since no one ever really sits or rides in the back of Mustangs, the foam is typically in great condition. It's pretty rare to find deteriorated or worn rear seat foam in Mustangs.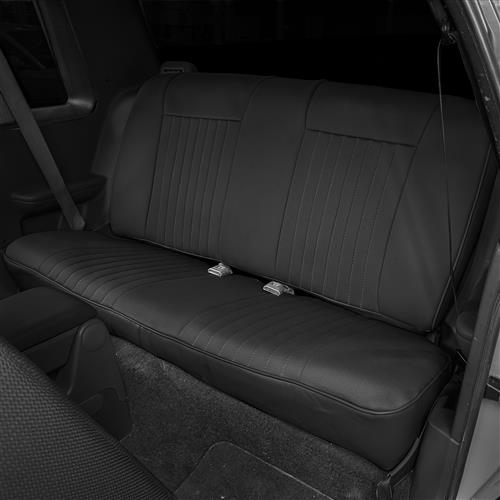 Purchase Black Rear Seat Upholstery! | Coupe | Hatch | Convertible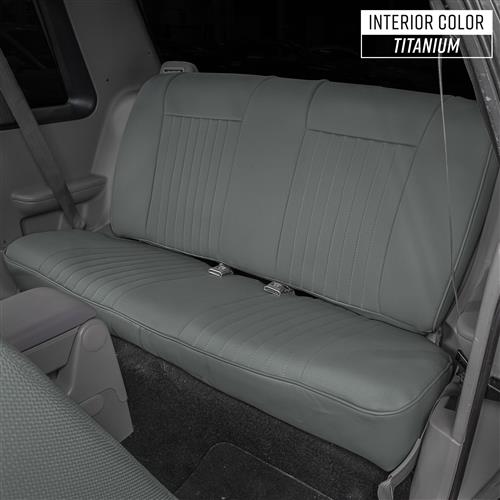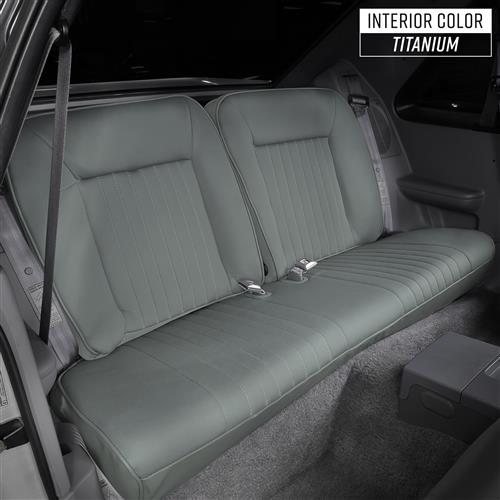 Purchase Gray Rear Seat Upholstery! | Coupe | Hatch | Convertible
Please Note: You will need a hog ring and plier kit to install the rear upholstery so if you don't already have one, we currently have a nice kit available on the site.
---
Fitment Details
As far as fitment is concerned, the front seat assemblies will fit all 1979 to 1993 Mustangs and the rear upholstery is sectioned into individual body styles which include coupe, hatchback, and convertible. These seat assemblies will work with factory tracks for those of you that may have a nice set of factory tracks or you can grab a set of Double Locking or Low Profile Corbeau seat tracks to complete the package.
Please Note: Mustangs equipped with power seat tracks will have to purchase manual seat tracks. These seats will not accept power seat tracks. Also, Mustangs that were originally equipped with power lumbar will lose this feature. The plug left behind will remain unplugged.
---
This long-awaited project from 5.0 Resto is something that we at LMR couldn't be more proud of and we hope that you the customer can take advantage of the fruits of our labor. Enjoy your 5.0 Resto Factory Style Sport Seats today!
---