The 1979 Fox Body Mustang was selected as the official pace car for the Indy 500. In this article we will be going over every aspect of this unique vehicle and how it came to be.
Below is a rough summary of the article and as you read farther down you can look into each topic more in depth:
History

Performance Specs

Exterior

Unique Features

Related Questions
HISTORY
Not since 1964 had the Mustang been selected as the pace car but in 1979 it all changed! This was selected in the Indy 500's 63rd year and would make a strong mark in the muscle car scene for years. 3 official pace cars were developed for track duty and were identical to the replicas except for a T-Top that wouldn't be available from the factory until 1981. The showcase of this Mustang being in this historic race skyrocketed sales in 1979 to 369,936 units.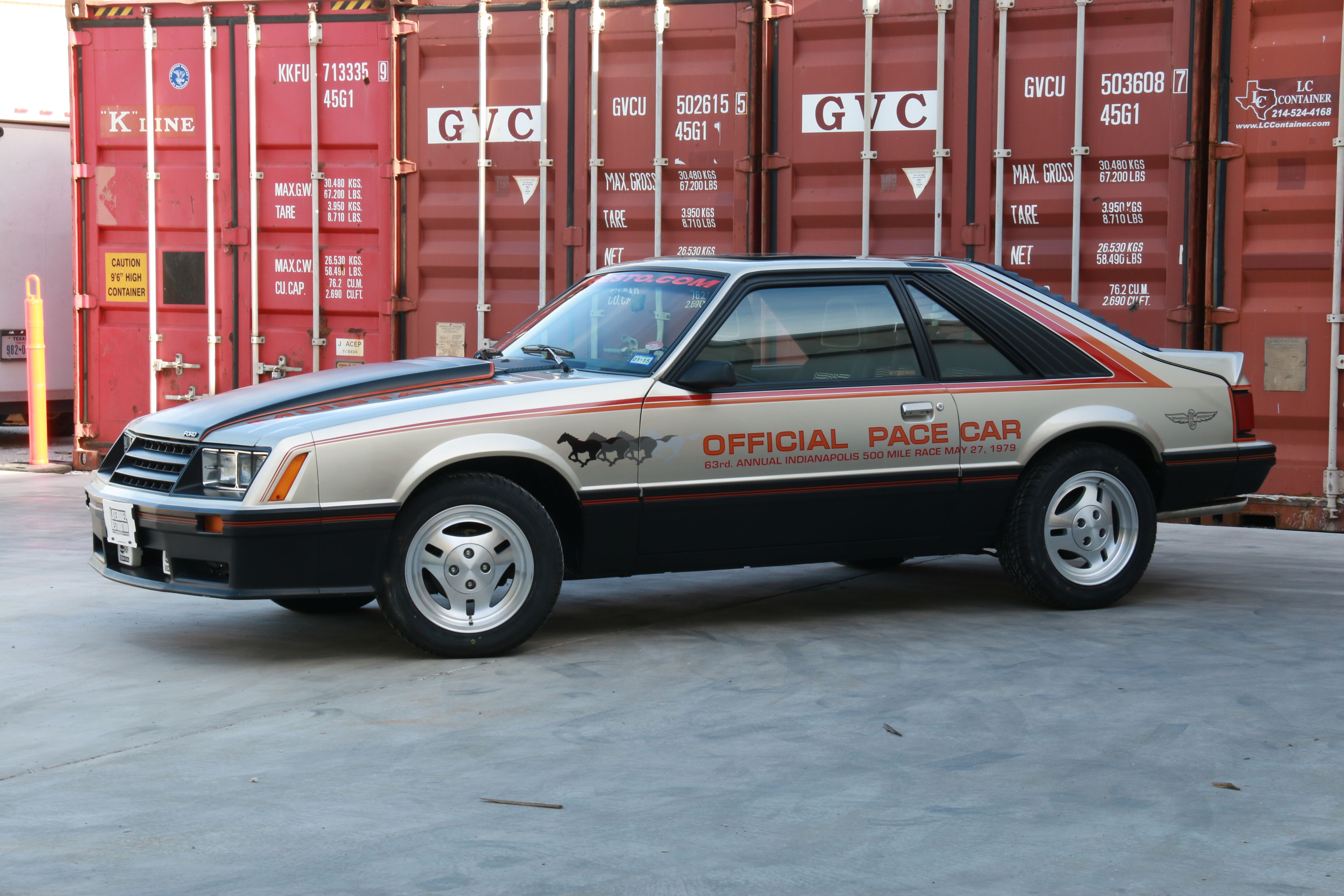 FOX BODY PACE CAR PRODUCTION NUMBERS
| TYPE | HOW MANY WERE PRODUCED |
| --- | --- |
| 5.0L V-8 Automatic | 2,106 |
| 5.0L V-8 4-Speed Manual | 2,402 |
| 2.3L 4 Cylinder Turbo Manual | 5,970 |
| Total | 10,487 |
PERFORMANCE SPECS
Official Indy 500 79' Fox Body Pace Car Specs
Price range of $9,012 - $9,953

Only sold as a Hatchback

302ci 5.0L available with a 4-speed manual or 3-speed automatic

5.0L V8 produced 140 hp and 250 ft-lbs of torque

2.3L Turbo 4-cylinder with 4 speed manuals producing 131 hp and 142 ft-lbs of torque

All Pace Cars used a 3.45:1 rear ratio 7.5" differential without trac-loc

Roush Industry modified 5.0L V8 engine that included a Holley carburetor, aluminum high rise intake, & 351 Windsor heads

1.84/1.54 exhaust valves

289 HiPo springs

1970 Boss 302 solid lift cam

Internals included from 1969 Boss 302 are connecting rods, forged-steel crankshaft, & forged aluminum TRW pistons with speed pro rings

All had modified C-4 automatic transmissions
EXTERIOR
Front Spoiler that houses Marchal Fog Lights

Wide-mouthed lower radiator opening

Brake duct vents flanked on each side

2-tone paint scheme

Flat black for the hood, top stripe, and lower half of the car

Decals on hood saying "Mustang"

Decals on side of car saying "Official Pace Car 63rd Annual 500 Mile Race, May 27 1979"

4 graphic Mustangs in front of side decal

"Indianapolis Speedway" logo at the rear of the car

Red and Vista Orange stripes accent the hood, c-pillar and taillights

Bright Orange stripes accent the black side molding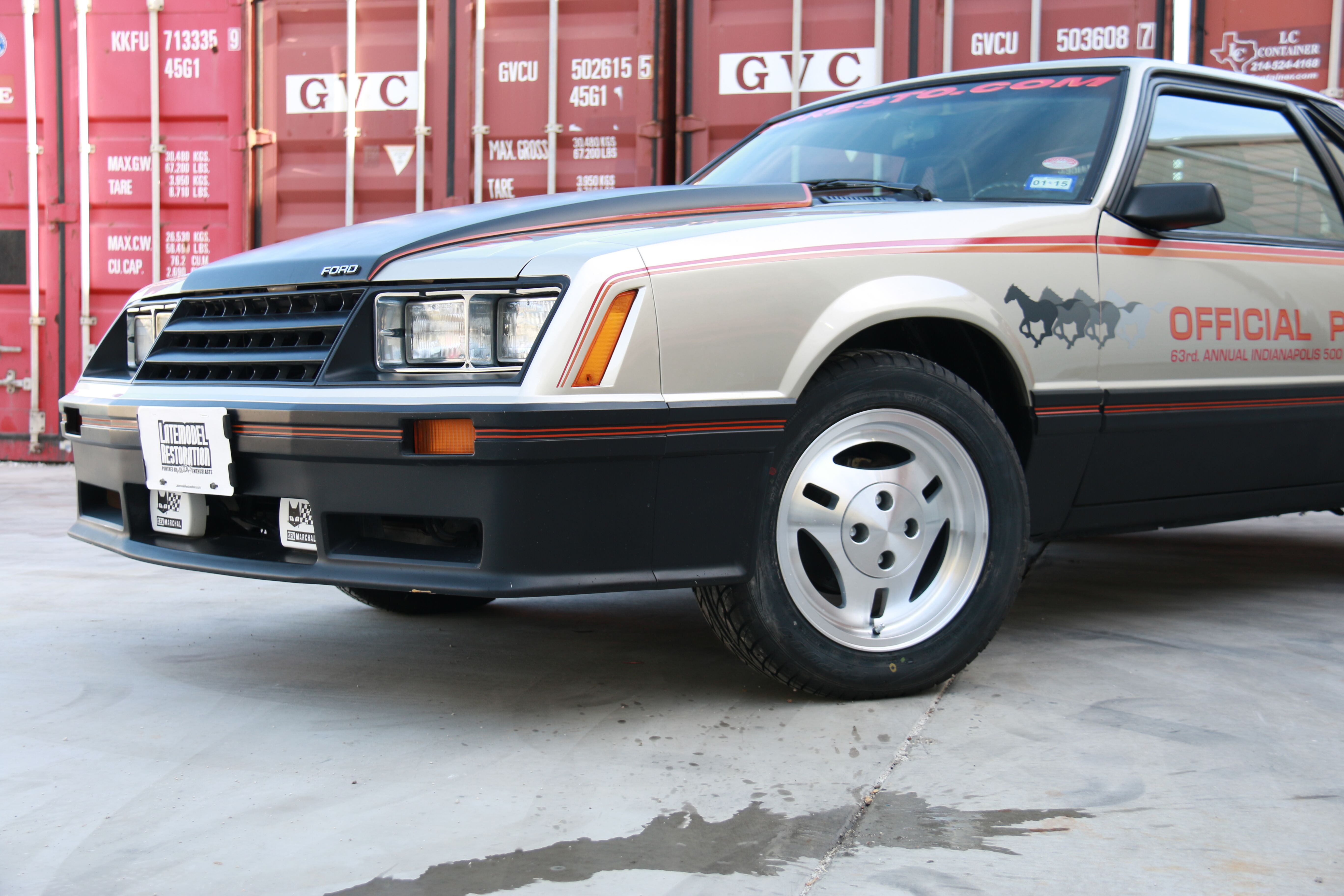 UNIQUE FEATURES
Safety belts have "Firestone" under the buckles

Front shoulder belt has a tag saying "Indy Replica" stitched in them

Recaro Seats in different trims

Delivered with a card in/under the dash pad saying "Pacecar"

Have the numbers "48" in the VIN

5.0L car will have an "F" in the 5th spot in the VIN

4-cylinder turbo with have a "W" in the 5th spot in the VIN >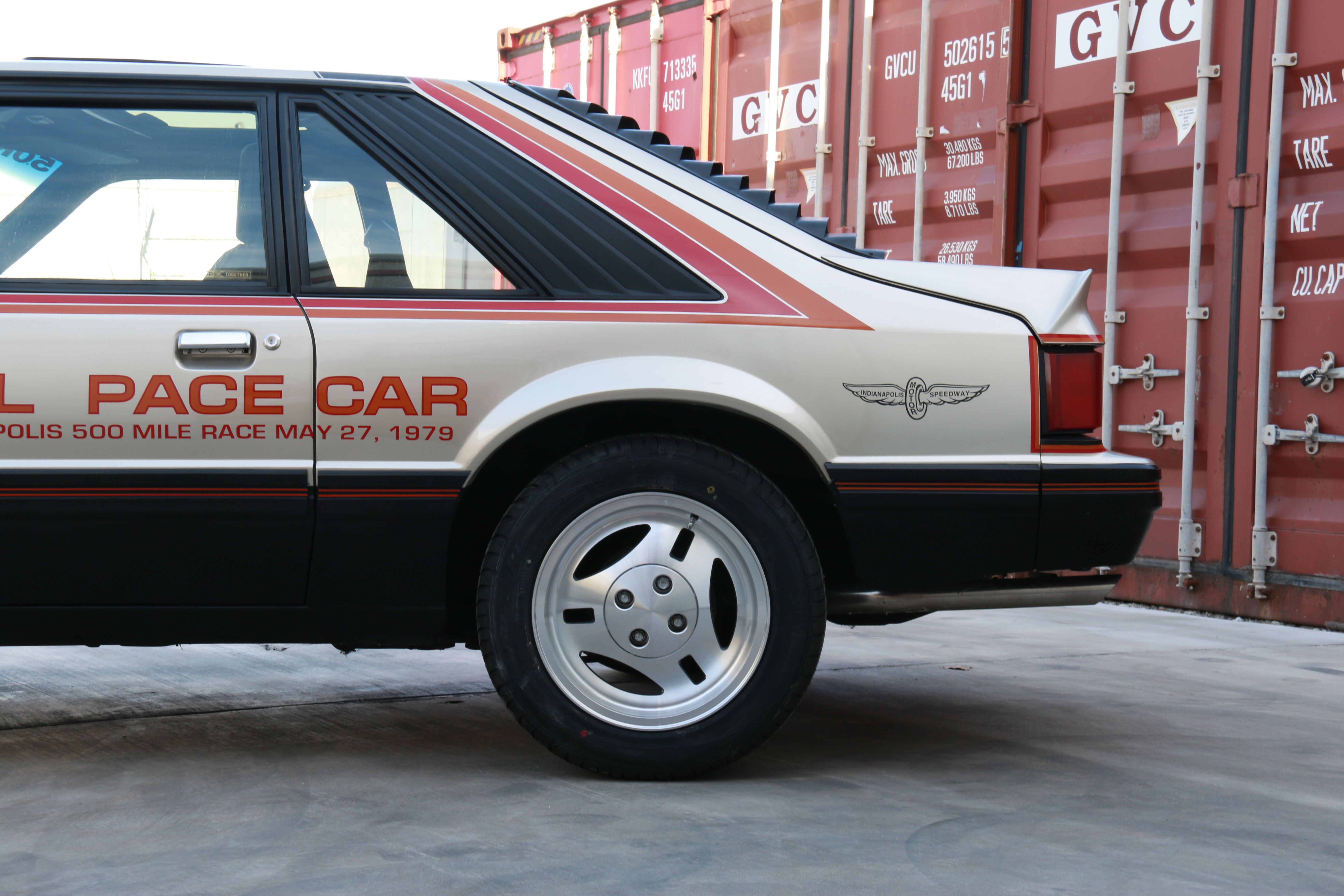 Being the real Mustang enthusiasts, we here at LMR have always had a Fox Body pace car in our stable. We even built a Pace Car tribute car on our 2011 Mustang GT. From factory stock to custom Fox Body pace cars, these unique vehicles are sure to stay collectible for years to come!
---
RELATED QUESTIONS:
What Years Have Mustangs Been Used as Pace Cars in the Indy 500?
What Pace Car was used in the last Indy 500?
In 2017 and 2019 the Chevrolet Corvette Grand Sport was used.
---
SOURCES:
http://www.mustanglab.com/1979-mustang-pace-car-specifications/
http://www.mustangandfords.com/featured-vehicles/mump-0904-1979-mustang-indy-pace-car/
---