LMR Showroom & Call Center will be closed Monday 5/27 for Memorial Day
SVE Pace Car Gets A New Look
Posted 8/22/2014 by Jeff Jimenez
FOLLOW: mustang , 10 14 mustang , s197 mustang , video , ford racing , project car , sve pace car
Once the new Aluminator XS Engine was installed in the SVE Pace Car, we immediately turned our focus toward a new look. The old look had served its purpose but had become "played out" to a certain degree. We went back and forth with ideas for what felt like days. Finally we settled on the 1979 Pace Car tribute look. What better way to highlight what our company is all about – 1979 to Present Mustang Restoration & Performance!

The new look incorporated styling from the iconic 1979 Mustang Pace Car. With its flat black, red and orange striping the SVE Pace Car is definitely a head turner now. We also incorporated plenty of Ford Racing and Aluminator XS styling cues into the redesign. For me personally, I think the hood has to be my favorite part of this whole redesign. Gone is the "MUSTANG" text and replaced with "ALUMINATOR XS" text. The flat black hood stripe flows perfectly into the new Ford Racing Boss 302 Grille. Some of the final styling changes included a set of SVE Drift Wheels in the Stainless Finish.
Just because the SVE Pace Car has a new engine and a new look doesn't mean we are going to go park it in garage and you will never see it again! You can check it out at many Mustang and racing events in the near future. For those lucky enough to be walk-in customers, swing by and see if you can catch a glimpse of the newly redesigned SVE Pace Car.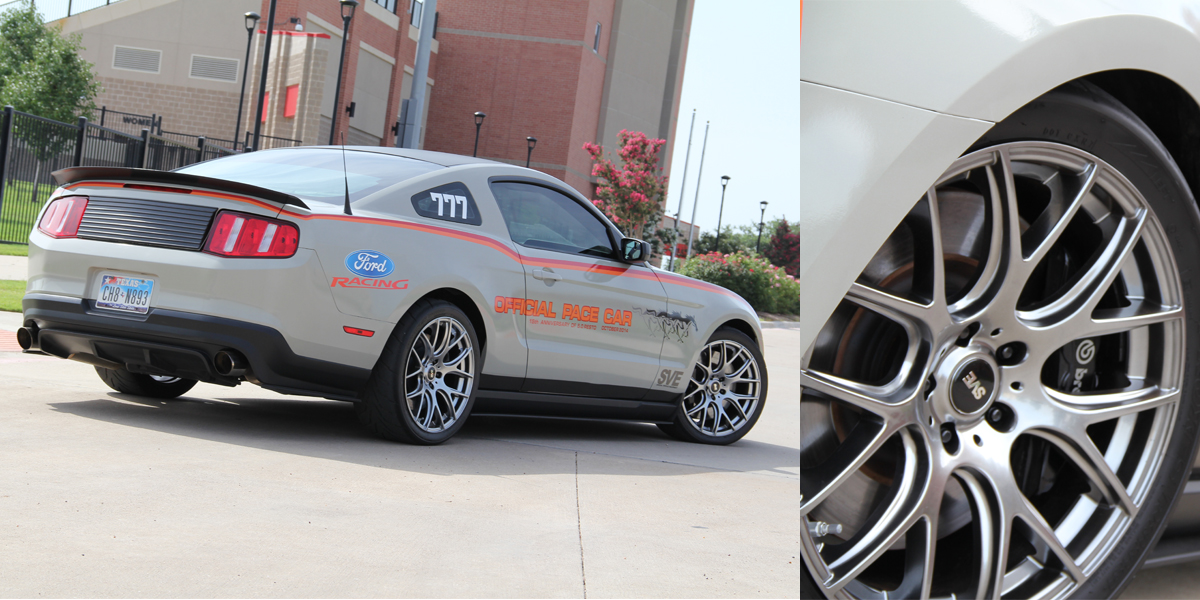 ---
About the Video
SVE Pace Car: 2011 Mustang GT - Project 777 (Late Model Restoration)
Check out our YouTube channel for even more tech tips, installation videos, how-tos, and more. The best place to go for anything Mustang related!
Published on 2014-08-04
Our 2011 Mustang GT Project 777 underwent a major transformation. At a road racing event we suffered a dreaded #8 piston failure which prompted this major update. The cornerstone of this revision was a new look that was inspired by the iconic 1979 Pace Car. When the newly revised Project 777 was introduced at Mustang Week 2014 it quickly got the new nickname – SVE Pace Car - from many of our loyal customers visiting our booth. It even has its own hashtag on social media - #SVEPaceCar.

Being that the SVE Pace Car has seen a life full burnouts and long days of punishing road racing, we knew the new engine would have to be up to the challenge. So we turned to Ford Racing and picked up an Aluminator XS crate engine. This beast of a motor makes 500+ HP at the flywheel and features just about every FRPP 5.0L Coyote performance part thrown at it. It also features a forged short block that will make for a great foundation for future "performance" modifications!

Since the Ford Racing Aluminator XS crate engine includes a Cobra Jet intake manifold and CJ throttle body, we turned to JLT Performance for their Cobra Jet Cold Air Intake. Until recently, you would have to modify or custom build a cold air intake for the CJ intake Manifold. Thanks to JLT Cold Air Intakes, you can now simply bolt on their JLT-CAIFMGCJ11 intake to make installing a Cobra Jet Intake system a breeze.

The SVE Pace Car also got a set of our new SVE Series 2 wheels to finish off the new look. The SVE Series 2 wheels are wrapped in the NITTO NT05 tires too help ensure all the new found horsepower makes it to the pavement. These new SVE Wheels are available in chrome, black and gun metal finishes.