For this dyno article we will turn our attention to our stock Rapid Red 2020 GT500 Mustang. Check out our detailed 2020 GT500 Mustang Article to learn more about this S550 Mustang and how it is considered the best performing factory Mustang of its time!
---
Jump To:
Dyno Numbers & Photos
---
← Swipe For More 2020 GT500 Mustang Photos →
---
For dyno purpose on this car, the GT500 specs are as follows:
Carbon Fiber Driveshaft
3.73 Torsen Rear Differential
20" Rear Wheel
93 Octane Fuel
The pull will be made in 4th gear for the Tremec 7-Speed DCT (dual clutch transmission) because this is the closest we can get to the 1:1 ratio for the pull.
---
2020 GT500 Dyno Results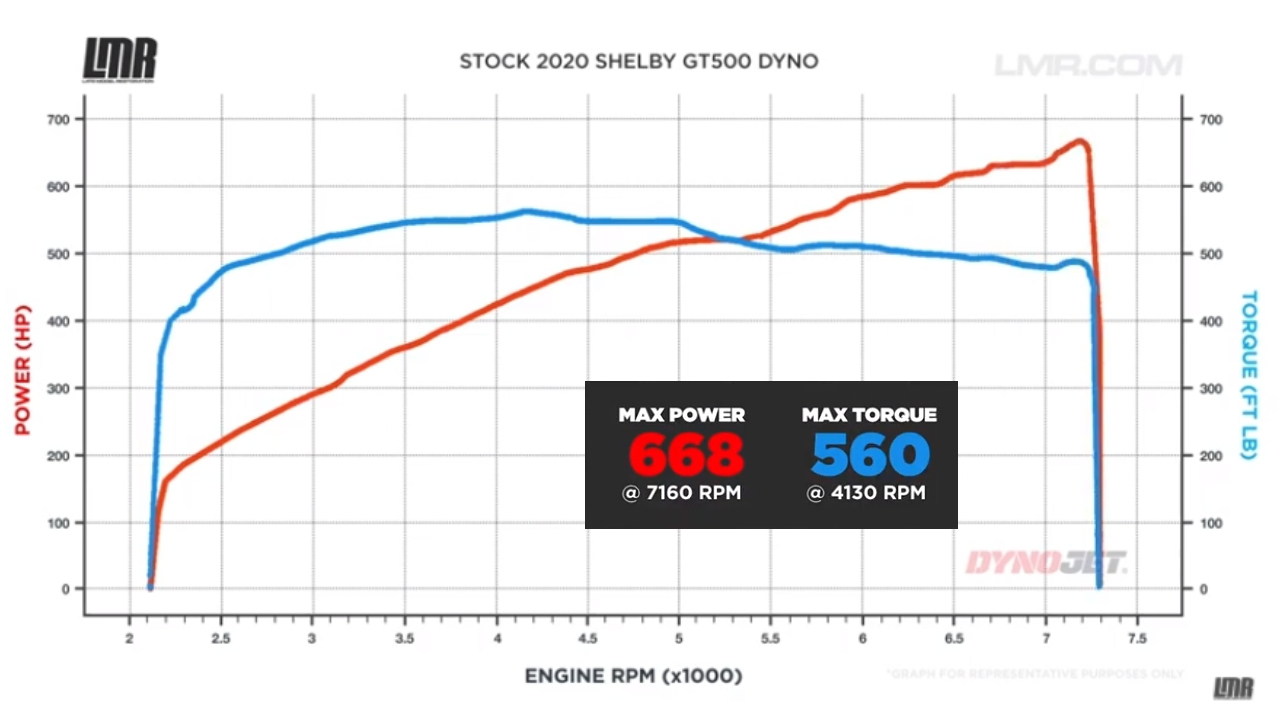 ---
Here are the results! This 2020 GT500 made 668 horsepower @ 7160 RPMs and 560 lb-ft of torque at 4130 RPMs. These numbers were derived from an SAE correction factor which is the industry standard that automakers used when they determine the flywheel rating of their engines. For the sake of this engine that Ford codenamed "Predator" this engine makes 760 horsepower and 625 lb-ft of torque at the flywheel. While these numbers are a little on the lower side the car is probably still in its break-in period so those numbers may rise a bit as miles are put on the car.
Regardless these are still impressive numbers for a factory supercharged car to be able to simply buy right off the lot. These numbers were obtained from our Dynojet dyno just in case you were wondering. We hope this dyno gave you some more insight on just what a 2020 Mustang GT500 can do. As always keep a lookout for more dyno articles and videos right here at LMR.com. Shop our 2020 GT500 Mustang parts below!
---