How Much Power Will a 2003 Mustang GT with 227,000 Miles Make?
Date Created: 10/7/2021
Last Updated: 10/19/2021
For this dyno article we will be covering our employee Hunter L's 2003 Mustang GT. This Mustang has 227,000 miles on the clock but still turns the rollers just fine! Check out below for more pics, dyno technical data, and of course the dyno results!
FOLLOW: dyno , new edge mustang , gt , 94 04 mustang

/li>

Also, check out our 1994-2004 Mustang Engine Specs to learn more about this New Edge Mustang and how it is considered one of the best all around Mustangs Ford ever produced.
---
Jump To:
Dyno Numbers & Photos
---
← Swipe For More 2003 Mustang GT Photos →
---
Dyno Technical Data
SVE 18-inch Series 1 Wheel
TR-3650 5-Speed Transmission So Dyno Pull Will Be Made In 4th Gear (1:1 ratio)
3.27 Rear-End Gear
Stock Driveshaft
K&N Cold Air Intake
Flowmaster Catback
87 Octane Fuel
Stock 227,000 4.6L Engine
---
Dyno Results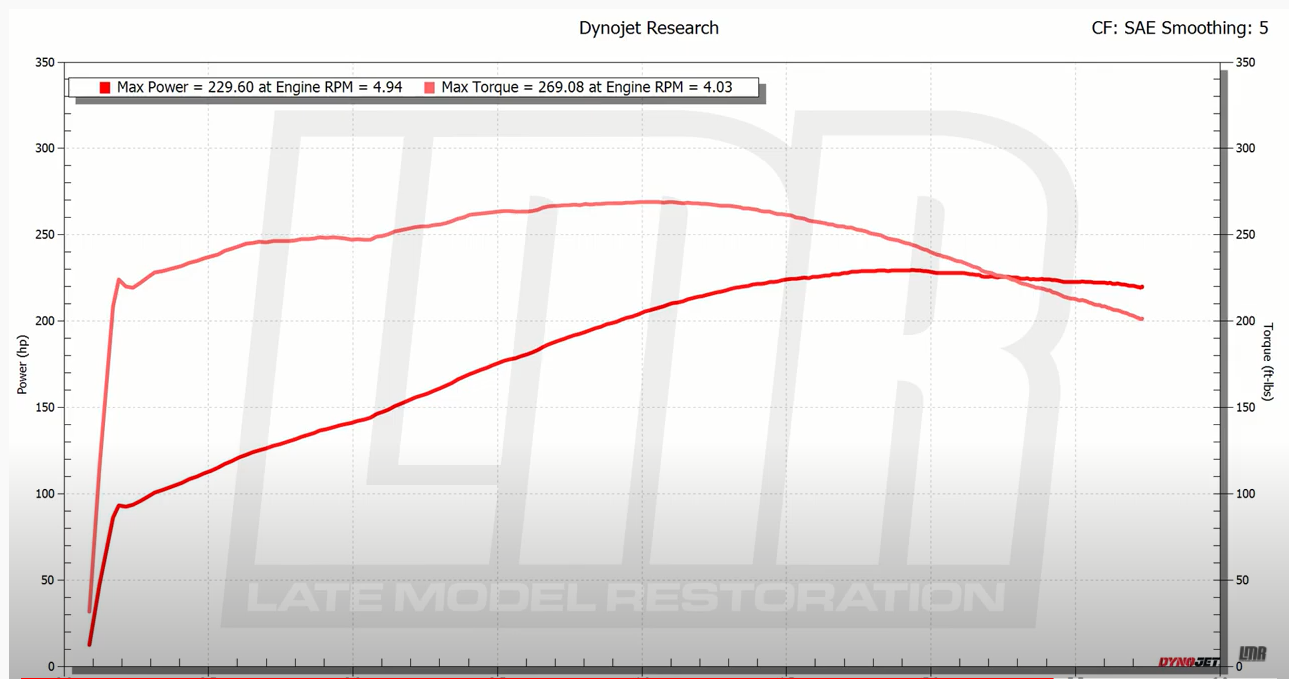 ---
Here are the results! Hunter's 03 GT produced a 230 RWHP at 5000 RPM and 269 RWTQ at 4000 RPM. For the number of miles this mustang has on it, this is right on par with other 2V GT's we have dyno'd in the past. Hunter has big plans with his dad to add even more power down the road to this awesome machine. We hope this dyno gave you some more insight into what these 99-04 GT's are capable of. As always keep a lookout for more dyno articles and videos right here at LMR.com. Shop our featured 94-04 Mustang Performance Parts below!
---
About the Video
Hunter's 03' Mustang With 227K Miles | Dyno Run
Check out our YouTube channel for even more tech tips, installation videos, how-tos, and more. The best place to go for anything Mustang related!
Published on 2020-09-14
Today, we dyno Hunter's 2003 New Edge with 227,000 miles! Hunter is an intern with us at LMR and helps ships all of our orders in the warehouse. So follow along and check out how much power it makes!

YouTube: https://latemodelres.to/youtube-subscribe
Facebook: http://www.facebook.com/latemodelresto
Instagram: http://instagram.com/latemodelresto
Twitter: http://twitter.com/latemodelresto

#LMR #NewEdge #Dyno

Use of this video is subject to the terms as set forth in our LMR Install Video Disclaimer | https://lmr.com/page/lmr-install-video-disclaimer