LMR employee Jay Walling is one of LMR's video hosts and lead technical help specialists. Back on January 1st, 2020, he actually picked up this 2012 Shelby GT500 with 182,271 miles! We at LMR thought "why not celebrate this purchase by putting his new Mustang up on the dyno". This is one high mileage GT500 dyno you don't want to miss!
---
Jump To: Dyno Numbers | Jay's '12 GT500 Current Mods
---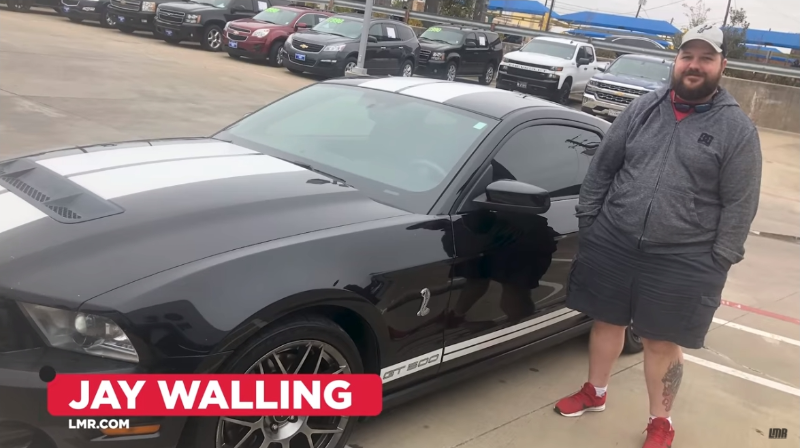 To go more in-depth with the "scientific" dyno data, these 2012 Shelby's were rated in at 550 HP and 510 lb-ft of torque at the flywheel. Of course, the dyno will be calculated at the rear tires, and with its TREMEC 6060 six-speed gearbox we can probably expect about 12-15% drivetrain loss. This vehicle has 3.73 rear end gears with 19" fronts and 20" rear tires. Also, it has a two-piece driveshaft.
When Jay picked this vehicle up at the dealership they had put 91 Octane in it due to it being all that was available. When he got back to town he put 93 Octane in it which averaged out to about a 92 Octane rating at the time of this dyno. The initial pull made 465 HP @ 5800rpms and 475 lb-ft of Torque @ 4000rpms.
With the 2nd pull we just wanted to verify the numbers from the initial pull and unfortunately, we were glad we did. We actually lost quite a bit of horsepower on the 2nd pull which made 450 HP @ 5600rpms and 470 lb-ft of Torque @ 4500rpms.
It's important to note that these Mustangs with this high of mileage are prone to faulty intercooler pumps, and bad relays or wiring somewhere. This was confirmed and the pump started working when they shook the relay to where they were getting 12 volts to the pump. So what they did was just kick the relay out of the fuse box and just made a nice jumper for it. After doing so they made an after pull. The changes that were made showed to be working in the after pull by the horsepower increasing to 486 @ 5900rpms with a matching 486 lb-ft of torque @ 4200rpms. This equates to a 12% drivetrain loss through the TREMEC 6060 with this high of mileage and we couldn't be happier with the results!
---
←

Swipe For More Dyno Photos

→
While Jay's main goal was to focus on suspension after this video, he did that and so much more! Currently, here is the parts list of everything that has been done to the car since this video was released:
---
Jay's 2012 GT500 Parts Lists
Air & Fuel
Brakes
Drivetrain
Engine
Exhaust
Exterior
Lighting
Suspension
Wheels
---