For this dyno article we will turn our attention to our 2012 Mustang GT with a Gen 2 Coyote Swap. This belongs to Christian Coronado who is a Customer Care Representative here at LMR. He's been itching to get his car on the dyno and we were happy to oblige. Below are more pictures of his vehicle as well as the mod list and of course the dyno results! Check out our 2012 Mustang Specs and Colors to learn more about the 2012 Mustang.
---
Jump To:
Dyno Numbers & Photos
---
← Swipe For More 2012 Mustang GT Gen 2 Coyote Swap Photos →
---
Mod List
Unfortunately a few months prior to this dyno his stock bottom end went out on him so he did install a Gen 2 long block, but he did use his Gen 1 valve train.
2018 Mustang GT Intake Manifold
47lb Fuel Injectors
JLT Cold Air Intake
BBK Long Tube Headers
Off-Road Mid-Pipe
Roush Axle-Back
Custom Tune Running E85
For the dyno it has a 20" Velgen Split5 Rear Wheel, factory two-piece driveshaft, and a 3.15 rear gear. It also has the 1st Gen 6R80 transmission so we won't have the sport mode. Since we won't be able to command its gear we're going to have to select its 3rd gear which is the 1.5:1 to 2:1 ratio so the numbers may read a little lower than what they should. We also don't know the flywheel rating since it's a Gen 2 long block with Gen 1 valve train, but other than that let's get this dyno going!
---
2012 Mustang GT Dyno Results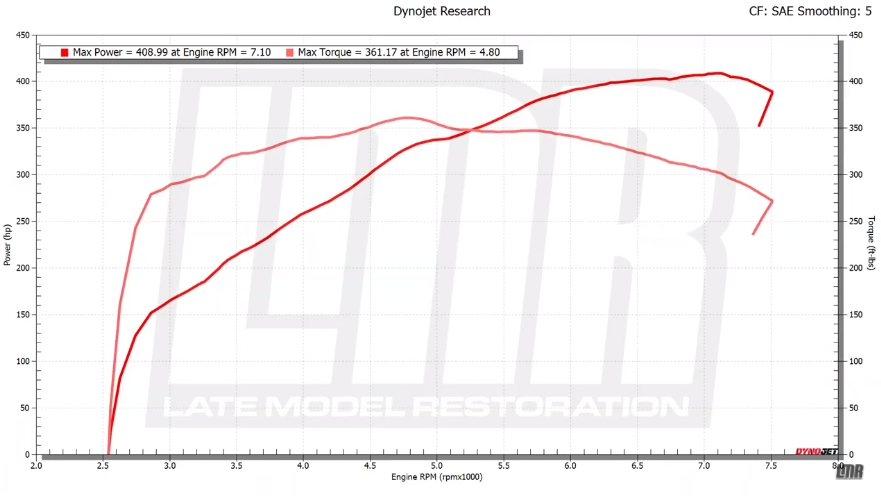 ---
Here are the results, they're pretty impressive! It made 409 Horsepower @ 7100 RPMs and 361 lb-ft of torque at 4800 RPMs. Naturally, Christian is very pleased by these numbers and we are too! We hope this dyno gave you some more insight on just what these Gen 2 Coyote Swap 2012 Mustang GTs can do. As always keep a lookout for more dyno articles and videos right here at LMR.com. Shop our 2010-2014 Mustang Parts below!
---