For this dyno article, we will turn our attention to our 2013 Mustang GT. This belongs to Logan Burns who is currently a customer care rep for us at LMR. The car is mostly stock except for a muffler delete and a 93 octane custom tune. Check out below for more pics, dyno technical data, and of course the dyno results! Also, check out our 2013 Mustang Specs & Colors to learn more about this S197 Mustang and how it is considered one of the best performance Mustangs that money can buy!
---
Jump To:
Dyno Numbers & Photos
---
← Swipe For More 2013 Mustang GT Photos →
---
Dyno Technical Data
18-inch Rear Wheel
MT82 Transmission So Dyno Pull will be made in 5th gear (1:1 ratio)
3.31 Rear Gear
Factory Two-Piece Driveshaft
---
Dyno Results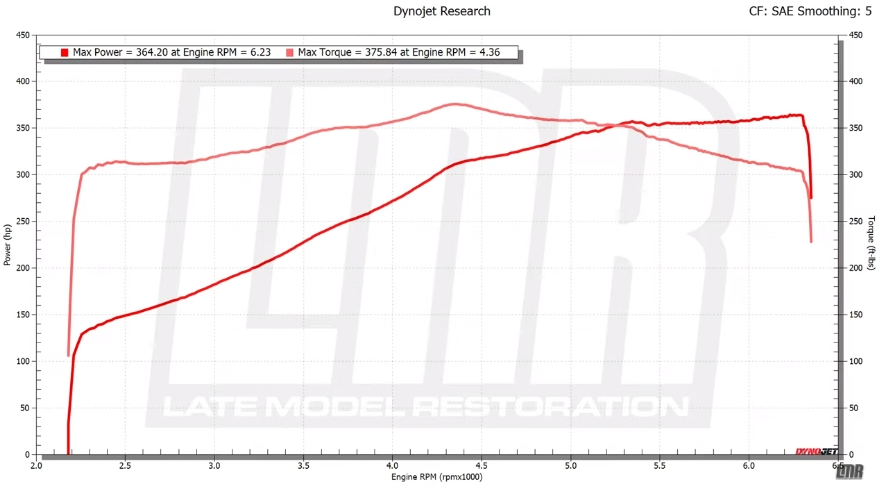 ---
As a baseline to compare, stock 13-14 Coyotes made 420 HP and 390 lb-ft of torque at the flywheel. Now here are the results of the dyno! Logan's 2013 GT made 364 Horsepower at 6200 RPMs and 376 lb-ft of torque at 4300 RPMs. This is about right on the money with a tune only. Like any Mustang enthusiast, Logan has big plans for his car and we can't wait to see his build in the future. We hope this dyno gave you some more insight on just what these 2013 Mustang GTs can do. As always keep a lookout for more dyno articles and videos right here at LMR.com. Shop our featured 2013 Mustang GT Parts below!
---