Membership Perks When Creating a New Account
Creating an account with us is quick and easy. It even comes with a lot of benefits that allow you do everything from create returns, track order, print invoices and even get access to the latest sales and promotions. Below we will highlight how to set up your account and give a quick recap to some of the most popular benefits that come from setting up an account with LMR.com.
Fast Access to New Parts, Promotion and Content-
By creating an account with Late Model Restoration and signing up for our newsletter, you will be notified of our latest parts, promotions, social media content, and exclusive offers. This is the most important step to ensure you get the latest promotion/discount codes. Don't forget to check out some of the other ways you can get access to further discounts and promotions here – LMR.com Offers FAQ.
Easy Checkout Process-
Stop re-entering all of the same data every time you checkout. Setting up an account with Late Model Restoration will allow you to save information such as billing and shipping addresses so that you can have a more streamlined checkout process.
Full Order History-
Whether it be a current order you just placed, or one from years past, our system will allow you to access any order made through your account. You can check your order status, find order tracking and even print out invoices from previous purchases as well.
Current Order Status
Current Order Tracking
Ability to Print Invoices
Wishlist-
Our wishlist feature will allow you to piece together the ultimate build quickly and easily. Our wishlist will even share other commonly "wished" for parts that like-minded enthusiasts are putting in their wishlists. This information is saved in your account and can also be easily accessed by our customer care team to speed up any order placed over the phone.
Order Cancelation-
Here at LMR.com, we understand that occasionally you may need to cancel an order after it is placed. We have made canceling your order as simple as possible once you have a registered account. Check out our complete guide on how to cancel an order by logging into your account. Best of all this can be done 24/7 without the help of our Customer Care Team.
Order Returns-
We know that you may need to return an item to us from time to time. Through your registered account, you will be able to complete this task at the click of a button. You can create a return label, check the tracking on the return labels and even check the status of the return.
Print Invoices-
Most of our shipping processes have become much more efficient by simply streamlining things and moving to a paperless system. While invoices no longer ship in the boxes you receive, they are downloadable and printable directly from your account.
---
How To Make A Registered Account Through LMR.com
1. We have made this process as easy as possible. First, navigate to the top right-hand corner of your screen, find the "Login/Register" button, and click on it.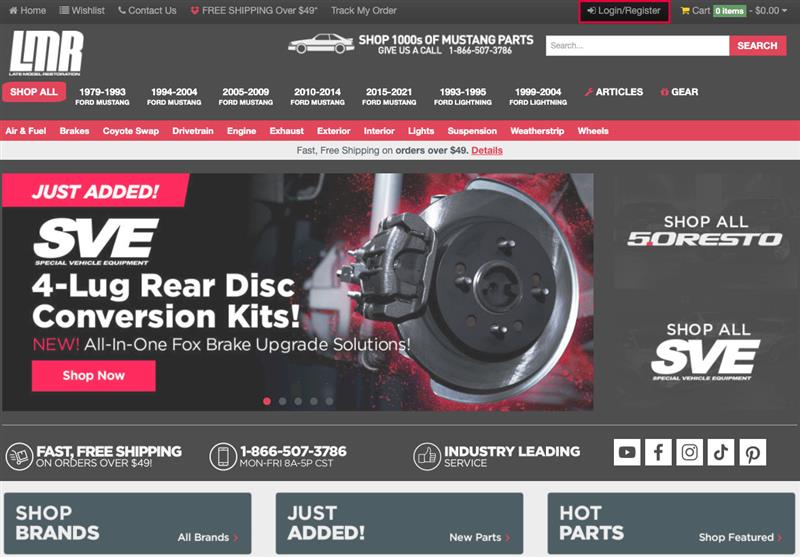 2. Next, you will navigate to the right side of your screen and click the "Create an Account" button.
3. Now you will be prompted to fill out your user information at this time. This includes your email address, creating a password, filling out your first and last name, vehicle information, and an optional phone number. You will also have to chance to sign up for the LMR newsletter at this time.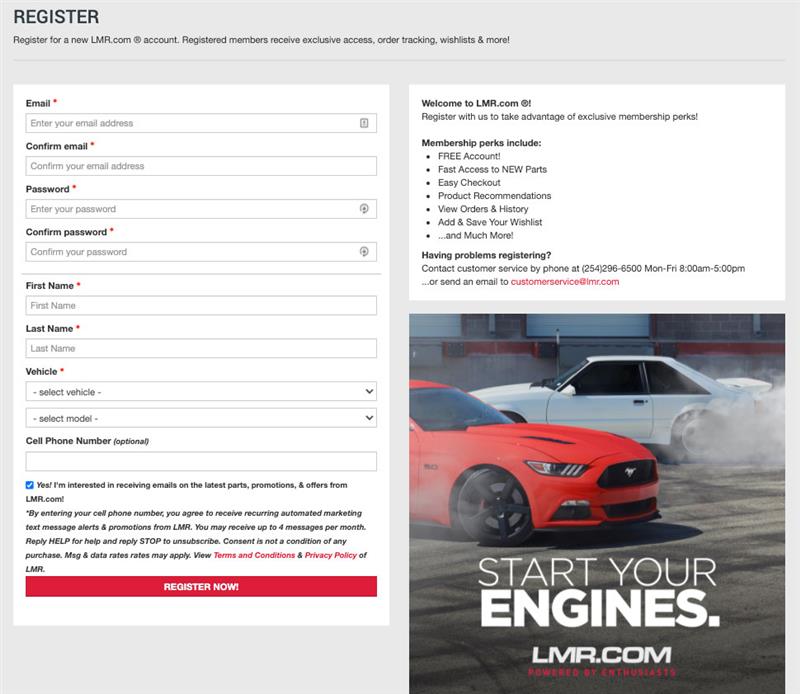 4. Once you have completed the registration process, our system will send you an automated email confirming this process.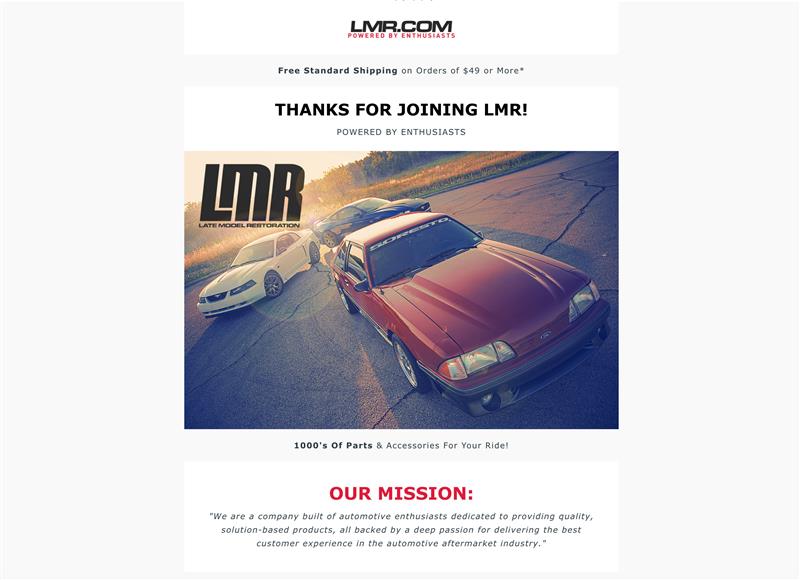 ---