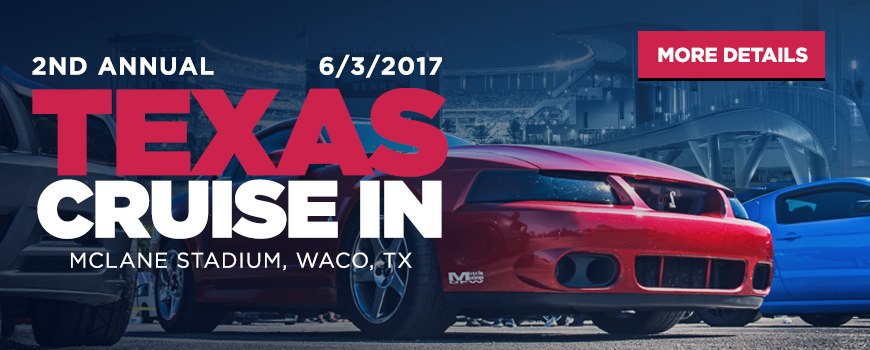 Late Model Restoration will be hosting a cruise-in on Saturday, June 3rd, 2017. This event will be held at McLane Stadium in Waco, Texas from 9 AM-2 PM. This cruise-in is Mustang and Lightning specific. There will be food vendors, multiple door prizes, giveaways, and a few vendors handing out some goodies. There will be no cost of admission!. The food vendors will accept cash, and all major credit cards. There will be a separate area for spectator parking as well.
_____________________________________________________
Security & Waco Police Department will be in attendence. Burnouts, Excessive Engine Revving, Racing, or any other reckless driving will be subject to prosecution. Let's keep this fun and safe for everyone in attendance so that we can continue to do this annually!
_____________________________________________________
Details:
Current List Of Attending Vendors:
Current List Of Supporting Vendors:
Flowmaster
JLT
Gibson
Pypes Exhaust
Current List Of Giveaway Items:
1000 Goodie Bags (First come first serve basis. First 500 Get Exclusive LMR Cruise In T-Shirt)
1 Pair Of Gibson Performance Mufflers
1 JLT Oil Separator Certificate + JLT T-Shirt
1 JLT Black Textured Intake Kit Certificate + JLT T-Shirt
2 $50 Diode Dynamic voucher
2 SVE Wheel Kits
79-04 SVE Coil Over Kit
05-14 SVE Coil Over Kit
SVE S3 Seat Voucher
Ford Racing Stage 2 Power Pack (15-17)
1 Chemical Guys Detail Kit
Frequently Asked Questions:
Is there pre-registration?
- No, this will simply be an open invitation to whoever wants to bring their Mustang and/or Lightning.
How much does it cost to get in?
- This is a completely free event, excluding the costs of food from food vendors.
What time do the gates open?
- We will be opening gates for the cruise in to start at 9 AM.
What time does the cruise-in end?
- The cruise in will end at 2pm
Will there be trophies?
- This is a cruise-in event, no awards or trophies will be handed out.
Will we be able to make purchases at the event?
- We will not be open for pick-up purchases. Orders can still be placed online, but will not be shipped until the following week.

---