Late Model Restoration will be hosting a cruise-in on Saturday, October 23rd to celebrate our 22nd year in business. This event will be held at Texas Motor Speedway in Fort Worth, Texas from 9 AM till 5 PM on Saturday. This cruise-in is Mustang and Lightning specific. There will be food/drink concessions provided by Levy Restaurants and we will also have multiple door prizes and giveaways. There will be no cost of admission for entry or need for registration. This event is still a cruise-In style event and there will be no judging of cars.
Being at Texas Motor Speedway, you will get to enjoy watching a Nascar Racing Experience event happening on the oval during our event. This event is separate from the LMR Cruise-In and will not be available for LMR Cruise-in attendees. You will also have the chance to show how much power you are putting down with a mobile Dyno courtesy of Turn 4 Automotive. All events will be Mustang and Lightning exclusive. There will be separate spectator parking for non-Mustang and Lightning vehicles. Check out the information below regarding the vendors attending, rules and regulations from Texas Motor Speedway, and an LMR Attendee reservation link to the Marriott Hotel nearby for a great deal if you're looking to stay the night: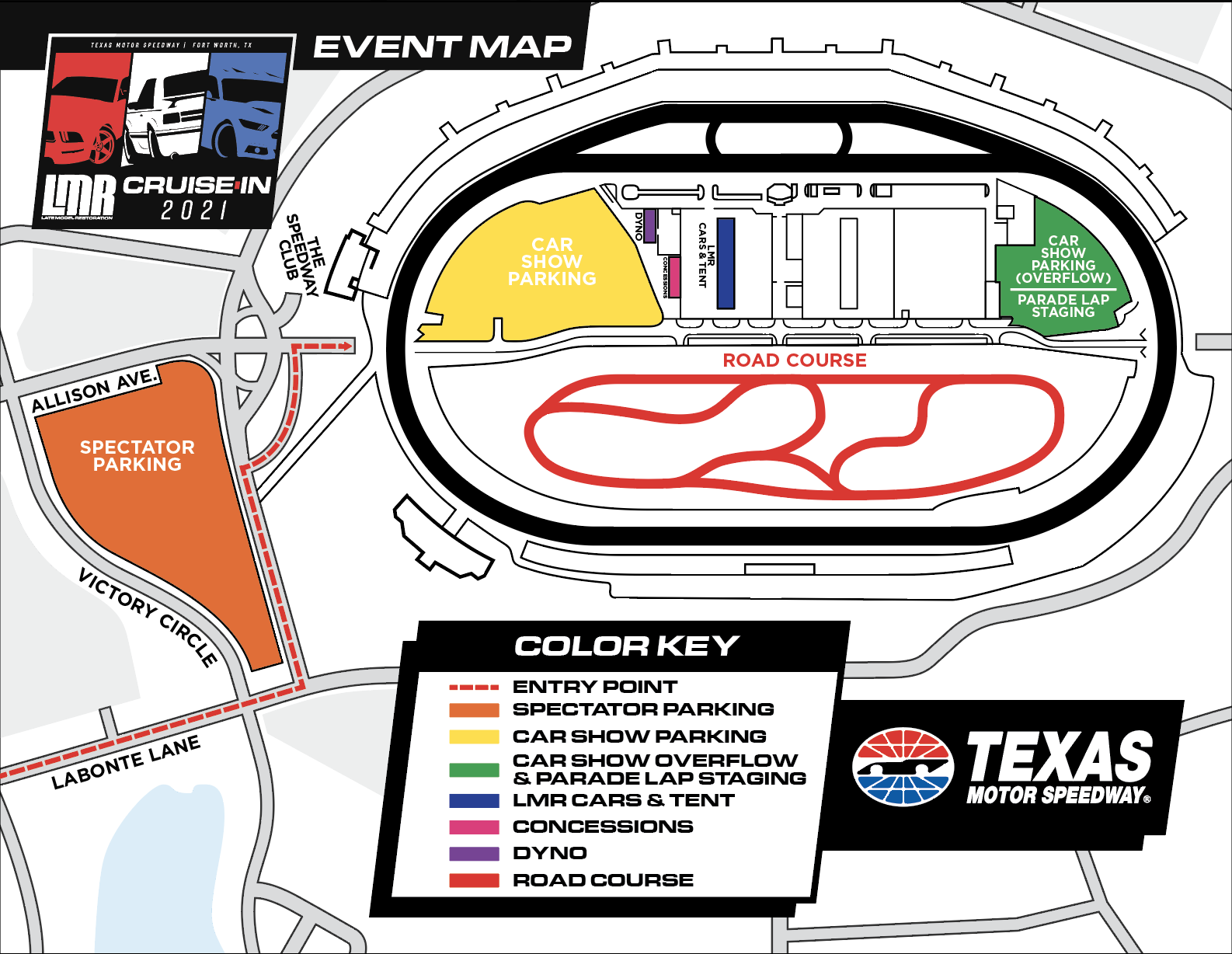 ---
Enjoy Food Provided By Levy Restaurants!
Start your engines and let's eat! Levy Restaurants provides premier concession services for many different venues and event centers with Texas Motor Speedway being no exception! Fun Fact: In just the year 2015 alone, they sold over 24,000 Hot Dogs at Texas Motor Speedway. So you can be certain at our 2021 LMR Cruise-In that you will have plenty of concession food to choose from so that you never have to leave the venue!
---
Mobile Dyno Provided by Turn 4 Automotive!
We are excited to announce that Turn 4 Automotive will be joining us again this year and is offering a chance to see how much HP & TQ your Mustang or SVT Lightning is making on their mobile dyno. They will be offering two pulls for $50 (Cash Only) and they will email a dyno graph of each pull. This will be on a first come first serve basis so make sure you sign up early the morning of the event and come prepared to put down some impressive numbers!
---
Parade Laps on the Road Course Provided by The Drivers Edge!
Have you ever wanted a chance to drive on a road course alongside other Mustang and Lightning enthusiasts? Well now is your chance! We are excited to announce that for the first time in LMR Cruise-In history you will have the chance to take your Mustang or SVT Lightning around the Road Course at Texas Motor Speedway. This will NOT be a race of any sort. Just a good time performing parade lap sessions at speeds not exceeding 45 MPH around Texas Motor Speedways Road Course with fellow enthusiasts.
The Drivers Edge
has been gracious enough to help us out in managing this portion of the event and has been in this business for over 26 years! Below you find rules and regulations regarding taking your Mustang or Lightning and a passenger on the road course at Texas Motor Speedway.
---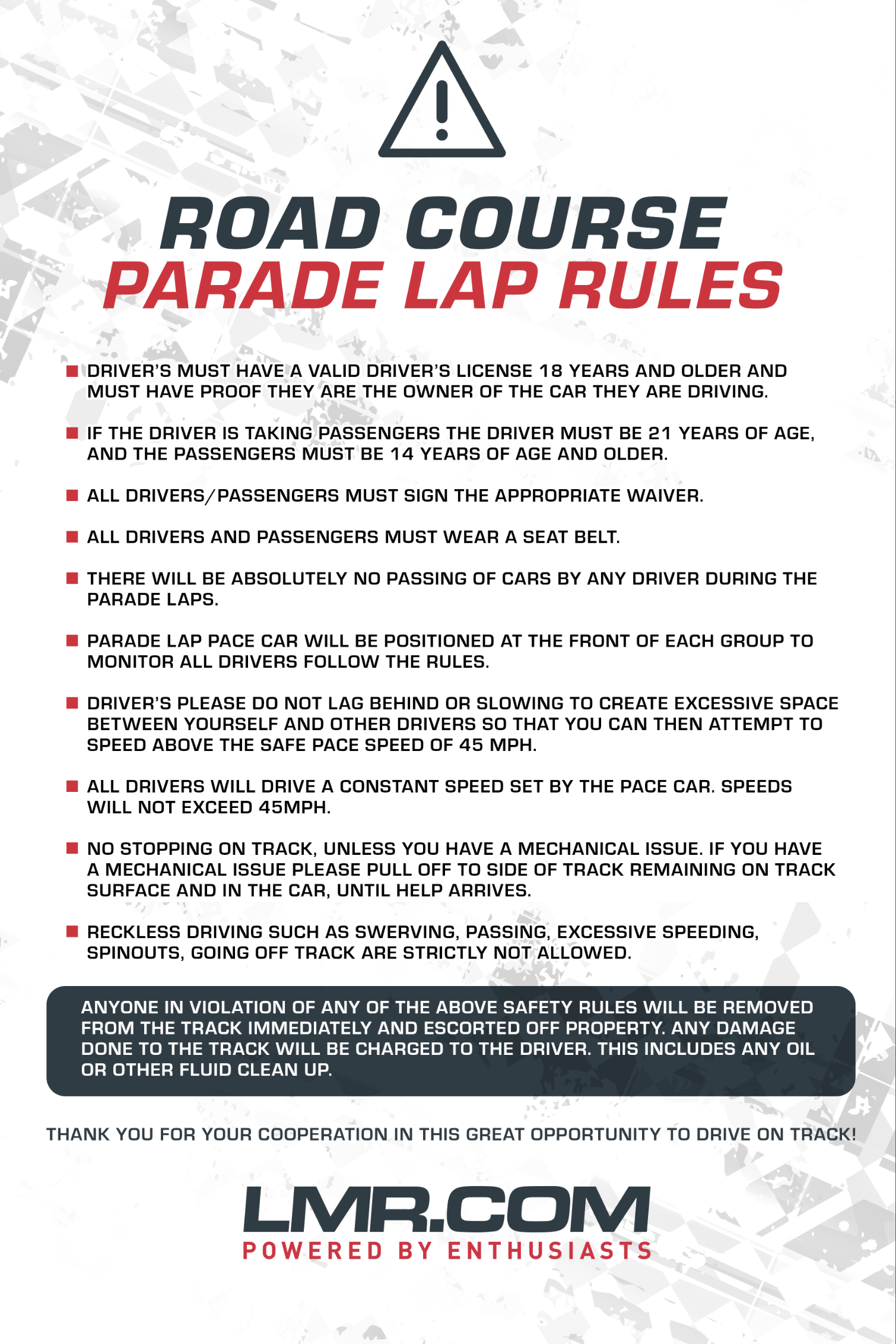 ---
Texas Motor Speedway Rules & Regulations
---
Need A Place To Stay For The Cruise-In?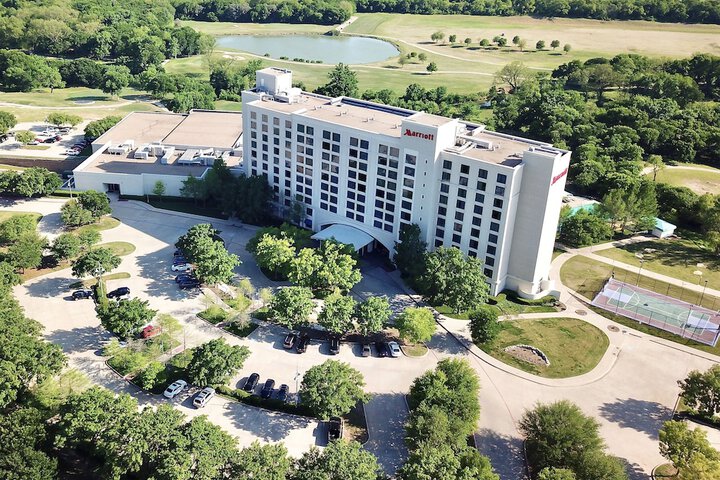 With a championship golf course and exquisite suites, the Dallas/Fort Worth Marriott Hotel & Golf Club at Champions Circle is located in a gorgeous setting on the outskirts of Fort Worth. The hotel is located next to the Texas Motor Speedway, next to BigShots Golf, and just north of popular sites including Sundance Square and the Fort Worth Stockyards. Make yourself at home in one of their elegant rooms, which include contemporary furnishings, soft bedding, and floor-to-ceiling windows with stunning views. It also includes an indoor fitness facility and an outdoor pool. Enjoy a great breakfast at Creekside Cafe or dinner at our new Jackdaw restaurant in between events. Whatever the occasion, the Dallas/Fort Worth Marriott Hotel & Golf Club at Champions Circle is the perfect place to unwind for your visit to the 2021 LMR Cruise-In at Texas Motor Speedway.
Book With Our LMR Attendee Reservation Link Below!
Book A Room Today!
*All reservations will be made by individual call-in/booking. These rooms will be held on a first come first served basis until 5 pm CST on Friday, October 15, 2021, unless the rooms are released prior to that date by Hotel. Because the rooms are held on a courtesy basis, it is important that you relay to individuals in your group to book rooms as soon as possible. Any and all rooms unreserved by the date noted above will be released into the Hotel's general inventory without liability or obligation to your group. Reservation requests after this date and/or above the number of rooms held per night will be honored subject to Hotel availability and at the prevailing rate. Again, all reservations must be guaranteed at the time of processing.*
---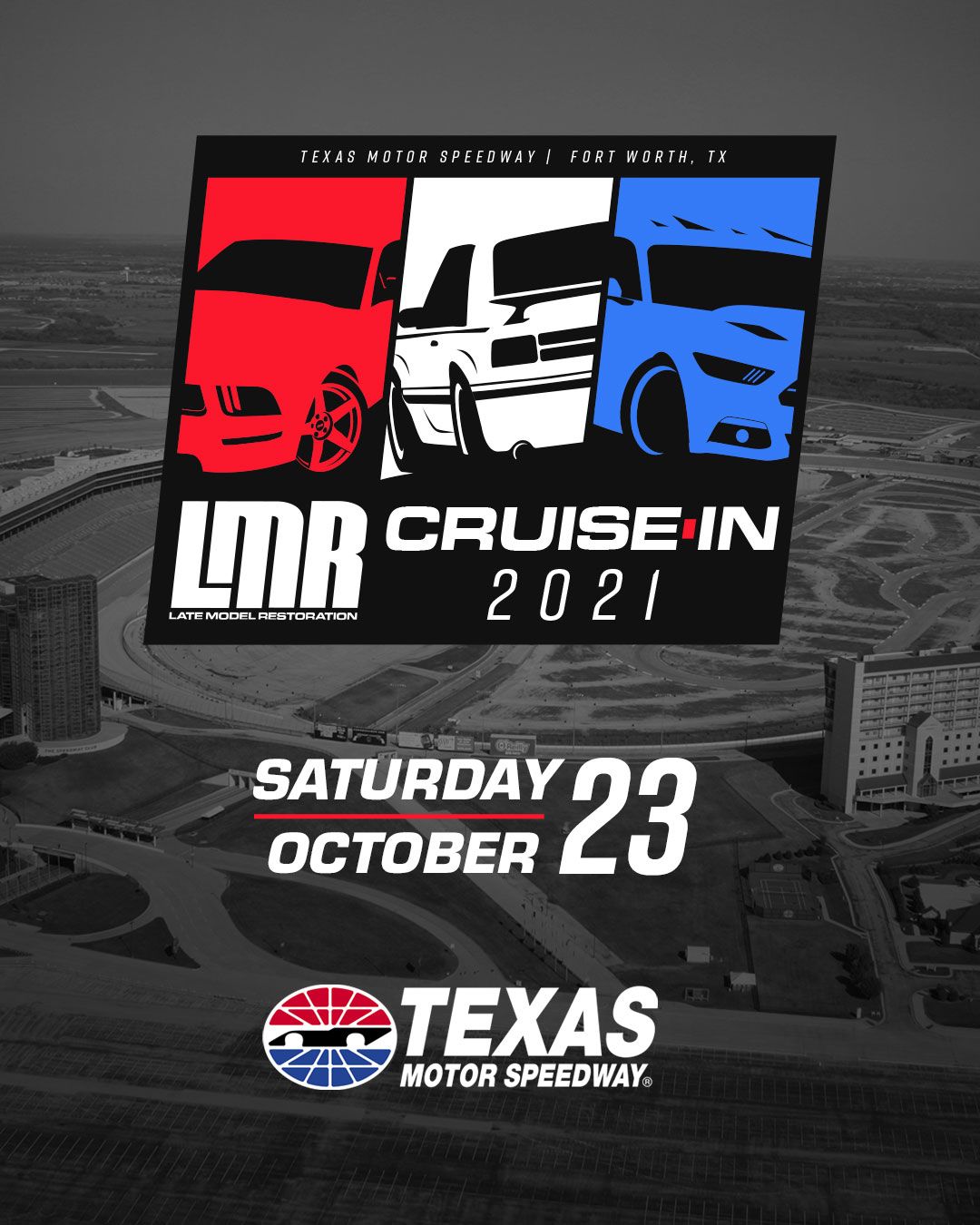 2021 LMR Cruise-In FAQ's
Will there be drag racing? Or any kind of racing?
No, there will not be drag racing this year. We will have parade laps on the road course! This will be a great opportunity for you to drive your Mustang or Lightning alongside other enthusiasts at speeds not exceeding 45 MPH.
How much does it cost to attend?
Our event is free for everyone! Just bring your Mustang or Lightning, and you're in!
When and where is the Cruise-In?
The 2021 LMR Cruise-In is on Saturday, October 23rd at Texas Motor Speedway.
Where do you enter the track from?
The main entry point will be the south tunnel. The best route to come in at is from I-35, down Labonte Ln, and turn right onto Lone Star Cir. From there, you will see signs to enter through the front gate.
What about people who want to come but don't have mustangs?
This is a Mustang/Lightning ONLY event. We will have parking outside of the track for non-Mustang/Lightnings. It's a quick walk to the infield once you park!
What is a Cruise-In?
A cruise-in is where any Mustang or Lightning owner can cruise into the event, free of charge, without worrying about car show judging! We will have door prizes and giveaways throughout the day!
I have a large group of friends/club members attending the event. How do we go about parking together?
Parking is first-come, first-serve. There will be open lots outside of the track, where you can meet up together and cruise into the event at once.
---