Doug Van Den Brink's Beginning
When the guys here at Late Model Restoration first talked to me about writing what you're about to read, I was at first a bit skeptical (as to would anyone be interested?), then excited (love sharing Mustang info with people) and then skeptical again (can I write something that's interesting to read?). I say this because I have been beating the "Ford Mustang is a great all around car" drum within the drift community for over 10-years and back in the day, these thoughts were not always welcomed with open arms be it from the early drifting adopters or from the traditional Mustang community. After my friend Mark Wolocatiuk first drove a road-race prepped Mustang in a very early drift event back around 2003, I think I was the very next person to bring one out and for sure, the first person to ever start modifying one specifically for drifting starting in 2004. I always knew you could do more with a Mustang than just "go straight" (no offense to my drag racing friends) but it's taken a little bit of time for others to realize it too.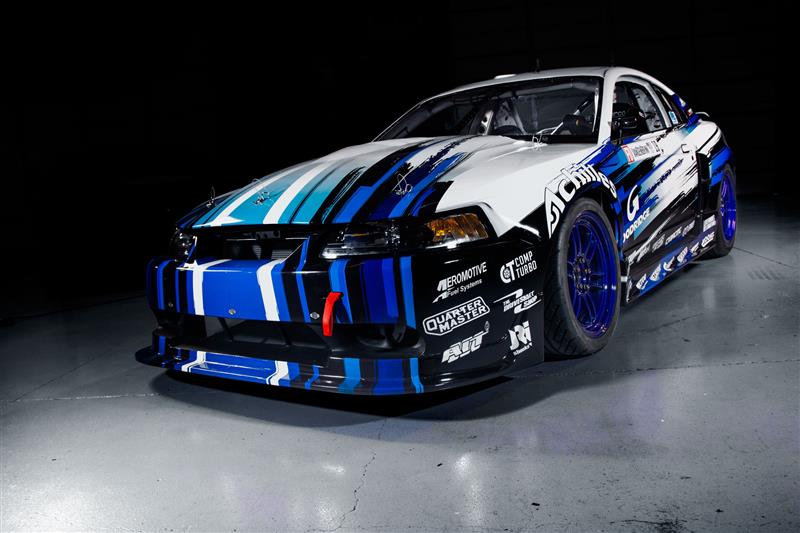 ---
Doug's First Drift Cars
For me, drifting and the Mustangs that I own now, are just the latest chapters in a lifelong love of motorsports. Starting with 1/4-midgets when I was a little kid, I have been really lucky to have raced Karts, Formula cars, Autocross, Stock cars, Legends cars, open-wheeled dirt cars and even some really high-end sports cars. Driving fast (on the track) is what keeps me breathing and it really does help define me as a person. To me, driving cars fast is "life" and everything else in between is just waiting around for something to happen.
---
Outside Of The Drifting World
Add to my bit of good luck, I've been told so many times that I really can't remember, that I have one of the best jobs in the world. When I'm not in my shop building and prepping one of the Mustang's for my next drift competition, I'm teaching others how to do what I am so passionate about myself. I am fortunate enough to currently be one of the senior instructors at the Porsche Sport Driving School in Birmingham, Alabama located at Barber Motorsports Park. Not only do I work with some of the fastest and best instructors in the business, but I also get to drive some of Germany's finest around one of the very best racetracks in the world… All the time! I'm not gonna lie, it's a pretty good gig!
---
Is A Mustang The Ideal Drift Car?
When I first started bringing a Mustang out to drift events back in the mid-2000s (remember back then, drift was strictly "an Import-car sport") I would actually get Booed and the announcers would have to stick-up for me (as I was in the car) and quiet the crowd down just to keep them from throwing bottles at me. Not that I am smarter than anyone else but when I first took a look at Drifting, I saw that it was a sport where torque would be a big help and nothing says torque like good ol' Blue-oval Dearborn iron.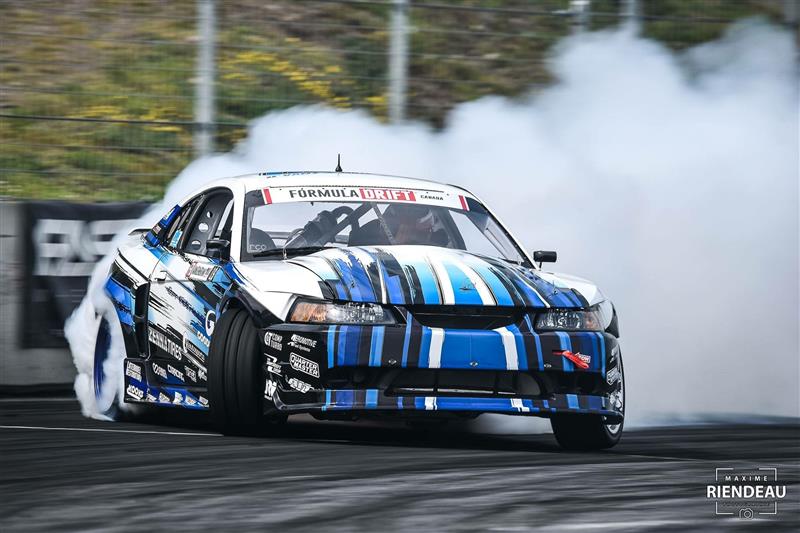 ---
What Is A Drift Competition Like?
For those of you that might never have seen a drift competition, it's all about a driver's car control skills. Naturally, it's made easier if you've got a well set up car and torque does cover up a lot of driver errors making sliding a car a whole lot of fun. As you keep your car in a continuous slide/drift, you drive from one corner to the next, placing your car as close to the inner and outer "clipping points" as you can. Basically, think of driving down an old curvy-back country dirt road and never let the rear tires get grip. Just sliding the rear of the car from one right-hand corner to a left-hand corner or maybe another right, sliding the car both on the entry and the exit of each corner. Now, try to do this on dry pavement, at 100+mph while following or leading your competitor who's driving their car mere inches away from your quarter panel.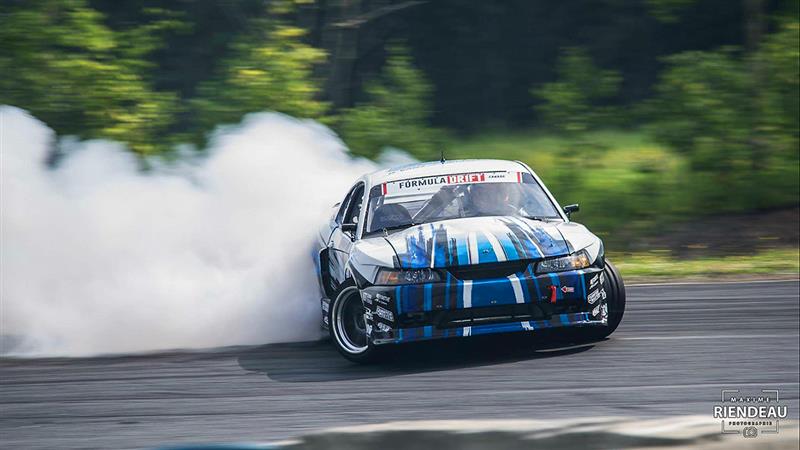 ---
Is There Winning Or Losing?
Now, how do you win or lose each round of a drift competition? This is the hard part for most "traditional" motorsports types to get their heads around, Drifting is a judged sport similar to freestyle motocross, half-pipe snowboarding, skateboarding, or surfing. There are 3-judges that score you on your driving Line, Angle that the car is, in relation to the direction it's traveling, and Style.
Line- The ideal line is told to the drivers beforehand in the Drivers Meeting. The line as stipulated by the judges can take the drivers from inside to outside and at times very close to the concrete barriers. Using both inner and outer "clipping points" as guides, the closer a driver can be to this ideal line while maintaining a fluid drift, the higher their line score will be.
Angle- This one is easy as more angle is usually better. The smaller the steering corrections (while holding a good line) the better and the transitions from one direction to the other will net a driver a higher score.
Style- Now this is the tough one because, unlike Line and Angle, Style is subjective in a way and can be interpreted differently depending on who is your favorite driver. The judges look for commitment to the coarse layout and a fast "rate of angle" during the transitions from one direction to another. The driver's fluidity through the track, the lack of corrections while being committed to the throttle, and their level of confidence while placing the car in all the right spots, all have a level of weight to the Style score.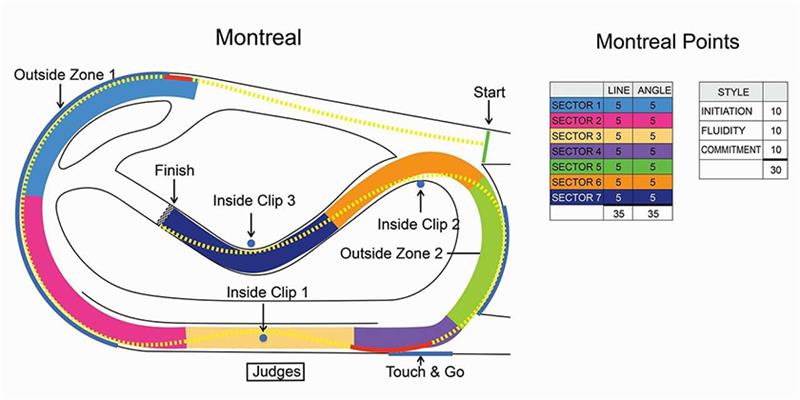 ---
Why Did I Choose A Mustang?
So for a guy with deep roots in traditional motorsports, how did I get so excited about Drifting and why (when at the time the rest of the world choose Import cars) did I start with a Mustang? Easy answer, peer pressure! Besides teaching high-performance driving at different schools for many years, I do a good bit of demonstration driving for the major auto manufacturers. When somebody comes out with a new car, many times it needs to be shown to the press or the public and it needs to be shown in its best light. That is where guys like me come into play. Back in 03' I was working with 3-guys that were just getting involved in the sport, Terrence Jenkins, Samuel Hubinette, and Tanner Foust.
These three guys and I were all on a promo tour for Chrysler showing the (then new) 300C and Dodge Magnums to the world. With Terrence's vision of big things to come and Samuel and Tanner's enthusiasm for sliding cars through high-speed corners, I was basically browbeaten into getting on board with this new sport and I've not regretted it for even one moment. The pro series of Formula Drift has grown worldwide and there are grassroots level drift events in every major market in the US. You can just about slide your Mustang somewhere, on a track, nearly every weekend of the year and not have to travel all that far to do it.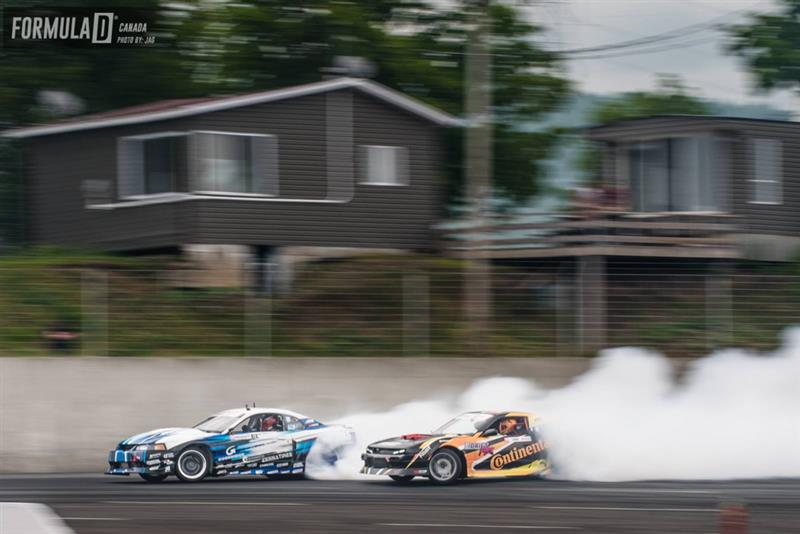 Once I started to really give the sport a hard look, being a longtime Blue-oval guy, I knew the Mustang would be a good platform based on all the criteria's that I've stated above and the fact that there's not any car to date that has a larger network for aftermarket parts and loyal fan following. A call to Brad Grissom, then of Kenny Brown Performance helped me (with guidance from Kenny Brown) come up with a good starting point to get the program started. As they say, the rest is history. Once I got myself aligned with great suppliers like Late Model Restoration, Quarter Master Clutches, JMS Chip, and Wilwood, just to name a few, it's been a great ride for many years.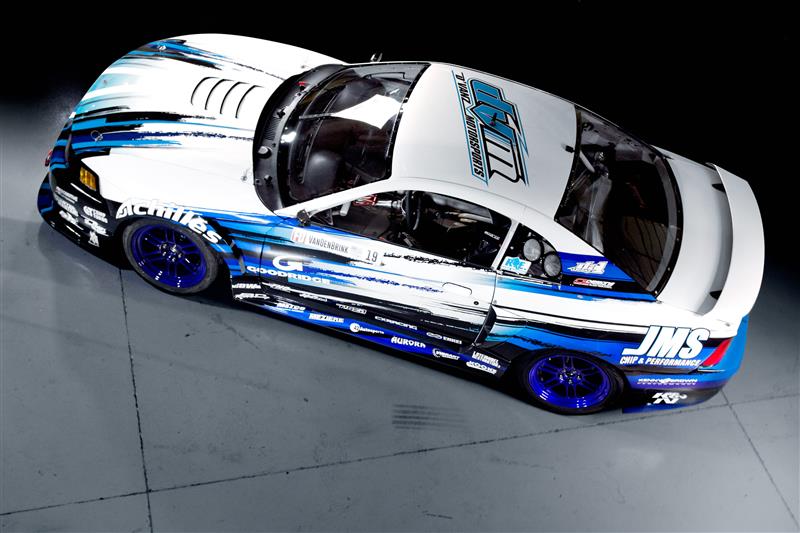 ---
Stay Tuned!
This first article is just the first of many that will follow. Whether you're building your Mustang for Drifting, Autocross, or Open-track, the information that I'm going to share here will give you some ideas of worthwhile modifications that you can do to your car to get the performance that you want.
Just some of the items that are on the table for us to cover in later issues are:
Is a Mustang a good choice for drifting, autocross or open-track and why?
What's the difference in car prep between Pro vs. Grassroots level cars?
What Mods give you the most bang for the buck?
Where do I get the parts I need for these different projects?
Can I do this myself if I'm not a pro-mechanic?
Will this activity (drifting/autocross/open-track) be hard on my car?
How much $$$ do I need to spend to have fun?
If you've got some questions that you're dying to get answered, let us know through the LMR website and I'll pick a few to cover as they come up.
Accompanying this series of articles will also be some real-world insight as LMR and my guys here at D'Vanz Motorsports collaborate on the building on another Mustang drift car that we're building for the 2018 season. You'll be able to follow along as we select our parts from the LMR website, make our own in-house modifications, and ultimately, meltdown some tires on our way to having another fun car to drive.
So thanks for your time in reading this first article, I hope you enjoyed it, and please check back for future issues as I'm really looking forward to seeing even more Mustangs out there on the track. Remember, they make new tires every day…
---