Mustang Modular Flywheel Guide
The main difference everybody talks about on mod motor flywheels is whether it's six bolt, or an eight bolt. Basically, that's just referring to the number of bolts it takes to retain the flywheel to the crankshaft.
To start off, the 1999 and 2000 Mustang GTs are a little confusing! Why? Well, there was a fire at the Romeo engine plant, meaning that they had to put Windsor motors from the F-150s into Mustangs. The majority of your 1999, 2000 (and even some of the early 2001 models) are going to be Windsor based, and therefore have an eight bolt crankshaft. However, some did slip through with a six bolt crank. It is in your absolute best interest to check before you order a new flywheel. To check if your engine uses a 6 bolt, or an 8 bolt, flywheel you can check your VIN number. Romeo built engines have 6 bolts and Windsor built engines have 8 bolts. All Cobra engines have 8 bolts. The 8th character in the VIN is (X) for Windsor engine plant or (W) for Romeo engine plant.
When purchasing a new flywheel, there will be two main materials to choose from... billet steel, and billet aluminum. A billet steel flywheel is going to be best suited for street use, or in a drag race applications that need that extra inertia to help you get off the line. A billet aluminum flywheel is best served in a road race type application, where you want instant acceleration out of the corners. Either way, you can't go wrong, because mod motors really respond well to both.
Unlike pushrod motors, you don't have various engine balances that you have to worry about. All of your mod motors, whether it's a 4.6, 5.4, or 5.0; they're all going to be a zero balance, meaning they're all internally balanced in the engine. On your pressure plate bolts, you do have to make sure that you get the right ones, because your 10-1/2 inch clutch uses a different set of pressure plate bolts than your 11 inch clutches. While I'm at it,just to throw another wrench in there, pretty much all of your pressure plates are going to be 6 bolt, up until 2011. In late 2011, Ford went to a nine bolt pressure plate that carried through to 2014. And that's pretty much the long and short of flywheels for 1996 to 2014 V8 Mustangs!
Flywheel Info
6 Bolt Flywheel
96-98 GT
Some 1999 & 2000 GTs
01-04 GT
05-10 GT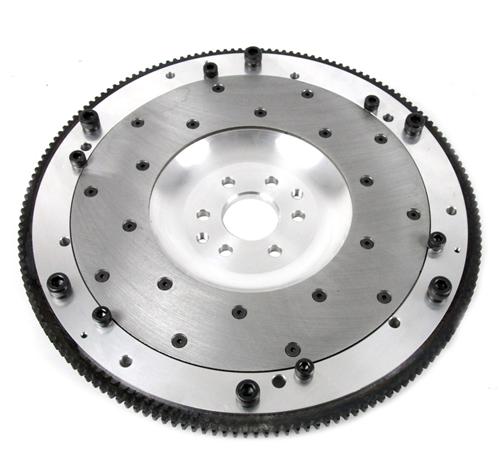 8 Bolt Flywheel
96-98 Cobra
Some 1999, 2000, and early 2001 GTs
99-01 Cobra
03-04 Cobra
03-04 Mach 1
07-14 GT500
11-14 GT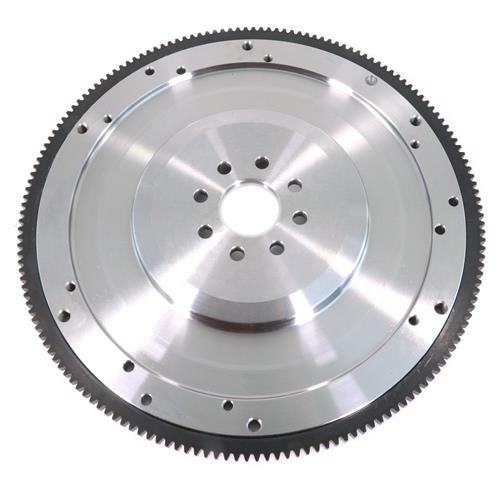 For more information, and to pick up a flywheel for your Mustang, check out lmr.com.
---