2005-2014 Mustang Passenger Side Water Leak Fix
If you have ever noticed that the passenger side front floorboard is wet or seen water dripping from behind the dash of your 2005-2014 Mustang, you might be experiencing a clogged drain on the firewall well. What happens is that the area under the cowl panel collects debris and clogs the drain in the area where the cabin air filter and windshield motor are mounted. When these drains become clogged, enough water can back up in this area, allowing the water to spill into the cabin where the cabin air filter is mounted to the firewall. Note that there are two drains, one on the passenger side and one on the driver's side. The drive-side drain will require additional work to access.
Below, we will show you how to check and clean the drains in this area.
---
Tools Needed:
Phillips Head Screw Driver
Shop-Vac with skinny and long attachment (optional)
Long needle nose pliers (optional)
Step 1:
Open your hood and locate the passenger side cowl panel. There will be two push pins with Phillips head push pins. Remove these push pins and remove the cowl panel by lifting and pulling toward the front of the Mustang. If you opt to do the drive side drain, you will need to remove the drive side cowl panel and wiper arms. Cleaning the passenger side only will prevent the excess water from getting into the filter housing.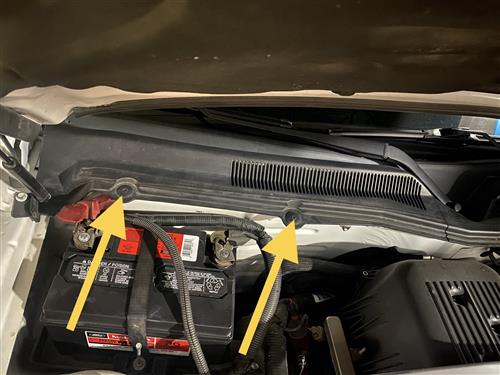 Step 2:
Remove loose debris at the bottom of the cowl cavity. If you have a shop vac with long skinny attachments, you can use this to remove the debris. This is a great time to clean this area to remove any mildew or mold that may accumulate. Decaying leaves and debris can cause foul smells to enter the cabin when climate control is used.
Step 3:
Remove the grommet that acts as the drain. This can be done by pulling up from the center. If you can not get your hand in this area, long needle nose pliers can be used to grab this and gently remove this grommet. Clean this grommet to allow the drain to operate correctly. Reinstall this grommet once cleaned. This is also a great time to replace your cabin air filter. Check out our installation guide here: S197 Mustang Cabin Filter Installation.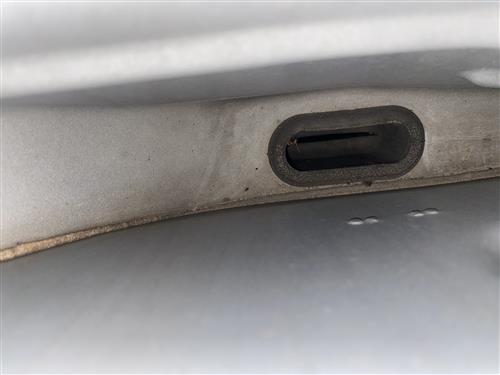 Step 4:
Reinstall the cowl panel and push pins. Enjoy your leak-free cabin
---
If you have not experienced this leak yet, we hope that this can help you avoid it in the future. If you are experiencing this issue, don't forget to replace your carpet to avoid any mildew and mold from previous leaks. We offer a complete line of replacement carpets here - Mustang Carpet. Check out more of our tech guides below to keep your S197 Mustang performing as if it came off the showroom floor!
---