HISTORY
In the 80s, the customers who wanted a little more luxury with their vehicles bought a Mercury Capri and if you wanted more performance you would go with the ASC/McLaren. Both versions of this car came as a brainchild of engineer Peter Muscat, who created an SL-esque convertible roof for the mechanically similar Mustang. He was able to convince Mercury to offer some limited support for this new project. The Capris was contracted to be built by the American Sunroof Company (ASC) who was partnered up with the McLaren. ASC also decided to offer a coupe version with a few upgrades. Even though customers were impressed by both coupe and convertible options, the biggest issue was pricing. The Convertible option added $12k to the $10k base price of the 5.0 L Capri which was already about $6k more expensive than the GT convertible. Also, the ASC/McLaren coupe was only $4k more expensive than the Capri that it was based on but didn't find a huge number of buyers. Once the Capri production was finally halted, ASC/McLaren offered a version of the Mustang convertible. Throughout this process, Muscat and ASC had disagreements over licensing and royalties which ended in a stop in production in 1990.
---
1984-1986 ASC McLaren

hemmings.com
A collab was done with McLaren to produce a Capri coupe in the McLaren colors of blue and orange. The following was added to make this a one of kind vehicle with the following:
Add-on front air dam with driving lamps
Rocker panel applique
Add-on rear fascia
Custom body-side graphics
Custom lace-design wheels
There was a leap from coupe to a Euro-style roadster and Muscat presented the idea to Heinz Prechter who was the ASC founder. He accepted the proposal because he believed it to be a good continuation of the ASC/McLaren theme. ASC then began production and the 5.0SC was born. During production, these stock capris got the following upgrades:
Body buck tags stamped "D32" (ASC/McLaren Code)
Roof removal
Bent a-pillars back roughly 2.5 in
Welded many body reinforcements
2 storage compartments that replaced the coupe's rear seat
Hardwood dash trim
Custom center console
Premium sound system
Power leather Recaro seats
While this vehicle was deemed an "image" car, not many performance upgrades were added. It still had the stock 302-cu.in. V8. In 84' a Holley carburetor was used and made 175hp, then in 85' a hotter cam brought with it 210hp, and finally fuel injection in 86' meant 200hp. All three of these year models came with a Borg-Warner T-5 or Ford AOD automatic. Although it did get an upgraded suspension with unique lowering springs, special BFGoodrich radials, lowering springs, and different shock valving.
---
1987-1990 ASC McLaren

hemmings.com
This model came out because of the high sticker price of the 84'-86' versions which resulted in low production. In 86' Mercury discontinued production and the work shifted to Mustang for the 87'-90' models. Even though there was very few mechanical changes or engine mods, this build still ended up costing more than most customers wanted to pay. In its 4-year span only 1,806 Mustangs were converted which made them such a rare vehicle. Starting in 87', adjustments were made to the existing electrically fuel-injected engine that boosted the output from the previous year's 200 hp to 225. This was achieved by the installation of a larger intake plenum, a 60mm throttle body, 9.0:1 compression forged pistons, and Ford truck cylinder heads. Here are some additional upgrades that were included in this build:
100.5" wheelbase
Honeycomb mesh, cast-aluminum, 15" wheels
Directional Goodyear VR radials
Manually-folded top
Power metal tonneau cover
Windshield pulled back about 20 degrees
Side skirts, tail lamp covers, rear spoiler
Removed stock emblems
Rear seat removed
Extra padding on front seats with embroidered leather
Redesigned door panels and armrests
While this was a limited production vehicle there is still a huge collection of ASC/McLaren specific parts for anyone whose are needing restoration parts for their vehicle.
---
ASC Mclaren PRODUCTION Numbers
ASC McLaren 5.0 SC Production Numbers
| Year | Convertible | Coupe |
| --- | --- | --- |
| 1984 | 50 | 25 |
| 1985 | 257 | 150 + 30 Grand Prix IV Cars |
| 1986 | 245 | 115 + 47 Euro Coupes |
ASC McLaren Ford Mustang Production Numbers
| Year | Convertible |
| --- | --- |
| 1987 | 479 |
| 1988 | 1,015 |
| 1989 | 247 |
| 1990 | 65 |
ascmclaren.com
---
ASC Mclaren PRICES & Paint Codes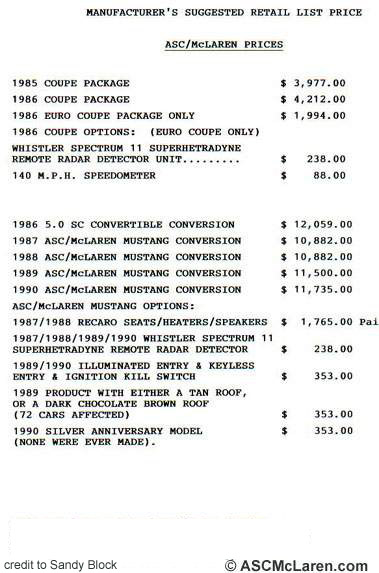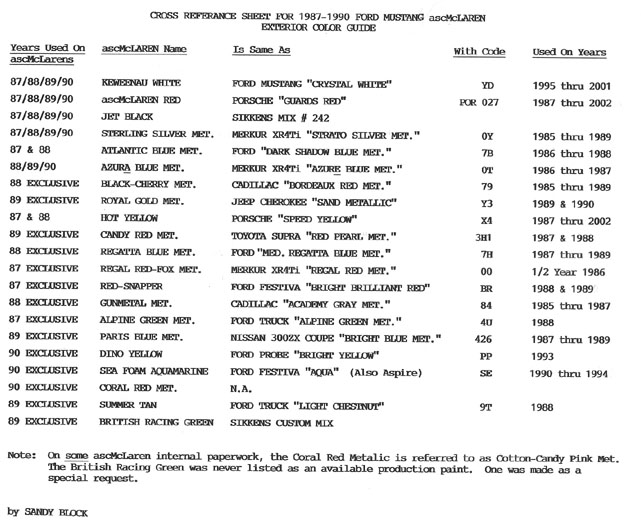 ---