What Is An SN95 Mustang?
The SN95 Mustang is the fourth generation of the Ford Mustang, introduced in 1994, and used Ford's Fox chassis platform. The SN95 Mustang spanned between 1994-2004 and included the popular "New Edge" Mustang from 1999-2004.
What Does SN95 Mean?
SN95 stands for Specialty/Sporty North American Market Project #95.
S = Small Specialty Market That The Mustang Competes In.
N = North American Operations
95 = Sequence Number In Ford's Numbering System For Approved Programs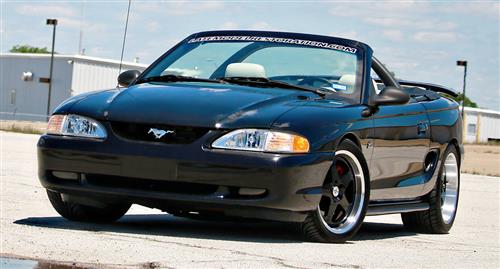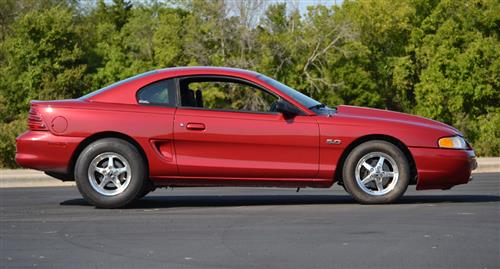 Big Changes For The Fox Body Platform
Building on the Fox platform, Ford reserved $700 million to redesign the 1994 Mustang. The main focus of improvements were to give the Mustang a more modern look while improving handling and NVH (noise, vibrations, harshness). While the chassis stayed the same, the SN95 got new suspension, exterior styling, interior features, engine offerings, and new technology. While the SN95 spans 1994-2004, this article will touch on the 1994-1998 Mustang. To read more about the 1999-2004 Mustang, check out our What Is A New Edge article!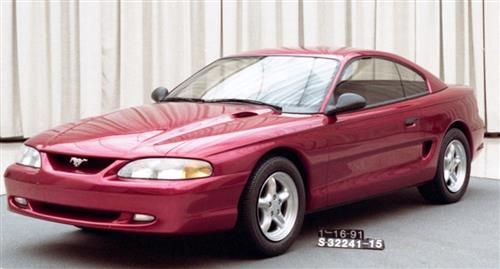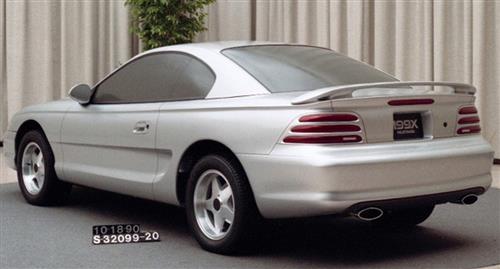 SN95 Exterior
The most noticeable difference for the new 1994-1998 SN95 is the sleeker, more modern body style. 1993 was the last year of the box shaped Mustang and only a convertible and coupe option were available. The front end took on a smoother look with two piece headlights and a running pony grille emblem. The SN95 hood took a smoother shape compared to the previous generation fox platform, while maintaining the small cowl styling of the previous generations. To keep the body lines flowing, Ford added side skirts and a side scoop to the side of the Mustang which would carry through later models as well. Moving toward the rear, the SN95 featured a stylish spoiler and two different style taillights, horizontal lenses for the 1994-1995 and vertical lenses for the 1996-1998.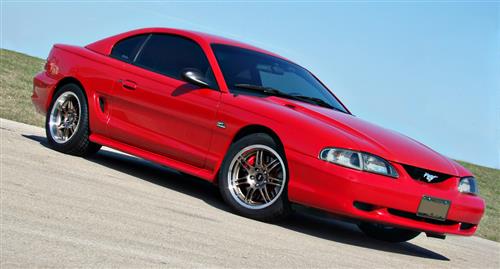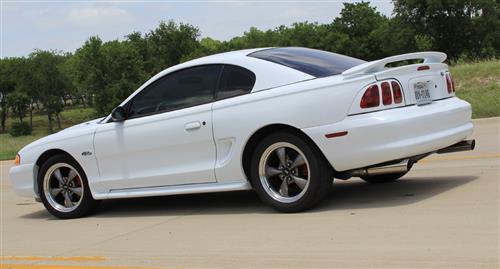 SN95 Interior
With the new body style, Ford also modernized the 1994 interior by going to a dual-cockpit dashboard setup. They ditched the sharp edges of the Fox Body interior in favor for a more contoured and rounded design similar to the Thunderbird of the early 90s. While the base option included carry over functions from the earlier Fox Bodies, upgrade options included power window, door locks, and mirrors. Cruise control, air conditioning, remote keyless entry and a trunk cargo net were offered as well. Leather and cloth seating options were available in tan, black, red, white, and few other one off patterns. A new stereo system named Mach 460 was added to the SN95 and featured a 230 watt multi-speaker sound system with a cd player.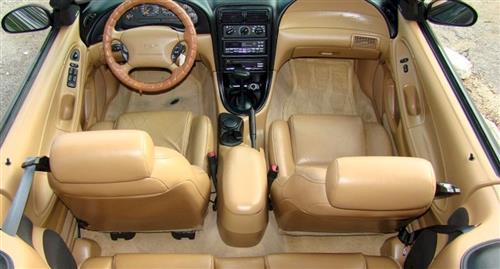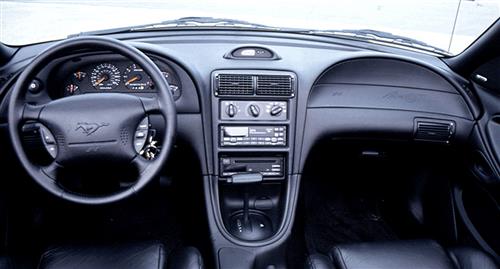 SN95 Suspension
While the Mustang's MacPherson suspension setup remained in place, the SN95 body got longer lower control arms, new spindles (sought after by Fox Body owners for 5 lug swaps) anti roll bars, upgraded shocks/struts, and few smaller changes. Ford's focus on reducing NVH and improving the car's handling led to these improvements and gave the SN95 better handling over the Fox Body.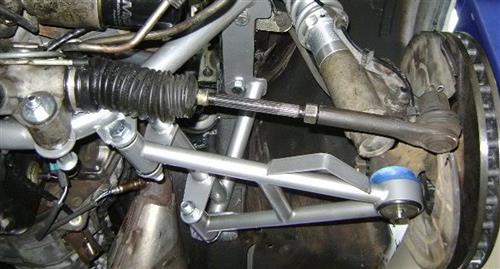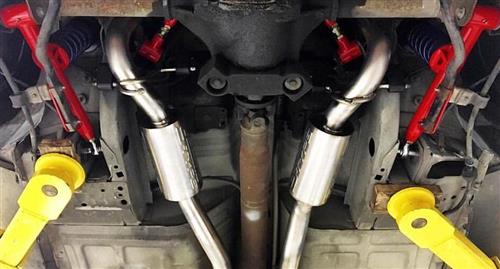 SN95 Engine Options
Throughout the 1994-2004 Mustang lifetime, a few various V6 and V8 options were available including a supercharged V8! Here we lay out the various engine options for the SN95.
Year
Base Model V6
GT V8
Cobra V8
Special Edition
1994
145 HP
215 TQ
215 HP
285 TQ
240 HP
280 TQ
1995
145 HP
215 TQ
215 HP
285 TQ
240 HP
280 TQ
300 HP (Cobra R)
365 TQ
1996
150 HP
215 TQ
215 HP
285 TQ
305 HP
300 TQ
1997
145 HP
215 TQ
215 HP
285 TQ
305 HP
300 TQ
1998
145 HP
215 TQ
225 HP
290 TQ
305 HP
300 TQ
1999
190 HP
220 TQ
260 HP
302 TQ
320 HP
317 TQ
2000
190 HP
220 TQ
260 HP
302 TQ
385 HP(Cobra R)
385 TQ
2001
193 HP
225 TQ
260 HP
302 TQ
320 HP
317 TQ
265 HP (Bullitt)
305 TQ
2002
193 HP
225 TQ
260 HP
302 TQ
2003
193 HP
225 TQ
260 HP
302 TQ
390 HP
390 TQ
305 HP (Mach 1)
320 TQ
2004
193 HP
225 TQ
260 HP
302 TQ
390 HP
390 TQ
305 HP (Mach 1)
320 TQ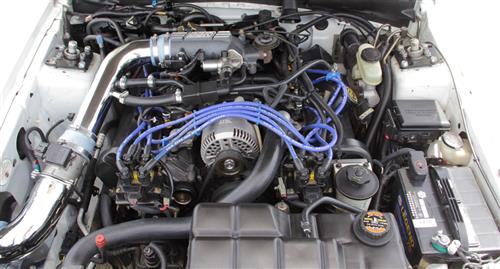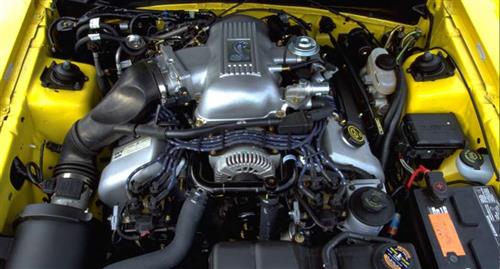 SN95 Cobras
With the popularity of the 1993 Cobra/Cobra R, Ford and SVT continued the Cobra lineup into the SN95 with the release of the 1994 Cobra and 1995 Cobra R. The Cobra boasted a higher horsepower than the GT pushing it to 240HP while the Cobra R got a huge increase to 300HP. The Cobra lineup continued through 1999, skipped 2000, and came back in 2001. While many protest that there was no 2002 Cobra, there was a limited run built in Australia. 2003 saw a return of the Cobra in the states with the code name "Terminator". What are the 03/04 Cobras called Terminators? While SVT has not given us a specific reason, we do know that they code named it Terminator during the development process and it has stuck since.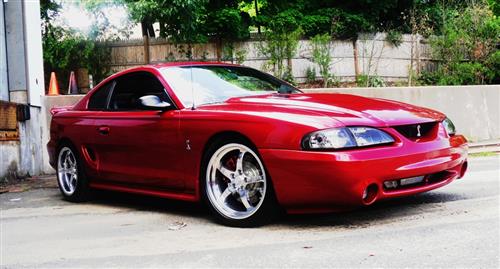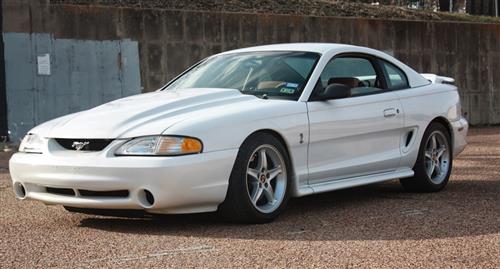 SN95 Vs New Edge
While the SN95 stretches from 1994-2004, there was a new body style in 1999-2004 that was nick named "New Edge". While there is debate where this name came from, most agree that it is derived from the new edgier body lines. Techinally it is an SN95 but most enthusiasts refer to 1994-1998 as SN95 and 1999-2004 Mustangs as a New Edge.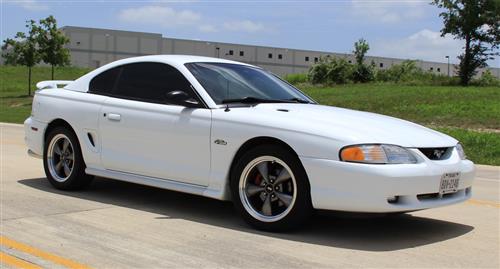 ---
About the Video
What Is An SN-95 Mustang? | SN-95 Mustang History
Check out our YouTube channel for even more tech tips, installation videos, how-tos, and more. The best place to go for anything Mustang related!
Published on 2019-10-31
Full Article: https://lmr.com/products/what-is-an-sn95-mustang
_____________________________________________________
The SN95 Mustang is the fourth generation of the Ford Mustang, introduced in 1994, and used Ford's Fox chassis platform. The SN95 Mustang spanned between 1994-2004 and included the popular "New Edge" Mustang from 1999-2004. Follow along as we walk you through What an SN95 is and the various options available during these years.
_____________________________________________________
YouTube: https://latemodelres.to/youtube-subscribe
Facebook: http://www.facebook.com/latemodelresto
Instagram: http://instagram.com/latemodelresto
Twitter: http://twitter.com/latemodel_resto

Late Model Restoration LMR SVE 5.0Resto
_____________________________________________________
1970 Boss 302 Mustang
Source: https://en.wikipedia.org/wiki/Larry_Shinoda#/media/File:'70_Ford_Mustang_Boss_302_(Les_chauds_vendredis_'10).jpg

John Coletti
Source: https://www.hemmings.com/blog/article/o-john-coletti/#&gid=1&pid=1

Larry Shinaoda
Source: https://kustomrama.com/w/images/6/65/Larry-shinoda.jpg

Steve Saleen
Source: https://en.wikipedia.org/wiki/Steve_Saleen#/media/File:Saleen_LM_97.jpg


1994 Boss
Source: https://www.hotrod.com/articles/42938-1994-ford-mustang/#830large-1994_ford_mustang-front_left_view


1989-97 Thunderbird
Source: https://en.wikipedia.org/wiki/Ford_Thunderbird_(tenth_generation)#/media/File:1989-1995_Ford_Thunderbird.jpg

SVE Super Stallion
Source:http://www.mustangandfords.com/featured-vehicles/4303-sve-super-stallion/photo-gallery/#/

Saleen S281
Source: https://www.motortrend.com/news/saleen-s281/

Saleen
Source: http://www.mustangandfords.com/featured-vehicles/mump-0605-1994-ford-mustang-saleen-sr/photo-gallery/

94 Cobra R Indy 500
Source: https://www.classic.com/veh/1994-ford-mustang-svt-cobra-indy-500-pace-car-WvgX6Bp/

95 SVT Cobra R
Source: https://performance.ford.com/enthusiasts/collector-vehicles/svt/mustang-cobra-r/1995.html
Source: https://en.wikipedia.org/wiki/Ford_Mustang_SVT_Cobra#/media/File:Svtcobra1995r2000r.jpg

95 SVT Cobra
Source: https://en.wikipedia.org/wiki/Ford_Mustang_SVT_Cobra#/media/File:1995_Ford_Mustang_SVT_Cobra_5.0_litre_in_England_arp.jpg

96 SVT Cobra
Source: https://performance.ford.com/enthusiasts/collector-vehicles/svt/mustang-cobra/1996.html

97 SVT Cobra
Source: https://performance.ford.com/enthusiasts/collector-vehicles/svt/mustang-cobra/1997.html

98 SVT Cobra
Source: https://performance.ford.com/enthusiasts/collector-vehicles/svt/mustang-cobra/1998.html