Mustang SVE Radiator & Contour Fan Kit
Ensure your cooling system is up to the challenge in any climate with this 1986-1993 Mustang 5.0 SVE radiator and Contour fan kit! Built to handle severe temperatures, this kit includes all of the heavy-duty components you need to keep your Fox cool whether you're driving on the street or the track. With advanced adjustable controls, you'll be able to program settings to dial in the performance from your driver's seat!

SVE Radiator & Hoses
Featuring an SVE radiator and black silicone SVE radiator hoses, this severe duty kit replaces your factory radiator and hoses with upgraded replacements. SVE's radiator is an all-aluminum, 3-row cross flow design that increases coolant capacity to run more efficiently. The dual-layer silicone construction combines high-grade silicone and heat-resistant embedded fibers to provide efficient heat reduction and increased pressure tolerance, all with an OEM replacement fit! These hoses include OE-style clamps for a quick and easy installation.

Contour Fan & Mounting Kit
This kit replaces your factory mechanical fan with the highly sought after Contour electric fan. By removing your mechanical fan, you're freeing up parasitic loss caused by the engine having to turn that fan. The electric Contour fan combines approximately 3,500 CFM fan output into a compact, a factory-style assembly. This fan assembly measures 24-1/4" wide, 16-3/4" tall, and is 3.5" deep to provide plenty of core coverage while also clearing the front accessory drive! 5.0 Resto's Contour fan mounting kit is included to mount the fan assembly to your SVE radiator. A pair of 16 gauge aluminum mounting brackets properly locate the fan to your radiator. A new overflow tank and mounting bracket are included to finalize plumbing to the new radiator. All necessary hardware is included to mount everything up.

Adjustable Fan Controller
To finalize this kit and tie everything together, SVE includes a Dakota Digital electric fan controller kit. This kit uses bluetooth control to allow you to fully program everything from the driver's seat of your Fox. You'll have the capability to leave the electric fan operating after the engine has been shut down, for an adjustable period of time. An 1/8" temperature sensor with a range from 0-300 degrees Fahrenheit allows you to adjust when the fans come on. An SVE Y-block provides you the ability to mount this sensor, as well as the factory sensor, to your factory heater tube so you don't have to remove the thermostat housing. You'll save a tremendous amount of time and coolant by mounting it this way! Two 70 amp relays are included to eliminate the need to run large power wires to every switch on the dash.
Ford Mustang -

1986,

1987,

1988,

1989,

1990,

1991,

1992,

1993

Engines: 5.0
Fitment Notice
Fits manual or automatic application with the included transmission cooler line adapters.
Fan Wiring Note
Before final installation, verify the fan direction with a bench test as the fan plug wiring is colored the same for positive and negative. Ensure fans are in the correct pull or push configuration per your application. See the Contour Wiring Installation video for more details.

Radiator Specs
29.25" x 19" x 2" Overall Dimension
24.5" x 16.85" Core Size
1.25" Inlet Diameter
1.5" Outlet Diameter
2" Thick Core
19psi Radiator Cap
More videos of this product!
Check out our YouTube channel for even more tech tips, installation videos, how-tos, and more. The best place to go for anything Mustang related!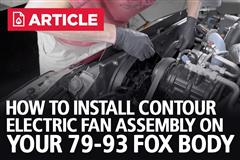 Parts included in this install are the following products: Contour Fans Exclusive Mounting Brackets Overflow Tank Solution Please note that the wiring portion of this install will be included in a different video. Also, if you are wanting to know more about our contour fan assembly check our review ... more
Posted on 6/1/2020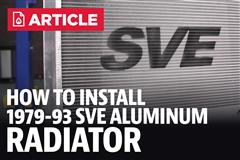 Increase your Fox Body Mustang's ability to keep your Mustang cool, and replace that clogged, leaking, or damaged factory radiator with an aluminum radiator from our selection of aluminum radiators at Late Model Restoration! more
Posted on 12/30/2016
---
California Residents: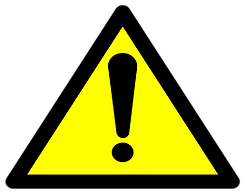 WARNING: Cancer and Reproductive Harm- www.P65Warnings.ca.gov
---