Lowering your Mustang is one of the first mods that many enthusiasts do to their Fox Body, SN-95, or New Edge Mustang. Whether you have an aftermarket set of wheels and want to close that fender gap or simply want a more custom look with your stock wheels, lowering springs can help. Getting a better stance is only one of the great benefits of lowering springs. Lowering your Mustang can help improve handling, give you a better center of gravity, and help with road racing or drag racing.
If you have a convertible, however, you may have noticed that some lowering springs are only made for hardtop models (coupe, hatch, and t-top) and that you are narrowed down to convertible-specific lowering springs. Let's dive into why there are different springs for different applications and what lowering springs you should choose for your convertible.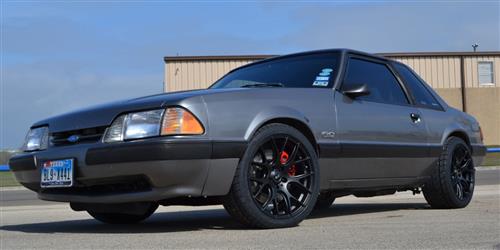 Difference Between Hardtop & Convertible Lowering Springs


The main difference between convertible Mustang lowering springs and coupe or hatch springs is the spring rate. Due to the heavier weight of a convertible in the rear, the spring rate must be different to offset this weight to retain ride quality.
For Example:
Fox Body GT 5.0 Automatic Convertible: 3,327lbs (Approx)
Fox Body GT 5.0 Automatic Hatch: 3,251lbs (Approx)

1995 Mustang 5.0L V8 Convertible: 3,452lbs (Approx)
1995 Mustang 5.0L V8 Coupe: 3,276lbs (Approx)

2004 Mustang 4.6L V8 Convertible: 3,379lbs (Approx)
2004 Mustang 4.6L V8 Coupe: 3,241lbs (Approx)
Manufacturers like Eibach have created lowering springs for both 83-93 Mustang and 94-04 Mustang convertibles to achieve a safe and comfortable drop without losing ride quality.

1983-93 Mustang Eibach Convertible Pro-Kit Lowering Springs
1994-04 Mustang Eibach Convertible Pro-Kit Lowering Springs
Fits 94-04 GT Convertible

Fits 94-98 Cobra Convertible

Lowers Car Approx 1.3"-1.4"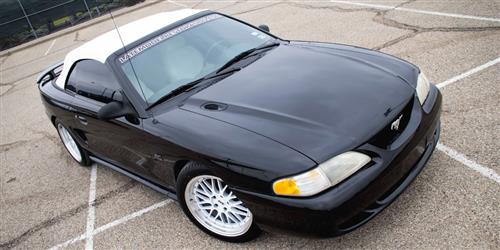 Can I Use Coupe Springs In A Convertible?

This is a question that we get all of the time at LMR.com as the selection of coupe lowering springs far surpasses the selection of convertible lowering springs. While technically they will fit, LMR.com does not recommend using coupe springs in a convertible as this will lower the car more than intended. This can lead to your Mustang bottoming out or your tires rubbing the fenders of your car. We suggest using one of the Eibach options above for all 83-04 convertible Mustangs.

If you are looking at running drag or road racing springs, these would be acceptable to use in a convertible Fox if you are using the appropriate supporting modifications. This would include chassis stiffening mods such as roll bars, subframe connectors, torque arms, and any other supporting suspension mods for your racing application.

In Conclusion

So in conclusion, if you have a 83-04 Mustang convertible and are wanting to lower it with lowering springs, you will need to use convertible-specific lowering springs. Using the incorrect springs might work on specific occasions, but you will be running the risk of damaging your vehicle.
If you are ready to start lowering your Mustang, shop our full selection of
Mustang lowering springs
to choose between coupe and convertible kits.
---