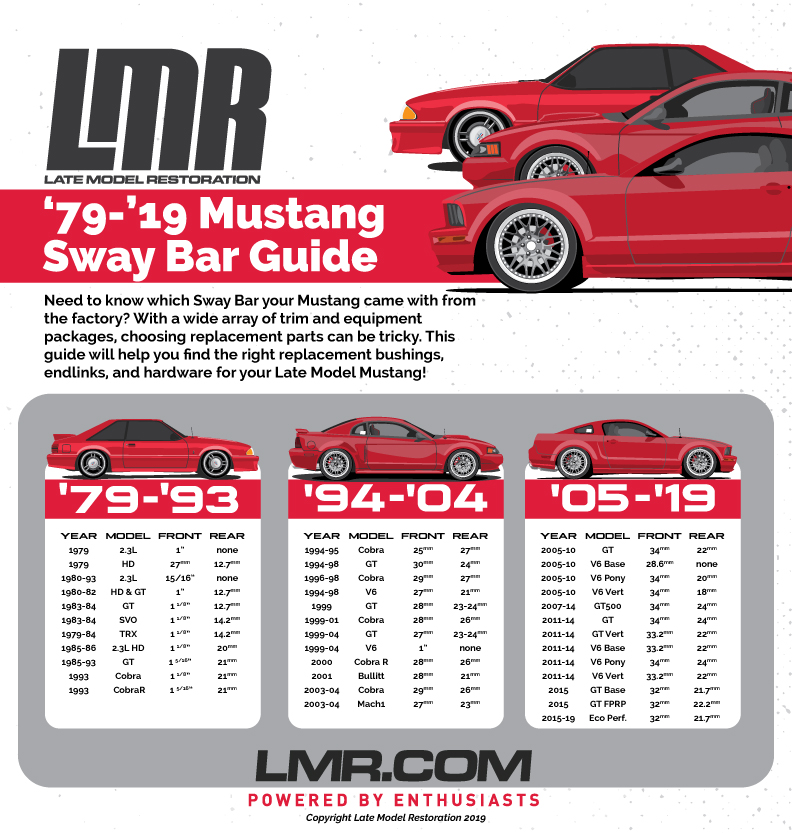 Sway Bar Guide
Some of the most common questions asked when it comes to Stang suspension are the Mustang sway bar sizes. This chart gives you the stock Mustang sway bar sizes to assist you in buying the correct replacement bushings or deciding on an upgraded bar. This guide shows you Fox Body, SN-95, New Edge, S197, and S550 sway bar sizes for an all in one, easy to use guide.
Sway Bar Bushings
When redoing your Mustang's suspension, sway bar bushing should not be overlooked. They can become old and cracked, not performing like they should. Late Model Restoration has an assortment of Mustang replacement sway bar bushings to get your Stang feeling new again.
Measuring Your Sway Bar
While this guide covers OEM sway bars, your car could have a different size from a previous owner or a special dealer installed package. Late Model Restoration strongly recommends you measure your sway bar before ordering our bushing to confirm the correct size. This can easily be done with a dial caliper.
---