Performing a Hydroboost swap in your Fox Mustang has become a much more common modification over the years. These swaps provide a space-saving option that offers an exceptional pedal feel without sacrificing your driveability by swapping to a manual brake setup.

These Hydroboost setups will work as the stock vacuum booster for braking assist. Instead of relying on a vacuum signal from the engine to assist in brake pedal feel and power, this system relies on hydraulics from the vehicle's power steering system. These swaps are usually found in modern-day Ford Mustangs equipped with the 4.6L and 5.0L Coyote Swap engines. Due to these Mod-motors' sheer size and dimensions, the traditional Fox Body vacuum boosters run into interference issues and cannot be used.
Hydroboost swaps are also common for high horsepower pushrod engine combinations. Due to more aggressive camshaft profiles, engine vacuum can be diminished with these styles of engine builds. This will affect the factory-style vacuum boosters and affect your Mustang's overall brake pedal effort and stopping capabilities for your vehicle. Let's cover the breakdown of these swap components and what you need to know.
The first area we need to cover will be planning your build. A lot of these parts associated with this swap will be year-range specific. We recommend doing as much research as possible before jumping in feet first. Not all of these vital parts will work together or are readily available, for that matter. There will be two separate year range breakdowns you can source parts from, used or new. There is the 1996-1998 GT/Cobra or the 1999-2004 GT/Cobra year ranges.
Within these years, the two most significant components must match. These will be the Master Cylinder and the Hydroboost unit. You will not be able to use mix-matched parts here. It would be best to verify that you have these matching for proper fitment and operation.
---
1996-2004 Hydroboost Brake Booster and Master Cylinder Differences
The Hydroboost brake booster and master cylinders found throughout the 1996-2004 year ranges can be difficult to identify. But there will be a few quick determining factors to tell what you have.
The first will be the accumulator found on the body of the booster. These accumulators will store a charge to provide you with power assistance for braking if pressure is lost due to a leak in the system. There will be two different sizes used here. Start by measuring from the booster's base to the accumulator canister's end. 1996-1998 will measure out at 3 1/8," and 1999-2004 will be 3 7/8" long.

The second way to check over your Hydroboost unit is to measure the pedal pushrod. The 1996-1998 models will measure out at 3 ½," and 1999-2004 will be 3 7/8" long.
There will also be slight sizing differences in the pressure fittings on the Ford Hydroboost units. Depending on the model you choose, you will want to verify this before plumbing your setup.

The last way to determine what booster you have will be the mounting flange located on the firewall of your Mustang. 1996-1998 boosters will be completely centered to the bolt location. The 1999-2004 mounting flange will be slightly offset to the bolt location.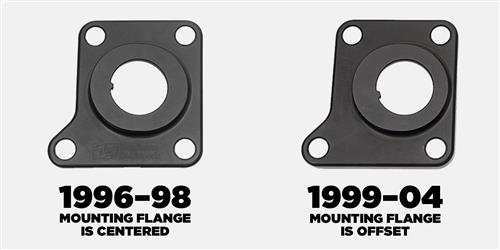 When it comes to the master cylinder, the quickest way to determine what year range you are working with will be the mating flange and how this bolts to the Hydroboost assembly.
The 1996-1998 mounting flanges will be completely vertical at the 12 and 6 o'clock positions. When looking from the vehicle's front, the 1999-2004 models will be slightly offset at the 11 and 5 o'clock positions.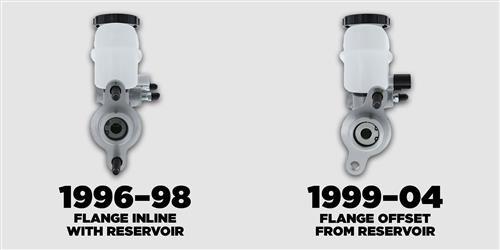 Power Steering Pump Selection
When it comes to selecting your power steering pump, this will be pretty straightforward. This will primarily depend on your application or swap you are working on. The factory 4.6L 1996-2004 pump will be the go-to selection for pretty much any Mod-Motor-based swap, including the 5.0L Coyote engine swaps.
If you plan on doing this conversion on a standard small-block 5.0L pushrod-based engine, the stock power steering pump is sufficient for this swap as well.
Most GM power steering pumps are not recommended for these swaps. The amount of pressure generated by the GM-style pumps is not safe for the Ford Hydroboost units. This can be common on some of your aftermarket LS swaps. A good rule of thumb is sticking with a Ford pump if possible.
Hydroboost Plumbing
The plumbing aspect of these swaps will be one of the most daunting tasks. Depending on the chassis, the pump used, master cylinder selection, and the Hydroboost unit, fitting/hose sizes and lengths will vary from case to case. Usually, these will have to be custom fabricated in most applications.
You can see in the picture below that there are distinct plumbing differences between the 96-98 and the 99-04 year ranges. The factory plumbing of these is another way to spot these differences between the two versions.

Traditionally, AN lines and fittings are used for the plumbing of these swaps. These fittings will provide you with a secure, leak-free connection and an aesthetically pleasing look to your build. These lines and fittings can be modified to length for a streamlined installation. In some cases, you can also opt to have stock Hydroboost lines modified through a local shop.
If you are plumbing a Coyote Swap application, SVE has you covered with a complete kit for both of the KRC Hydroboost and the PBH Hydroboost applications.
Choosing a fluid reservoir is another area you must cover when plumbing your Hydroboost system. Placement in the engine bay will determine what style reservoir you will use. The most commonly used application will be the 1996-2004 2V/4V reservoir. These will be an OEM Ford option and will hold ample fluid for the swap.
Brake lines will also need to be considered within your swap list. The master cylinder you choose from the 1996-2004 year ranges will all have varying sizes of outlet ports. We offer a full selection of these lines from Maximum Motorsports to complete your brake system.
Fitment Note
When performing these swaps, you can lose the functionality of the factory cruise control.
The information provided within this article will only pertain to 4-wheel disc brake swaps. This style of swap will not be recommended for rear drum brake applications.
Modification of the factory firewall may be required in some cases.
Well, we hope this article has helped you with your Hydroboost swap needs. Check out all of our Hydroboost Swap Parts on the links below. As always, make sure to keep it here with LMR.com for the latest tech info for your 1979-present Mustang!
---