For this dyno article we will turn our attention to our 1990 Fox Body Mustang GT with 180,000 miles! We at LMR have named this Fox "Two-Tone" as you can clearly see because of its paint job. This is a research and development car for us so we put parts on and take parts off on a regular basis. With that being said the car is mostly stock. Check out our 1990 Mustang Specs Article to learn more!
---
Jump To:
Dyno Numbers & Photos
---
← Swipe For More 1990 Fox Body Mustang GT Photos →
For the current mods they are pretty much stock except for a few minor upgrades listed below:
Timing moved from 8-10 degrees from Ford's recommended 14 degrees
Offroad H-Pipe
Turn Down Catback Exhaust
Before we make the dyno pull it does have the T5 transmission so the pull will be made in 4th gear which is the 1:1 ratio. It also includes the 3.73 rear gears and a 17" SVE 03-04 Cobra Style 4 Lug Wheel. The tank is filled with 93 octane so Let's make the pull!
---
1990 Mustang GT Dyno Numbers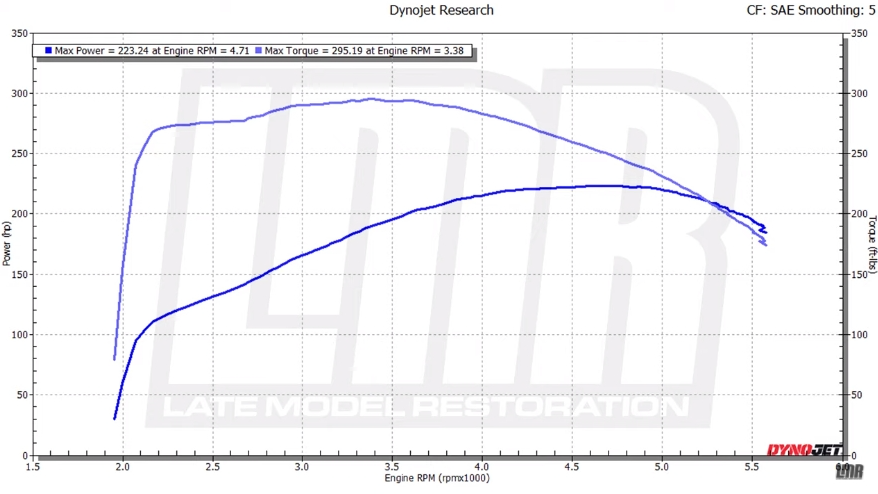 ---
Here are the results! This car made 223 HP at 4700 RPMs and 295 lb-ft of torque at 3300 RPMs. These results are just about what you would expect with these modifications. We hope this dyno gave you some more insight on just what these iconic Fox Body vehicles can do. As always keep a lookout for more dyno articles and videos right here at LMR.com. Shop our wide variety of Fox Body Mustang Parts below!
---