For this dyno article we will turn our attention to our 2003 Mustang GT. A little backstory on the car is that it use to belong to LMR in where we bought this local. A few owners prior to us owning it told us it was apparently a race car at one time. So the owner before us buying actually removed a bunch of the race goodies and returned it almost fully stock except for a few components that we mention below. This car currently belongs to LMR employee Jourdan Heady and we can't wait to see what all he ends up doing to this New Edge! Check out our 2003 Mustang Specs Article to learn more about this New Edge Mustang.
---
Jump To:
Dyno Numbers & Photos
---
← Swipe For More 2003 Mustang GT Photos →
---
Dyno Technical Data
This vehicle has the TREMEC 3650 Transmission which was the factory gearbox for the 2001-2004 Mustangs and is a 5-Speed. Our dyno pull will be made in 4th gear which is the 1:1 ratio. It does have the factory steel driveshaft in it and 3.27 rear gears. We added our 18" SVE R350 wheels on it and the gas tank is 93 octane fuel and to our knowledge, it doesn't have a custom dyno tune or email tune of any kind. Let's get this dyno going!
Mod List
Offroad X Pipe
Bassani Catback Exhaust
Dorman Intake Manifold
3V Pistons
---
Dyno Results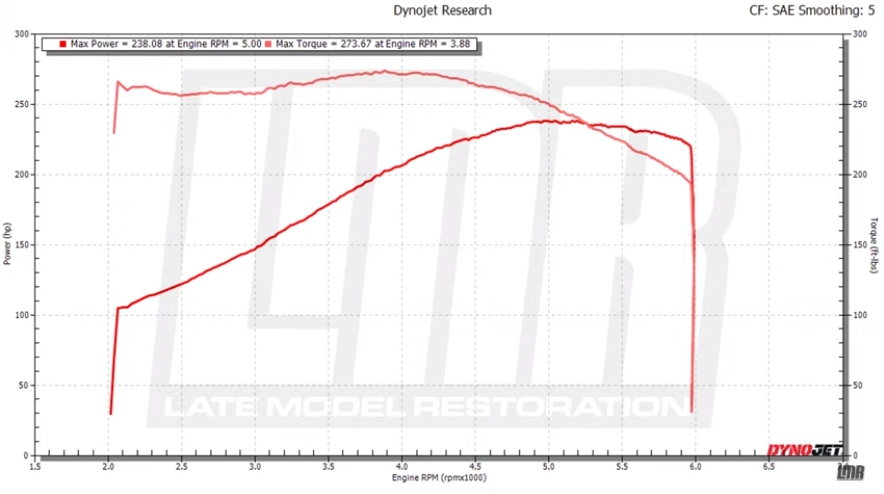 ---
Here are the results! To be honest we expected a little more power with all of the supposed modifications. Horsepower comes in at 238 HP @ 5000 RPMs with 274 lb-ft of torque @ 3900 RPMs. We went ahead and logged the air/fuel ratio for this run just because supposedly with the 3-valve piston's bump in compression we wanted to make sure was acting the way it was supposed to. As the run went on the air/fuel ratio actually got down to about 12:1 which is about right on the money. We hope this dyno gave you some more insight on just what these 2003 Mustang GT's can do. As always keep a lookout for more dyno articles and videos right here at LMR.com. Shop our featured New Edge Mustang Parts below!
---