For this dyno article we will turn our attention to LMR employee Ricky's 1990 Fox Body Mustang GT. At the time of the dyno, it was owned by Ricky but was recently sold to another fellow LMR employee Greg Ward. Ricky is one of our warehouse supervisors and oversees our wheel and tire and truck freight efforts. Ricky put a ton of work in this Fox Body and we highlight this mod list as well as the dyno results below!
---
Jump To: Mod List | Dyno Numbers
---
← Swipe For More 1990 Fox Body Mustang Photos →
---
Mod List
GT40 Iron Heads
Trickflow Valve Springs
Choppy B Cam
47lb Injectors
Vortech V2 S Trim @ 10lbs Of Boost
BBK Shorties
SVE Throttle Body
Catless H-Pipe
Flowmaster Catback
Megasquirt ECU With Custom Dyno Tune
This Fox Body still has the T5 transmission so our pull will be made in 4th gear which is the 1:1 ratio. It has a stock driveshaft, 3.55 rear gear, and a 17" rear wheel with 93 octane fuel in the tank. Let's start the dyno!
---
Check Out Our Dyno Results!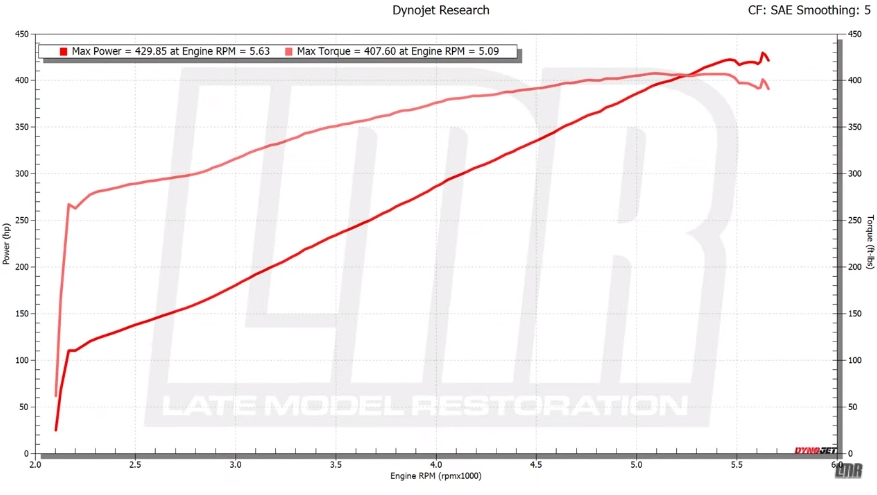 ---
Here are the results! Previously this car had a Powerdyne Blower and at the time it made 310 HP. With this dyno after making more modifications, it resulted in 430 HP at 5600 RPMs and 408 lb-ft of torque at 5000 RPMs! We hope this dyno gave you some more insight on just what these 1990 Fox Bodys can do. As always keep a lookout for more dyno articles and videos right here at LMR.com. Shop our wide variety of Fox Body Mustang Parts below!
---