If the engine in your New Edge Mustang is tired and on its way out, look no further than the Ford Racing 5.0L 4v Engine. As the New Edge Mustangs have aged, there comes a time for either a rebuild or replacement of the factory equipped engine. It has become more common to see Coyote swapped New Edge Mustangs on the road these days. When comparing different routes, it becomes very apparent that the Coyote Engine is a strong contender. This can be contributed to not only the simplicity of the swap for this body style of Mustang but the potential of this powertrain.
---
CONTENTS
---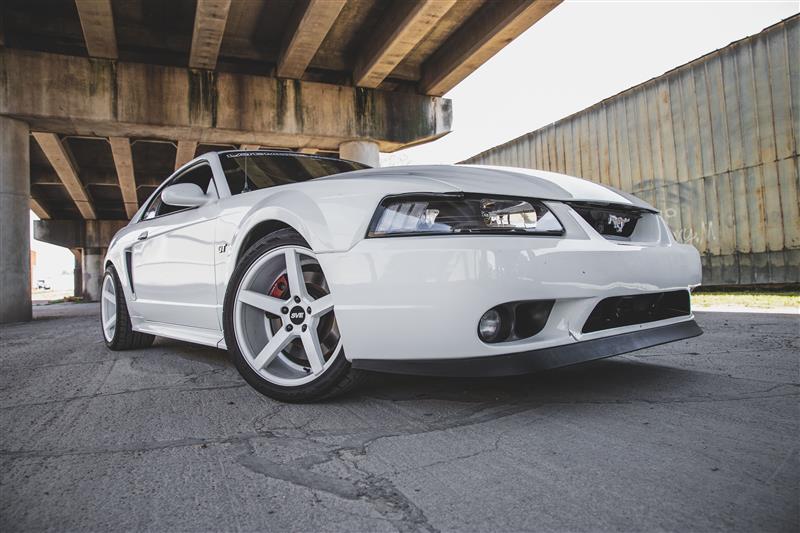 New Edge Coyote Swap Info | Suspension & Engine
The Coyote Engine will fit directly on the factory K-Member with no issue using stock style 4.6L motor mounts. Check out our video explaining How To Use Factory K Member For Coyote Swap. Complications are just around the corner when doing so though. If you intend on using a factory K-Member, you will have to use an aftermarket oil pan (such as Moroso or Canton). With our new Moroso oil pan, it is built so the passenger side pan dimensions allow the use of most aftermarket swap headers.
We could go on for days on why you should upgrade to a tubular k-member, anywhere from weight savings to easier access to work on the car. If you choose to upgrade to a tubular k-member, you will be able to use the factory oil pan that comes with the coyote engine and there will be plenty of header clearance. Save yourself the time and headache by spending the extra money on a tubular k-member. However, there are numerous routes to take when performing this swap. This will depend on your budget and the parts available. It is common for people to pull the 5.0 Coyote Engines out of the F-150 pickup trucks. There are only slight differences between the Mustang GT Coyote engines and the F-150 Coyote Engines.
---
New Edge Coyote Swap Info | Drivetrain & Engine Control Pack
Once you have decided where to source an engine, you will need to decide what transmission to run. While your factory T5, T-45 or TR-3650 will work with this swap, however, any spirited driving or hard launches at the track will reveal the limits of these transmissions.
Depending on the year model, driveshaft and cross member replacement/modification will be required.
"To take out the hassle of wiring up your new 5.0 Coyote Engine, Ford Racing offers a crate engine control pack. This control pack includes a PCM with a Ford Racing calibration, electronic throttle control pedal, OBD II diagnostic port, air intake assembly, MAF sensor, upper and lower radiator hose, and all other needed wiring and harness adapters. It is designed to be used with the included air inlet and stock-type exhaust manifolds. You will need a custom tune, to best fit this swap."
From the factory, new edge mustangs were equipped with a return-less style fuel system. Therefore, in order to properly run a coyote swap, you will have to convert to a return-style fuel system. This type of fuel system can easily be pieced together for under $1000 dollars.
---
New Edge Coyote Swap Parts List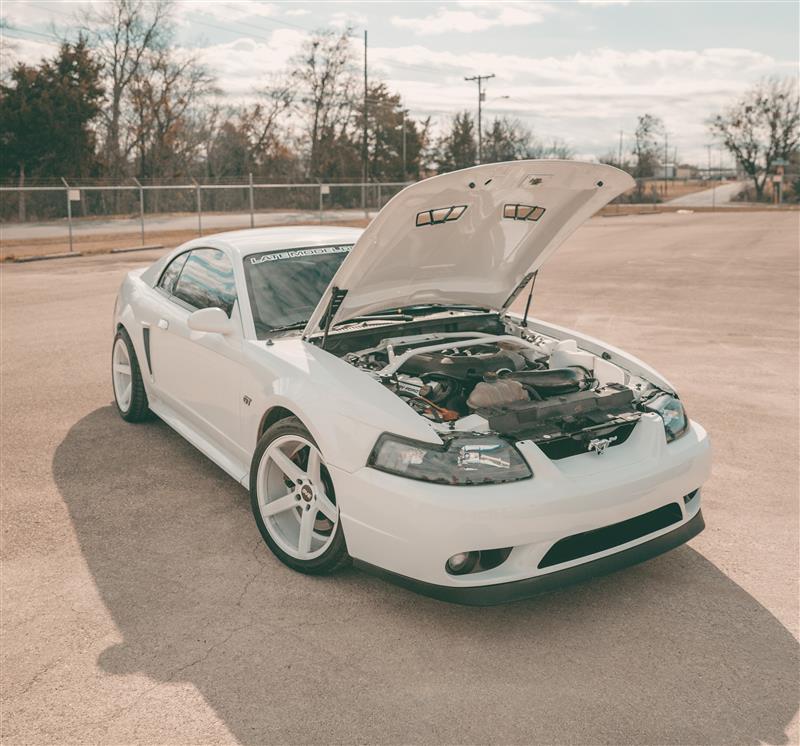 Pick Your Block:
Gen. 1 Coyote Long Block: M6006M50A1 (not fully assembled)
Gen. 2 Coyote Engine: M6007M50A
Junkyard 2011 to 2017 GT Engine
Junkyard F-150 Engine (10.5:1 compression and slightly different camshafts)
Pick Your Transmission:
T5 (Bolt Up Application) NOTE: CAN BE USED BUT NOT RECOMMENDED DUE TO THE LIMITED 300lb-ft TORQUE CAPACITY | (Will Need A RM-6081 Quicktime Housing, any 8 Bolt Mustang Flywheel 96'-current)(Any 10.5" or 11" clutch depending on the year model flywheel being used)
T45 (Bolt Up Application)
TR3650 (Bolt Up Application)
03-04 Cobra T-56 (Bolt Up Application)
T56 Magnum (Will Need A Quicktime Housing, 8 Bolt 96-04 Flywheel, Any 10.5" or 11" Clutch Depending On Transmission Input Splines)
TKO 500/600
TKX (requires bellhousing M-6392-M46)
4R70W Automatic (Will Need An 8 Bolt Flexplate
6r80 (Using M6017M50A Control Pack)
Flywheel & Clutch:
Motor Mounts:
Tubular K Member:
Battery Relocation Kit:
Wiring Harness:
Brackets:
SVE-8511D - SVE 5.0 Coyote Engine Swap Accessory Bracket Kit
SVE-9729PB - Coyote Swap Pedal Bracket
Fuel System:
A/C:
Charging System:
Exhaust:
BBK-1786 - BBK Coyote Swap Catalytic X-Pipe
Optional Features:
M9680M50 - 2011-2014 Ford Racing 5.0L Engine Cover Kit
M9680M50A - 2015-2017 Ford Racing 5.0L Engine Cover Kit
---
At Late Model Restoration, we want to provide you with all of the information possible to properly and safely Coyote Swap your New Edge Mustang. Every car is different and each build may require different parts, modifications, and additional funds. If you have any questions, comments, or concerns about this swap, please feel free to contact us! For all of your 1979 to present Mustang needs, keep it right here with the real, the only Mustang enthusiasts, LMR.com.
---
Source: Ford Performance
---