If the engine in your New Edge Mustang is tired and on its way out, look no further than the Ford Performance 5.0L 4V Engine. As the New Edge Mustangs have aged, there comes a time for either rebuilding or replacing the factory-equipped engine. It has become more common to see Coyote swapped New Edge Mustangs on the road these days. When comparing different routes, it becomes apparent that the Coyote Engine is a strong contender.
---
CONTENTS
---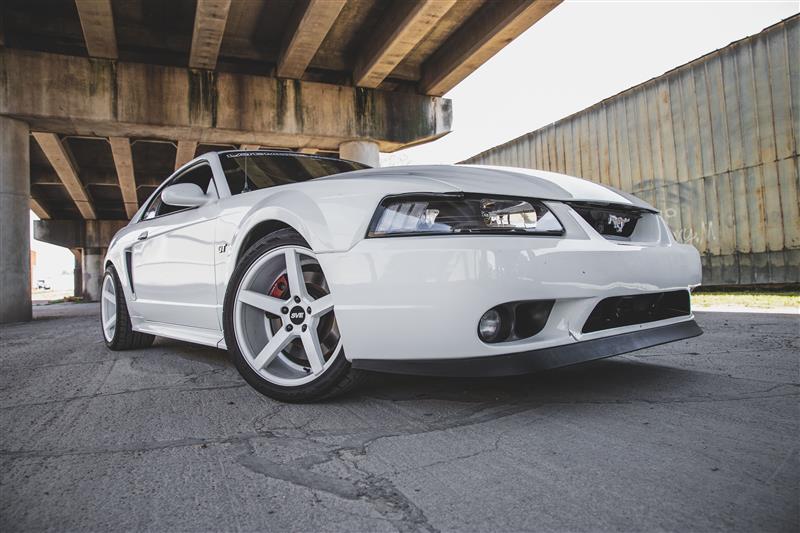 New Edge Coyote Swap Info | Suspension & Engine
The Coyote engine will fit directly on the 1996-2004 factory K-Member with no issue using stock-style 4.6L motor mounts. Check out our video explaining How To Use Factory K Member For Coyote Swap. Complications are just around the corner when doing so, though. If you intend on using a factory K-Member, you will have to use an aftermarket oil pan (such as Moroso or Canton). The Moroso oil pan is built, so the passenger side pan dimensions allow the use of most aftermarket swap headers.
We could go on for days on why you should upgrade to a tubular k-member, anywhere from weight savings to easier access to work on the car. If you upgrade to a tubular k-member, you can use the factory oil pan with the coyote engine, and there will be plenty of header clearance. Save yourself time and headaches by spending the extra money on a tubular k-member. However, there are numerous routes to take when performing this swap. This will depend on your budget and the parts available. It is common for people to pull the 5.0 Coyote Engines out of the F-150 pickup trucks. There are only slight differences between the Mustang GT Coyote engines and the F-150 Coyote Engines covered in this article.
---
New Edge Coyote Swap Info | Drivetrain & Engine Control Pack
Once you have decided where to source an engine, you must decide what transmission to run. While a factory T5, T-45, or TR-3650 will work with this swap, any spirited driving or hard launches at the track will reveal the limits of these transmissions.
Depending on the year model, driveshaft and cross-member replacement/modification will be required.
Ford Performance, Holley, and many other companies offer a crate engine control pack to eliminate the hassle of wiring up your new 5.0 Coyote engine. These control packs usually include a PCM and all other needed wiring and harness adapters. Custom tuning is usually required when coyote swapping your Mustangs, so remember this when swapping your Coyote into your Mustang!
From the factory 1999-2004 new edge mustangs were equipped with a return-less style fuel system. Therefore, you must convert to a return-style fuel system to properly run a coyote swap. This fuel system can easily be pieced together or purchased as a complete fuel system.
---
WHAT PARTS ARE NEEDED FOR A COYOTE SWAP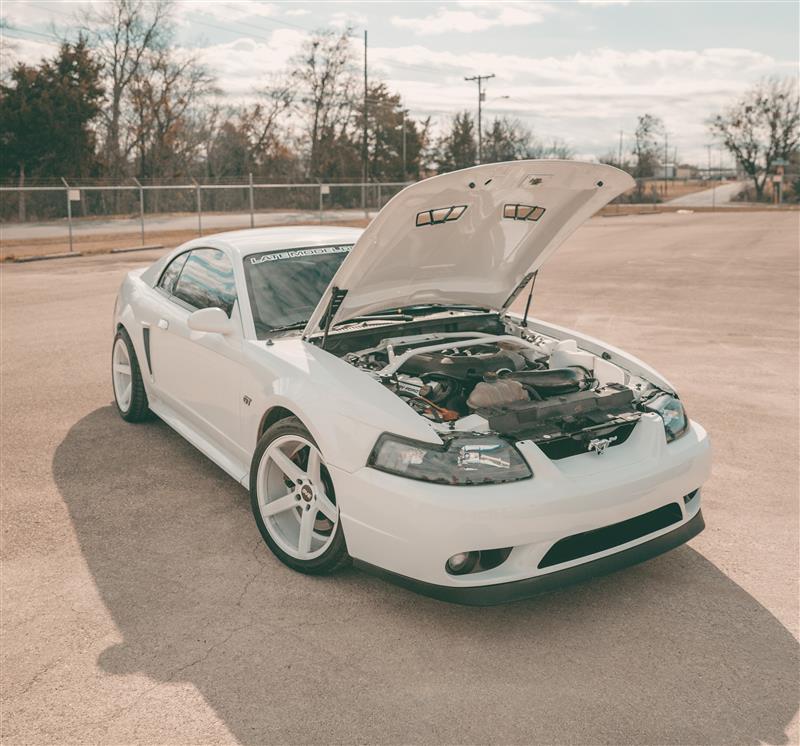 Some of the major components you will need to purchase to complete a Coyote swap in your SN95 Mustang are the following:
5.0L Coyote Engine
Engine control systems such as a Ford Performance Controls Pack
A transmission with a Ford modular engine bell housing
K-member and motor mounts - Coyote/Modular engine compatible
Brake system that is compatible with the Coyote engine (see below)
Oil pan that will clear the k-member (see below)
Compatible Flywheel/clutch combination or flexplate, depending on your transmission.
These are just the base-level parts you will need. Below we cover some of the more detailed parts you will need to complete your build. Many of these parts come down to your budget and how you intend to drive the vehicle. Things such as A/C systems can be deleted, and power brakes can be swapped out for manual brakes for Mustangs that will be more of a race car than a daily driven ride.
NOTE: Please keep in mind this is a general list of Coyote Swap Parts. As with any engine swap, you will need to fabricate and source some components independently; however, Late Model Restoration has a fantastic selection of swap parts. To see the complete offering of these parts, click on the following link: 5.0L Coyote Swap Parts.
---
At Late Model Restoration, we want to provide you with as much information as possible to properly and safely Coyote swap your 1994-04 Mustang. Every car is different, and each build may require different parts, modifications, and additional funds. Please contact us if you have any questions, comments, or concerns about this swap! For all of your 1979 to present Mustang needs, keep it right here with the real, the only Mustang enthusiasts, LMR.com.
---
SN-95 COYOTE SWAP ENGINE & CONTROL PARTS
This section looks at the heart and soul of this swap. We will cover everything from selecting the engine to helping you locate all the engine-related swap parts you need to install one of the 5.0L Coyote motors in your SN95 Mustang. The first step will be determining what generation engine you want to swap into your car. Next will be selecting the correct control pack or engine control unit that matches the engine generation and transmission you want to run.
What engines can I use on my SN95 Coyote swap?
With the various Coyote engines available, your first order of business when Coyote swapping your SN95 and New Edge Mustang is to choose which engine you will swap. Earlier model Coyote engines will be the best choice if you do a budget-friendly Coyote swap, as the engines can be purchased used from reputable engine recycling companies. If you want the latest Coyote engine available, shop our latest selection of Coyote engines by clicking the button below!
What control pack do I need for my Coyote swap?
The heart of getting your engine and transmission operating once you have swapped your chosen engine and transmission into your SN95 Mustang will be choosing the correct control pack. There are many options for control packs based on the generation of the engine you are running and what transmission you choose to run. Shop our available control packs, and wiring harnesses below!
What cooling system modifications are needed for the Coyote swap?
SN95 Mustangs come with quite robust cooling systems from Ford. For a cleaner installation, you will want to use a 4.6L-based radiator. Coyote swap engines will require a remote overflow based on 4.6L or coyote engines to install the radiator hoses properly.
Regarding the cooling fan on your coyote sway, you can use the factory cooling fan or opt for a contour fan kit from LMR.com!
What fuel system modifications are needed to Coyote swap your SN95?
1994-1998 SN95 Mustang came with a return-style fuel system that most engine control packs require for your Coyote swap. 1999-2004 New Edge Mustangs were equipped with a returnless fuel system from Ford. Most control packs will require you to run a return-style fuel system meaning that 1999-04 Mustangs will require the conversion to return-style fuel systems.
What oil system modifications are needed to Coyote Swap your SN95?
Depending on the k-member you plan on running on your Coyote swap, some k-members will require specific oil pans for additional clearance. Also, aftermarket oil pans are a great way to increase the oil capacity for racing applications.
A note for your swap, the Gen 1 and Gen 2 Coyote will have a traditional oil pan and pick-up tube. The Gen 3 Coyote integrated the pickup into the oil pan. You can also distinguish the oil pans by the material in which they were constructed. Gen 1 and Gen 2 will be constructed from stamped steel, whereas Gen 3 will have a plastic oil pan. The Gen 3 oil pump is specific to the pan and is not interchangeable with the Gen 1 and Gen 2.
What charging system modifications are needed to Coyote swap your SN95?
If your Coyote does not have the alternator on your engine, we have a couple of options for replacement alternators. Different generations will have different amperage alternators. Throughout the generations, Ford has increased the amperage output of alternators to keep up with the increased accessories on the new Mustangs. The Ford original alternators will provide enough amperage for your Coyote swapped SN95 with accessories like electric fans, radio upgrades, and other electronic accessories.
What parts do you need to retain A/C system with your Coyote swap?
Custom hoses and lines are required to keep the air conditioning in your 1994-04 Mustang with the Coyote swap. At this time, custom fabrication is required for these Mustangs.
---
SN95 COYOTE SWAP TRANSMISSION & DRIVETRAIN PARTS
This section will look at the needed parts to swap and install the correct transmission into your Coyote swap. There are a lot of corresponding parts that go along with this, so please follow along and check out the links below to see our complete line of transmission and drivetrain swap parts.
What transmission is best for your SN95 Coyote swap?
Once you have chosen your engine, the next choice will be selecting the transmission you will be connecting to your engine. You can choose from many options, depending on if you want a manual or automatic transmission. Please use the guide below for more information on the fitment of different transmissions and shop our current offerings of transmissions by clicking the button below.
The below transmissions will bolt onto the Coyote with their supplied bellhousing.
1996-2001 Mustang T45
2001-2004 Mustang TR3650
2003-2004 Cobra T-56
1996-2004 Mustang 4R70W/4R75W Automatic
2011-2017 Mustang 6R80 Automatic
2018-Current Mustang 10R80 Automatic
The below transmissions will require the appropriate bellhousings to be able to install on the Coyote block.
T56 Magnum
TKO/TKX 500/600
T5 -While this transmission can be used with the Coyote engine with the appropriate bellhousing, LMR does not recommend the T5 as a permanent solution due to the 300lb-ft torque capacity.
What transmission crossmember is best for your Coyote Swap SN95?
Once you have chosen your transmission, you will need to pick up a crossmembers that will match the previous transmission you selected. The crossmember you choose will vary depending on the transmission you decide to run on your Coyote swap. To shop our current offerings of transmissions, click the button below.
Please Note: check all fitment notes on crossmembers for more information on additional products needed for proper installation.
What flywheel or flexplate do you need for Coyote Swap?
Depending on your chosen transmission, you must purchase the correct flexplate or flywheel to link the transmission and the engine. These items connect the engine's crankshaft to the clutch (manual transmissions) or torque converter (automatic transmissions) to the transmission's input shaft.
The Coyote engine is equipped with an eight-bolt crankshaft, which means you will need either an 8-bolt flywheel or an 8-bolt flexplate. If you are running a manual transmission, you must purchase a flywheel. To run an automatic transmission, you must purchase a flex plate.
Please Note: When shopping for clutches on your manual transmission, your will need to match your spline count on your transmission, flywheel clutch diameter, and horsepower rating needed.
What driveshaft do you need for your Coyote Swap?
Late Model Restoration offers options to ease your transmission Coyote swap installation. The driveshaft connects the transmission's output shaft to the rear axle assembly. The transmission you are planning to run on your Coyote swap will dictate which driveshaft you will need to use on your swap. There are some off-the-shelf options for the more popular transmission, but some require custom driveshafts to be manufactured.
---
SN95 COYOTE SWAP K MEMBER & SUSPENSION PARTS
This section will look closely at what k-member you need to swap a 5.0L Coyote motor into your SN95 Mustang properly. We will also cover some other important modifications and components you will need to finish up your brakes and steering. The links below to shop our full line of Coyote swap parts.
What k member is needed to swap a Coyote Motor into an SN95?
There are several ways to get your Coyote engine mounted into your 1994-2004 Mustang. Usually swapping in a tubular k-member is usually preferred to eliminate excess weight from the Mustang and help to increase room around the engine. This extra room around the engine will come in handy when installing exhaust or other items on the bottom side of the Coyote.
Another option is to use the 1996-2004 Mustang k-member instead of the 1994-1995 pushrod SN95 k-member; please note that many items like exhaust and oil pans are designed on aftermarket tubular k-members.
What brake modifications are needed for your SN95 Coyote swap?
When Coyote swapping your 1994-2004 Mustang, the taller and wider heads on the Coyote engine will not allow you to reuse your factory vacuum-assisted brake booster equipped on the 1994-1995 V8 or 1994-2004 V6 Mustang. It will be necessary to convert these models to a hydroboost brake system or manual brake system to allow for the installation of any Coyote-based engine. 1996-2004 V8-equipped Mustangs will already have the hydroboost brake system in place and will not require additional swapping modification in the hydroboost brake booster. If you plan on doing a hydroboost brake system swap, you will need to run a power steering pump setup, as the Coyote was not installed from Ford on a car with hydraulic power steering. The hydroboost brake booster will require a power steering pump to provide the power assist on the brakes. Shop our Coyote swap technical articles, hydroboost, and manual brake components below.
What parts do you need to run power steering with your Coyote swap?
Something that will go hand and hand with whether you want to run power steering on your Coyote swapped SN95 is dependent on if you are running a hydroboost brake system. If you are running a hydroboost system, you will need to run a power steering pump to power the hydroboost system. If you are running a manual steering setup on your swap, you will not be required to run a power steering setup.
There will be a couple of options for a power steering setup on your Coyote swap, check our options below!
What suspension modifications are needed for your Coyote swap?
Another thing to remember is that when changing tubular k-members or coil overs, you will need additional parts like caster camber plates and bump steer kits to get everything in alignment. Shop all our suspension components here!
---
Coyote Swap Extra Parts
Late Model Restoration constantly comes up with innovative solutions, stocking replacement, and performance parts to help you complete your Coyote swap. There are many different parts and guides available to help you. Keep an eye on our ever-expanding category of parts for you, SN95 Coyote Swap!
---