From the factory, your '82 to '95 Mustangs came with a ten-inch clutch and was a fifty-ounce imbalance flywheel. Which made it a very common upgrade to make the switch to a 10 and 1/2 inch clutch whenever you go to swap out the clutch. Now from '86 to '95, all the clutches were upgraded to the 10 1/2 inch version that we know today. All of your factory flywheels were cast iron, six-bolt pattern, and also fifty-ounce imbalance.
---
Balances & SFI
When you get into the realm of replacement flywheels, you do have a few options and it can be a little confusing. For starters, you have your stock style, cast iron replacement flywheels. However, when you get into the options from all of your aftermarket companies, you'll either have billet steel, billet aluminum, or both in fifty-ounce imbalance, twenty-ounce, and even a complete zero neutral balance. Any factory engine or any rebuilt factory engine is going to take a 50-ounce imbalance flywheel. Another thing to remember is that pretty much all of your aftermarket billet flywheels are going to be SFI approved. What is SFI? The SFI Foundation, Inc. (SFI) is a non-profit organization established to issue and administer standards for the quality assurance of specialty performance and racing equipment.
Any of your stroker motors or engines that have had custom balancing work done are typically going to take a twenty-eight-ounce imbalance, but it could use a zero neutral imbalance. You need to check with the shop that did your balance work or any of your machine work to find out what flywheel you need to order.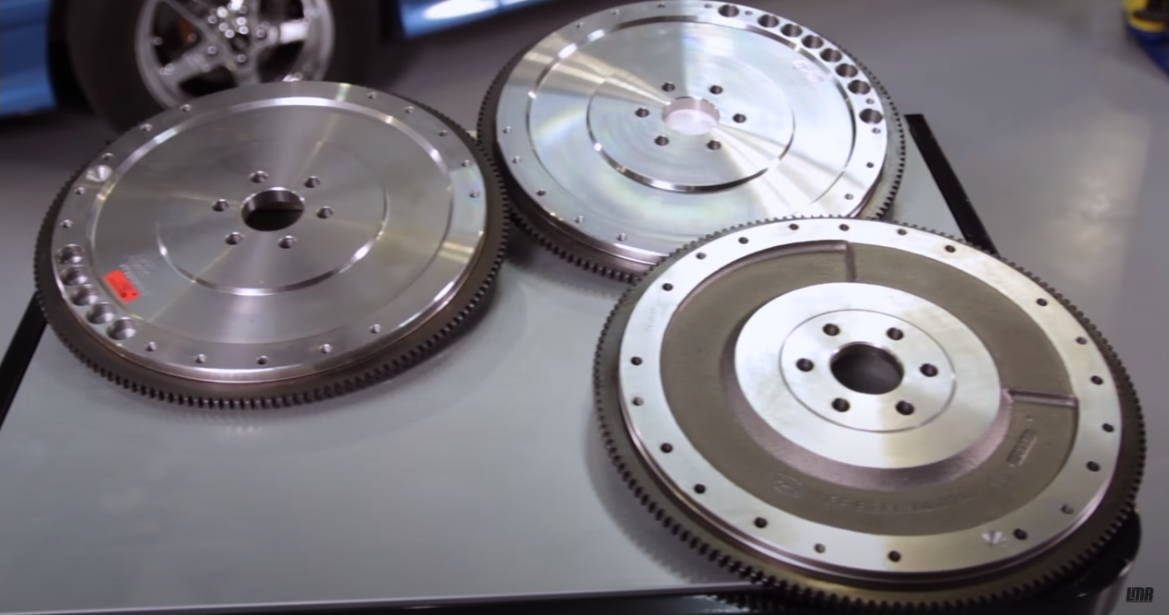 Flywheel Material
Now comes the next question, what materials do you want to use with what? Your cast iron flywheel, obviously, that's a great stock replacement even for mild bolt-ons. If you're going to be visiting the track a bunch, doing a bunch of high RPM clutch dumps on sticky tires, probably not the best choice. You may want to go ahead and step up to billet steel. The billet steel will also work great in a stock application if you just have to have the best of the best for your car.
Billet aluminum is suited well for the road course where you can have instant acceleration out of the corners. Not so great for drag racing, because you lose the inertia that you need to get the car moving right off the starting line. Not saying it would be a bad choice in the streetcar, but you will notice you take a little bit more clutch slip to get the car moving. Clutch types.
Any time you're going to be using a clutch that has a puck typeface, semi-metallic, ceramic, doesn't matter. If it's a puck-type clutch, you're going to want to use either a billet steel or billet aluminum flywheel because a cast iron flywheel will just chew itself up.
---