Mustang Parts Financing
Pick The Parts You Want
Use The On-site Financing Option By Affirm
Get Approved For Financing Mustang Parts
Get Your Parts Now & Pay Later
Who is Affirm/What do they do?
Affirm allows customers to buy what they want today and pay over time. In other words, Affirm offers customers the ability to take out a loan to pay for parts from LMR.com. They offer payments at a rate between 10-30% APR based on customers' credit. With no fees or compounding interest, what they see is what they pay.
Why choose Affirm?
LMR is always looking for ways to better serve its customers, and we hope to continue doing so by providing Affirm as an additional payment option during checkout. During our review of multiple providers that offer similar solutions, we found Affirm to be the most transparent in pricing, easy to use for the customer, and the most reputable. A lot of customers know Affirm from other websites they already visit on a daily basis.
How does Affirm work?
Customers will see the option to pay over time with Affirm while shopping. You will notice new promo spots on product pages and the shopping cart page showing "Payments as low as $36/mo with Affirm" for example. Customers select Affirm as their payment method at checkout, then fill out a few fields for a real-time decision. Customers choose the payment plan that fits their budget. We process the order, Affirm settles the full amount with us, and the customer pays Affirm over time.
What Is Affirm Prequalification?
Prequalification is a new feature that allows you to discover how much you can spend with Affirm just as you begin shopping at LMR.com. Know how much you're qualified for much earlier in the purchasing process instead of at checkout.

Affirm Example
Say for example your total for an order is $184.99. You can use Affirm for a variety of payment plans and interest rates. The most interesting is paying $46.25 every 2 weeks for 8 weeks with no interest! If that plan doesn't work for you Affirm has other payment plans available that best suits your needs.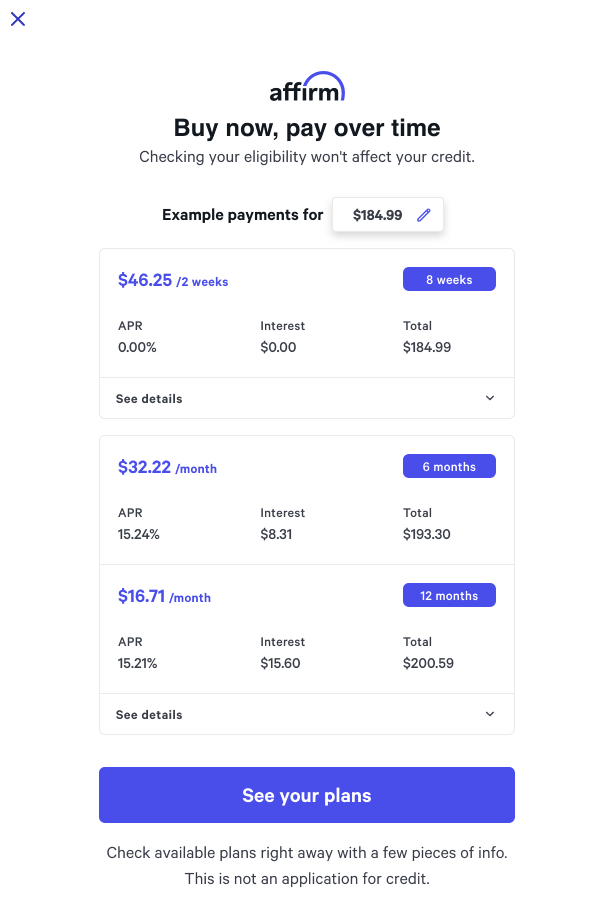 Check out Affirm's FAQ Page for more information.
If you have more questions about using Affirm as your payment method, please check out the Affirm FAQ Page for detailed answers regarding their financing process.
Non-Affiliation Disclosure
Late Model Restoration is not affiliated with Affirm, Inc. Late Model Restoration offers Affirm loan financing as a third-party financing option only. Affirm loans are made by Cross River Bank, A New Jersey State Chartered Commercial Bank, Member FDIC. Late Model Restoration has no ownership or control over internal operations related to, or in direct relation to financing of loans processed through Affirm, Inc.
---