LMR Showroom Temporarily Closed Beginning 4/12/2019
1979-16 Ford Mustang Wheel Offset Guide
Posted 1/5/2016 by Phillip Perez
Mustang Wheel Offset

The offset of a wheel is the distance from the hub mounting surface to the center line of the wheel. This is an important measurement to keep an eye when choosing your next set of Mustang wheels. The wheel offset is measured in millimeters and results in three different types of offsets.

The Three Types of Offset

Positive Offset: The hub mounting surface is toward the face of the wheel.
Negative Offset: The hub mounting surface is toward the back of the wheel.
Zero Offset: The hub mounting surface is even with the centerline of the wheel.


Mustang Wheel Backspacing
The backspacing is back of the wheel to the hub surface. Backspacing is always measured in inches and is closely related to the offset offset meaning, when you change one it immediately effects the other.
This is extremely important because it determines the clearance of the wheel in the well. As well as how much the wheel will stick out past the fender. You can measure a wheel's backspacing by running a straight edge across the rim bead and dropping another straight edge down to the wheel face, measuring that distance. This is easier performed with two rulers.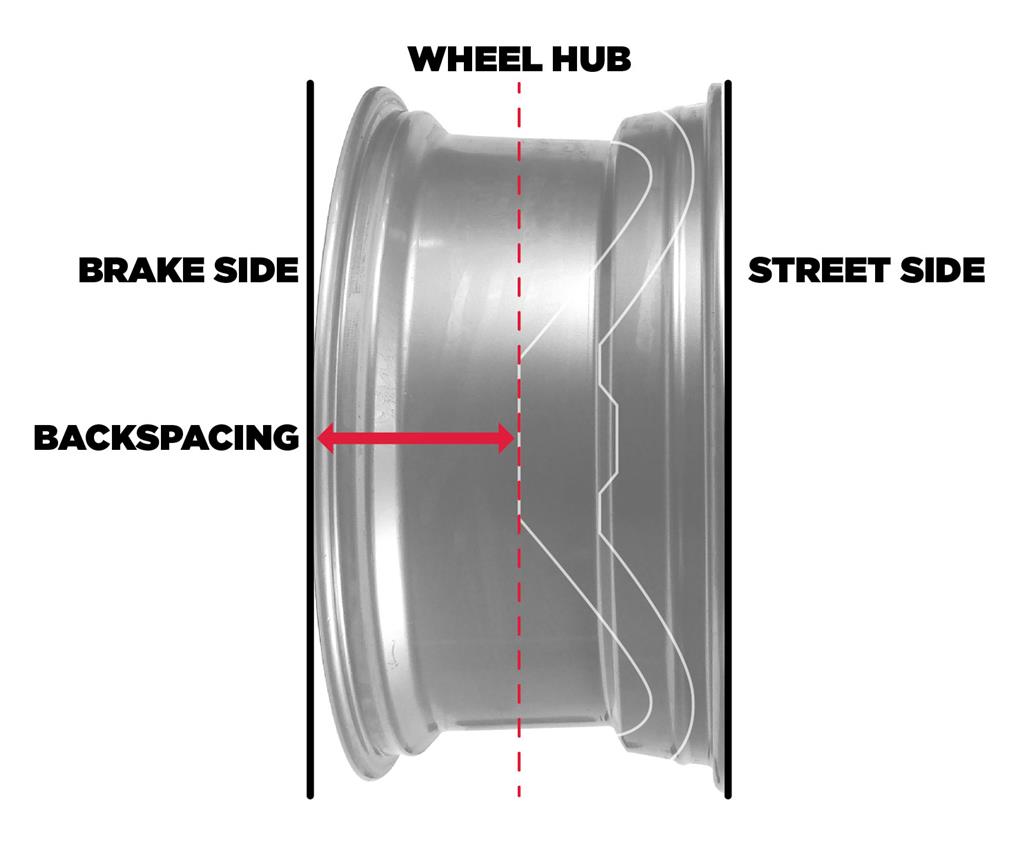 Mustang Bolt Patterns
The bolt pattern is the diameter of the circle made by the centers of the your Mustang's wheel lugs.
| | | | | | |
| --- | --- | --- | --- | --- | --- |
| Year: | Stock Wheel Size: | Stock Bolt Pattern: | Stud Size: | Center Bore: | Offset: |
| 1979-1993 Mustang | 14"x6 | 4"x108mm | 1/2"x20mm | 63.4 | 15-25mm (M) |
| 1985-1993 Mustang GT | 15-16" | 4"x108mm | 1/2"x20mm | 63.4 | 15-25mm (M) |
| 1994-1998 Mustang,GT & Cobra | 15-18" | 5"x114.3mm | 1/2"x20mm | 70.3 | 35-50mm (H) |
| 1999-2004 Mustang, GT & Cobra | 15-18" | 5"x114.3mm | 1/2"x20mm | 70.3 | 35-50mm (H) |
| 2005-2009 Mustang & Mustang GT | 16-18" | 5"x114.3mm | 1/2"x20mm | 70.3 | 35-50mm (H) |
| 2010-2014 Mustang & Mustang GT | 17-19" | 5"x114.3mm | 1/2"x20mm | 70.3 | 35-50mm (H) |
| 2015-2016 Mustang, GT, Ecoboost | 17-20" | 5"x114.3mm | 1/2"x14mm | 70.3 | 35-50mm (H) |
---