We get so many questions about what wheels fit which Mustang the best or which tires do you recommend for the best fit? We have decided to put it down on digital paper and go over what wheels we recommend for your Mustang.
At Late Model Restoration we want to make it as easy as possible to select the perfect wheel and tire kit for your Mustang. Listed below are some of our most popular wheel and tire combo's that we researched and determined that are the best fit for your Fox Body Mustang!
Basic Guideline For Fox Body Mustang Wheels Backspacing
7" width - 4.5" backspace
8" width - 5-5.5" backspace
9" width - 6" backspace
10-10.5" width - 6.5" backspace
1979-1990 Mustangs:
The 1979-90 Mustang had a smaller front fender opening when compared to the 1991-93 Mustang. Without clearance problems or tire rub, the best appearing and performing set up here is to run a 17x8 front wheel with a 245/45/17 tire and for the rear you can run a 17x9 wheel with a 275/40/17 tire with no clearance problems.
If you want to run a 17x10.5 wheel with a 315/35/17 tire on the rear you can; however, you will have to remove the rear quad shocks and modify the inner fender with a "Large Hammer". It can be done in your driveway in no time, but remember that every Mustang is different! You may not have to do anything besides removing the rear quad shocks. Check out our 15x10 SVE Drag wheel installation here - Installing 15x10 SVE Drag Wheels On Fox Body Mustang.
Earlier (79-86) Fox body Mustangs, as well as 4-cylinder Mustangs won't typically accept greater than an 8"-wide front wheel due to strut-to-wheel clearance. An upgrade to 87-93 5.0 brakes, or SN95 brakes may be required if a wider front wheel is desired on a four cylinder or 4-eyed Mustang.
1991-1993 Mustangs:
These generally require the same as the 1979–90 Mustang, but remember that the 1991–93 has a larger front fender opening, so it's possible that you'll be able to run a 17x9 wheel with a 275/40/17 front tire.
We say "possible" here, again, because every car differs. Mustang Steering Rack Limiters can aid in allowing a larger wheel and tire combination on the front of your Fox Body. They limit the travel of the rack, sometimes preventing tire or wheel rub on full-lock turns. Just don't use too many of them, or your turning radius will suffer!
The Famous 5.0Resto "5-lug Conversion kit"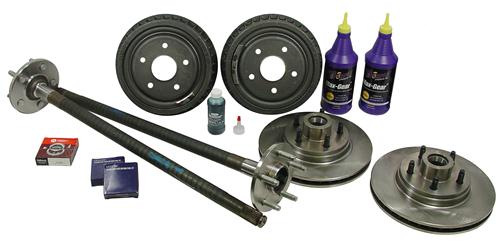 One of our most popular Fox Body wheel restoration parts is our 5-lug conversion kit which allows you to run certain 5-lug wheels on your 1979-93 Fox Body Mustangs for added safety and looks. It also allows you to expand your wheel choices. Below is a list of wheels that will work with the 5.0Resto five lug swap kit. Do you have questions about installing one of these kits? Check out our full step-by-step installation video here - Mustang 5 Lug Conversion Kit Installation.
Why can't I use any 5-lug Mustang wheel with Late Model Restoration's 5 Lug conversion kit?
The main reason that a lot of Fox Body Mustang wheels will not fit is because for our kit we use a replacement front 5-lug rotor in our kit that still uses an outer bearing. What happens if you try to install something such as a Bullitt wheel? It will simply pop out the center cap and not allow it to stay snapped in. You can still use a Bullitt wheel on the front, but you will be missing a front center cap. Other factory 94-04 Mustang factory style wheels won't clear the larger center hub at all, causing a dangerous situation where the wheel will not seat on the rotor. In 1994 the Mustang went to a front hub assembly, which did away with an outer bearing that caused problems in attaching late-model wheels to your mustang!
Here is a list of wheels that will work with the 5.0Resto 5-lug conversion kit without modifications:
SVE Drag Wheels
95 Cobra R Wheel
94-95 17" "Tri-Bar" GT Wheel
94-98 16" Waffle Star Pony Wheel
94-97 Cobra Wheel
94-04 15" V6 Wheel
94-04 16" V6 Wheel
Weld Draglites
Weld Prostars
Weld Rodlites
Bogarts
RaceStars
Billet Specialties Street Lites
There are tons of other aftermarket wheels not listed here that will work with our 5.0Resto 5-lug swap kit. When deciding on wheels not listed here, pay attention to backspace, width, hub center hole diameter, and hub depth.
If want to use a 1994-2004 Mustang wheels that are not listed above, like FR500 or Bullitt wheels, you can! This will require you to do a SN95 front brake conversion on your Foxbody. This installation requires you to use a set of 94-04 front spindles, brake calipers and hub assemblies. This is the perfect opportunity to do a full 5 lug swap with a rear disc brake conversion on your Stang! Be sure to check out our full line of SVE 5 lug conversion kits here – Mustang Brake Kits.
These kits include fully refurbished SN-95 front spindles, SVE Cobra style brake calipers, 13" front rotors, stainless steel front brake lines, all needed hardware and everything you need to do a rear disc brake conversion! We took all the guess work out building this kit on your own. The calipers are available in both black and red powder coat. There are also 28 and 31 spline axle options available. Be sure to check out our full installation article here – Fox Body Mustang Disc Brake Conversion Installation.
SN95 Cobra brakes also provide an added measure of safety and stopping power when replacing either the 87-93 5.0's 11" front discs or the puny 4-eyed and 4-cylinder 9" rotors. Check out some pictures below of a few really nice Fox Bodies with SN95 brake conversions.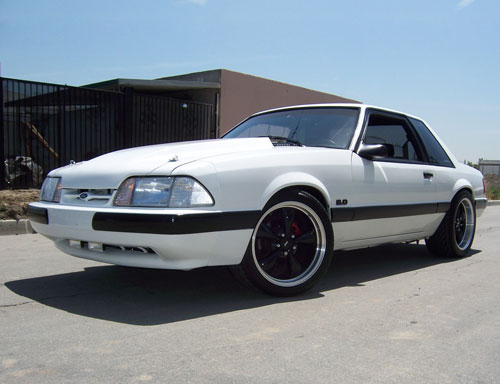 What Mustang wheels can I run if I choose to stay with 4 Lug?
There are still several great choices out there if you choose to stay with a 4-lug rotor/axle/wheel. The most popular is the satin or silver "Cobra R" wheels on Fox Body that are patterned after the 1995 Mustang Cobra R factory race car only with a 4 lug pattern. The SC wheel is designed to look like a Fox Body Saleen wheel and is a customer favorite. For the purists out there, it is hard to stray too far away from a good set of pony wheels. As factory-standard equipment on the 1991-93 Mustangs, this wheel still looks great after all of these years. The pony wheel is no longer available from Ford but thanks to 5.0Resto, you can still pick up a 16" pony wheel in either silver or chrome with a real Ford licensed center cap with the tri-bar running pony emblem!! Shop some of our most popular 4 Lug Wheels below. Here is a list of some of the more popular 4 lug wheel offerings:
Pony Wheels – Silver and Chrome
10th Anniversary Wheels – Multiple colors and sizes
Saleen SC Style Wheels – Multiple colors and sizes
95 Cobra R Wheel
93 Cobra Wheels
2003 Cobra Wheels
How do I clean my new wheels?
Making sure that your wheels stay clean is also important. Here are a few guidelines to follow. For chrome wheels all you really need is soap and water. Don't use metal polish on chrome wheels because it can eat the chrome and leave your wheels looking horrible. If you want a little extra shine grab some Windex. The same goes for your painted or machined wheels. All painted wheels have a clear coat so if you spray the wrong cleaner it will eat away your clear coat and leave your new Mustang wheels dull. So just use soap and water and you will be in the clear!
Which tires do we recommend and which are best for my Mustang?
This is where the rubber meets the road – literally! Here at Late Model Restoration we offer several different tire options. We have pre-selected the best-fitting tire options with popular wheels to create money- and time-saving wheel and tire kits. All of our wheel and tire kits come mounted and balanced. All you have to do is slap them on your Stang and you are good to go. Below are some of our most popular tire options.
Nitto:
Nitto tires are a customer and employee favorite. Nitto's 555 has a stickier compound when compared to most factory tires. The Nitto 555 is an awesome tire and everything you have heard about Nitto's outstanding reputation is true. This Nitto 555 tire is designed for those who are looking for good streetable performance and handling characteristics.
Drag Radials:
Drag Radials by Nitto and Mickey Thompson are best when there's no room for compromise and you absolutely have to launch hard every time on the strip. These DOT approved "race tires" have a smooth footprint for better takeoff and acceleration than most street radials, but they can be driven on the street. Yielding the best performance, these tires will also wear more rapidly due to the soft compound rubber used in their construction.
Slicks:
Slicks are for the drag strip, period. These are completely smooth for the best acceleration on the track. They cannot be driven on the street.
If you are unsure of which wheel or tire combo fits your application, feel free call us at 254-296-6500, and one of our experts will be glad to assist you with any questions you may have!
---