1979-1993 Mustangs have been known for their lackluster 4 lug brake and wheel design. Swapping to a 5 lug option is one of the most common swaps for these awesome cars. Other than the 84-86 SVO and some of the other specialty models, all of these years came with the dreaded 4 lug setup. There are many different ways to upgrade your pony to the more updated 5 lug options and we will go over all of them here.
Many of you may ask, "Why should I upgrade to a 5 lug when my 4 lug set up is working just fine?" There are many different performance gains from converting your Fox to a 5 lug. The most dominating factor being the plethora of wheel options offered in a 5 lug. Depending on the options you go with, there can be added braking capabilities, less frequent maintenance and heightened aesthetics of your Mustang's appearance.
Budget can come into factor on this, and is something you need to determine when choosing one of the many options to go with. The spectrum of the 5 lug swap can go from mild to wild and we will go over the options we offer here at LMR.com.
Basic Fox 5 Lug Swap-
Let's start out with the standard or basic end of the 5 lug spectrum. 1987-1993 5.0L V8 applications are going to be the most common to get the swap. We are not saying that all of the other years and applications are impossible, but we will go over the differences here shortly. The most popular kit is going to be P/N: LRS-4234K. This kit will give you everything you need in one kit (other than the wheels) to have your Fox ready to roll. This kit features new front rotors, rear axles, brake drums, wheel bearings, wheels studs, grease seals, friction modifier, and gear oil. Don't worry 1979-86 Mustangs and 1987-93 2.3L Mustang owners, you can still run this kit, but will have to source some other parts. You will need to use 1987-93 5.0L spindles, struts, and calipers for this kit to work. This kit includes 28 spline axles. Some of you are wondering, what does that mean? If your car is factory specs you should have 28 spline axles in the car already. 99.9% of the time this is correct, but if you are not the original owner and are unsure, pulling an axle is not too bad of a project and would ensure you are ordering the correct item. We also offer the 31 spline version of this kit, P/N: LRS-4234B-K as well as slotted rotor versions of both, P/N: LRS-4234K-SLOT (28 spline) & LRS-4234B-SLOT (31 spline) All of the P/N's listed in this section will have a full list of applicable wheels that will work with no interference issues. Other options like the one from our friends at SSBC will offer an all-inclusive kit for a 5 lug style swap.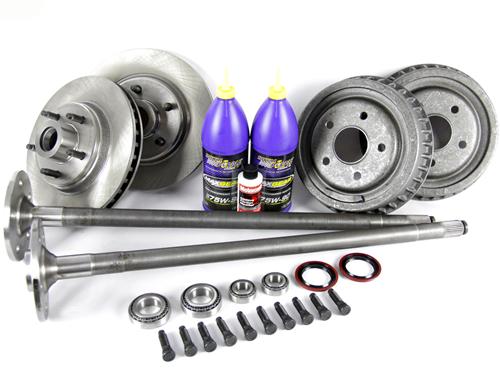 SN Style Swaps-
The SN style swap will be more diverse on wheel selection, brake upgrades and overall driveline options for your Foxbody Mustang. SN swaps tend to be more expensive in most cases but the upfront cost will offset the overall benefits and options you can go with in the long run. Let's use one of the 1986 guy's as an example from the paragraph above. Remember how I brought up that if you have this year, you have to source these other items. Kit's like P/N: SVE-2300EK can kill two birds with one stone! This kit will include everything for all of the 79-93 spectrums for the 5 lug swaps. Featuring spindles, calipers, and rotors from 1994-1998 SN-95 Mustangs, you get high quality parts at an economical price. You will still need to run a 87-93 5.0L strut for the 79-86 5.0 and all years for the 2.3L customers. We offer a great selection of OE style and upgraded versions of these struts as well. By doing this, you will not have to scour the junk yards or spend hours on end searching EBay or Craigslist.
All of the kits we have covered so far have retained the rear drums. One of the most popular options to go with on a Foxbody is the awesome 94-04 Cobra style upgrade! These kits upgrade you from front to rear with all of the highest quality components and performance your ride has been craving for. This kit is not for the faint of heart, as your stopping power will go from barely noticeable to eyeballs popping out of your head. All of these style 5 lug swaps will come in many different color options as well as axle options as well. P/N's like SVE-2300AK & SVE-2300AK-B are going to be designed for the 87-92 year models, SVE-2300BK & SVE-2300BK-B will be for the 93 years. Parking brake cables being the only difference causing the year breaks.
Not all of these kits I have mentioned may be best suited for you, but remember we are always a phone call or a question on our website away. Our staff is well versed in this subject and is always willing to help out!
As always check out our comprehensive articles, videos and website at LMR.com.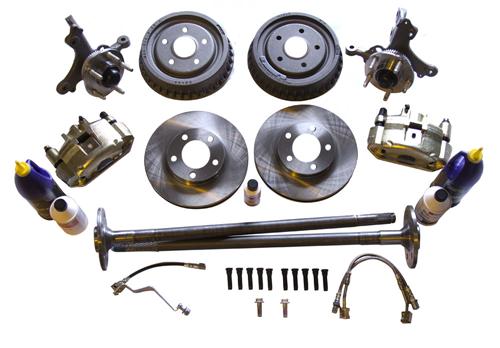 ---