The 2004 Terminator. How could Ford and SVT Improve on what is arguably the best Mustang ever that was built from the previous year? Make the paint change multiple colors as you walk around the car! It is not just a re-due of the 1996 Mystic Cobra either. SVT's Mustichrome color-changing exterior is all new and improved for the last year of the Fox Chassis! 1993 marked the year when Ford's SVT division began transforming their GT Mustang from mild to truly muscular! 10 years later, the most powerful production Mustang ever built, to date, rolled off the assembly line and today it is one of the most sought-after Mustangs ever produced! Only 1,010 Mystichrome SVT Cobras were produced so if you owned or own of these cars, you have a legitimate piece of automotive history!
MYSTICHROME PRODUCTION NUMBERS
Exterior Color Code
Mystichrome - G6
Coupe
515
Convertible
495
GENERAL
Transmission:
6-speed manual (T56)
Gear ratios:
2.66:1 – 1.78:1 – 1.30:1 – 1.00:1 – 0.80:1 – 0.63:1
Curb weight:
Coupe: 3,665 lb - Convertible: 3,780 lb
Wheelbase:
101.3"
Length x width x height:
183.5 x 73.1 x 52.9
EPA City/Hwy:
15 city/21 highway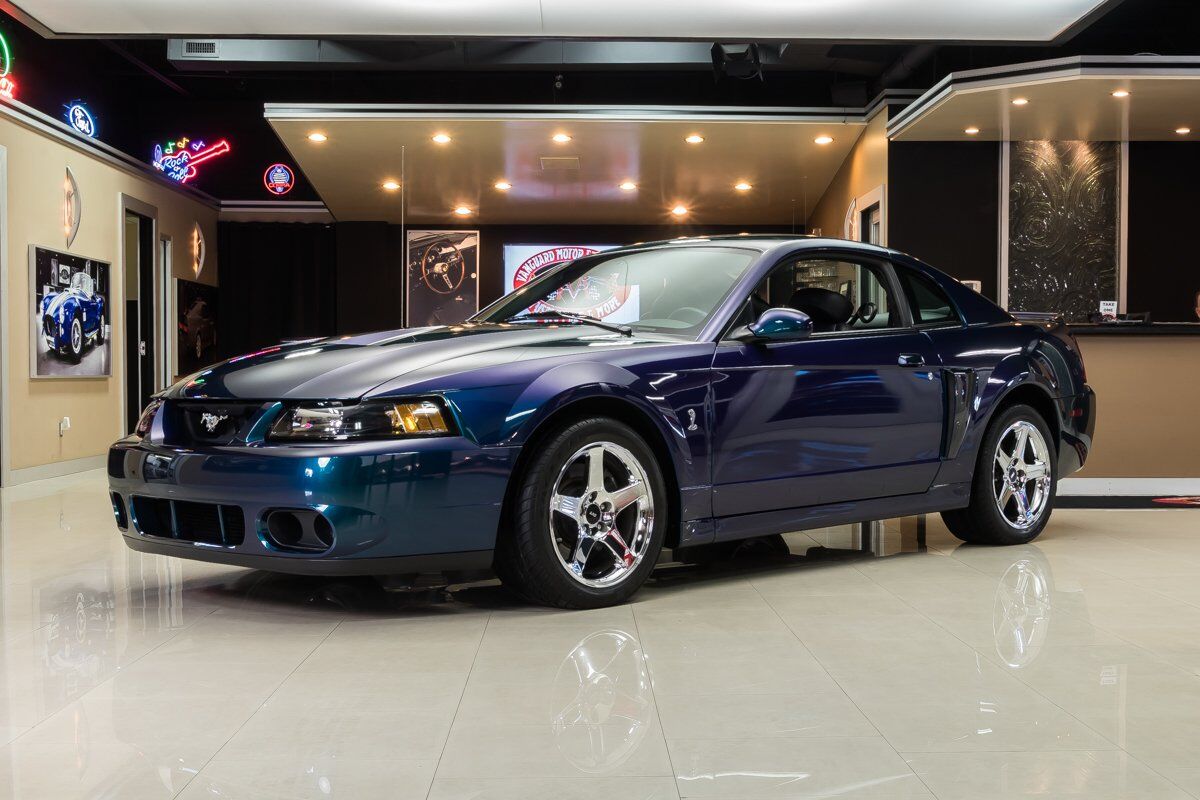 The New Iron Block that replaced the Aluminum block from the 1999-01 Cobra was carried over for the 2004 model and still featured the forged steel crank with the addition of the forged Manley H-beam connecting rods. Dished-top pistons and the revised aluminum Cylinder Heads featured a compression ratio of 8.5:1 to continue to take on the higher combustion chamber pressures encountered during the 8 Pounds of boost from the Eaton Supercharger. Ford also kept the water-to-air intercooler to condense the induction charge.
As with the 2003 SVT Cobra, the Transmission is a Tremec T-56 6 Speed variant putting power through 3.55 Rear end Gears with a needed upgraded of 31-spline half shafts. The Independent Rear Suspension (IRS) was also upgraded with revised upper and lower control arms to handle the power increase.
ENGINE
Eaton M-112 Supercharged 4.6L
DOHC 32-valve V-8
Cast Iron Block
Bore x Stroke:
3.55 in. x 3.54 in.
Compression:
8.5:1
Displacement:
281 Cubic Inch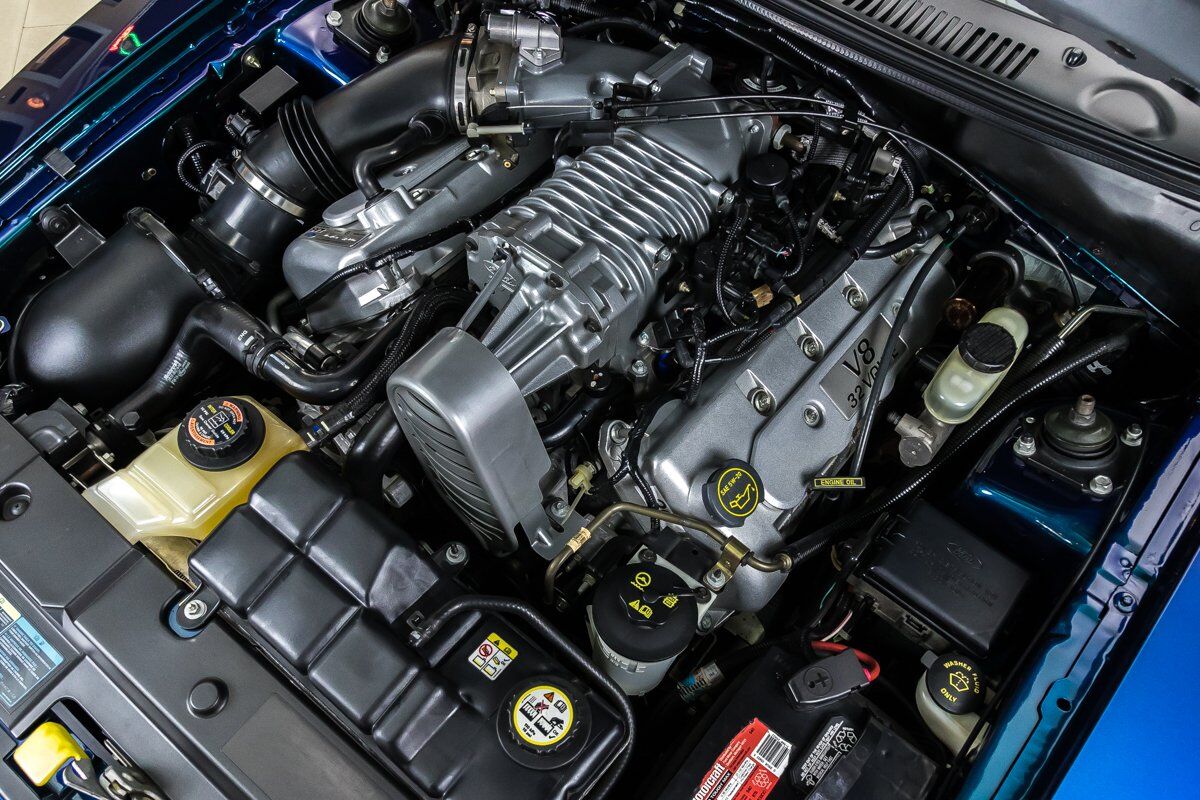 PERFORMANCE
Horsepower:
390-hp
Torque:
390-lb-ft
0-60 mph:
4.5-4.8 sec.
1/4-mile @ MPH:
12.67-13.0 seconds @ 110.7 mph
Rear End Gear Ratio:
3.55:1
Independent Rear Suspension
WHEELS/TIRES
Wheels:
Cast Aluminum 17 x 9, 5-spoke.
Tires:
P275/40ZR-17 Goodyear Eagle F1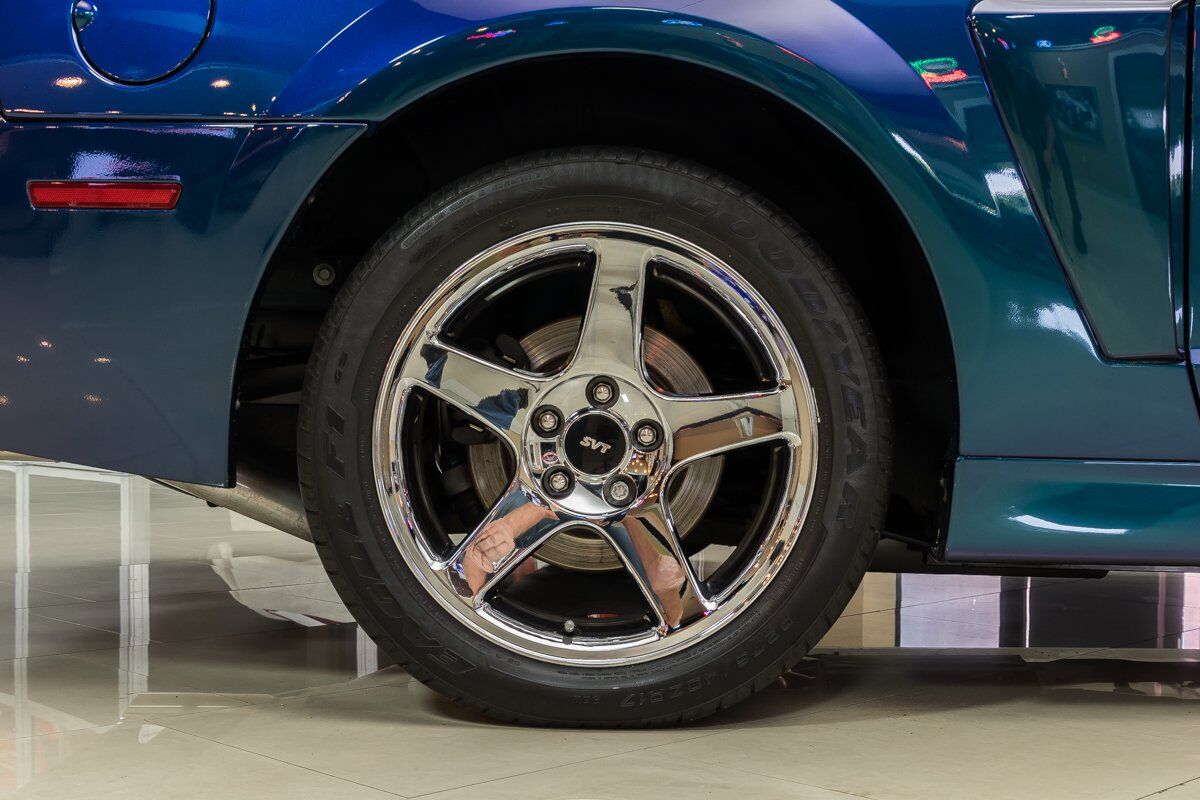 BRAKES
Front:
13" vented Brembo disc, PBR twin-piston calipers
Rear:
11.65" vented disc, single-piston calipers
ABS:
Four channel, four-sensor ABS system
INTERIOR & EXTERIOR
Paying homage to the 1996 Mystic Cobra with its color-changing purple to green shifting paint, Ford's SVT division teamed up with DuPont to produce the Mystichrome Cobra. ChromaFlair pigments were added to the paint that helped produce a shift in color from a bright topaz green to cobalt blue, royal purple, and finally to a deep onyx black. SVT ended up working directly with Garden State Tanning to get the Mystichrome color in the leather inserts found on the Cobra's Front and rear seats. The Mystichrome leather production process required dying the leather black, then spraying the Special Mystichrome paint directly onto the leather, finally sealing it with clear to protect/prevent damage to the color-changing seat inserts. The steering wheel also had the Mystichrome color at the 2, 6, & 10 o'clock positions for a stand out appearance.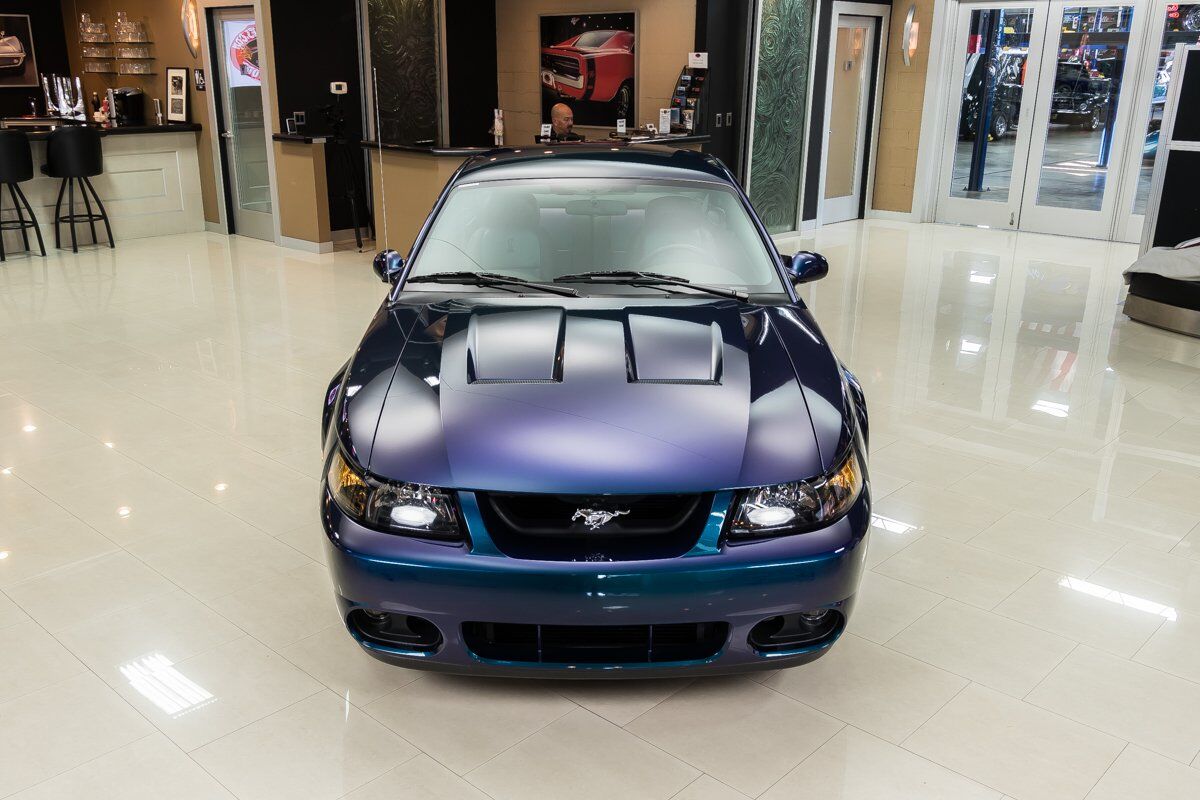 With the exterior of this beautiful beast, the heat-extractor hood carried over from the 2003 SVT Cobra with dual functional vents, along with the special smooth rocker moldings, foldable side mirrors painted to match the body color also add to is specific styling. The Rear Spoiler features a LED brake light that is a ducktail-inspired look instead of the standard wing that is on the 1999 and 2001 Model Cobras. All of these combinations resulted in, arguably, the best-looking factory-built Mustang that Ford ever produced! This was topped off with Standard Chrome 5-Spoke 17x9 SVT Wheels.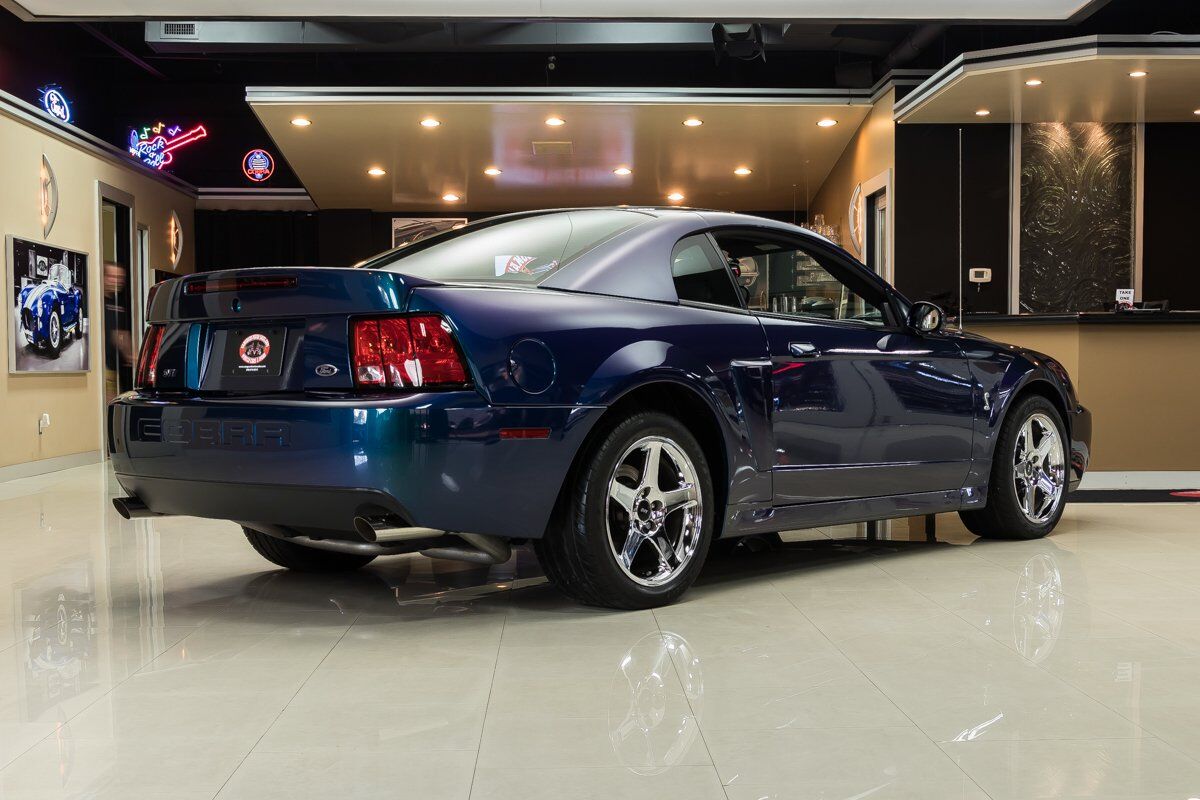 ---
Coupled with the popping Mystichrome paint, Ford and SVT produced a muscle car that will stand unmatched for years to come!
---