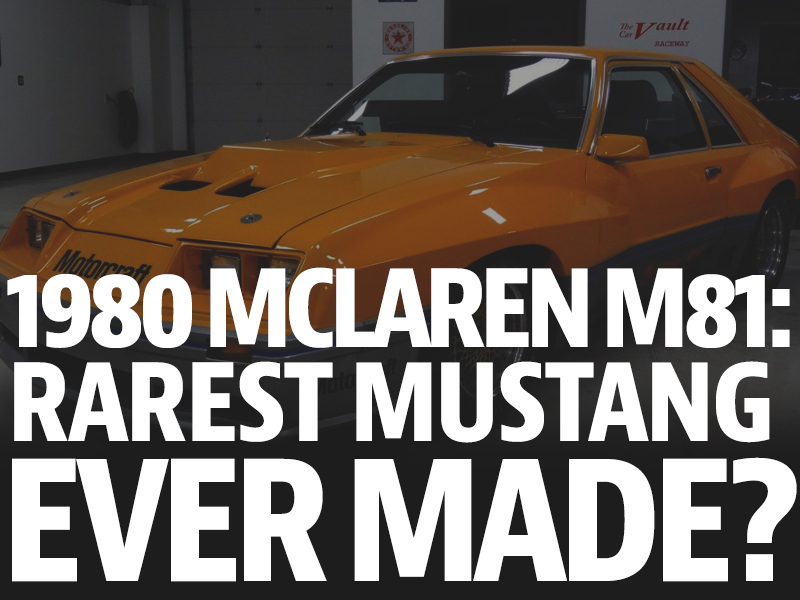 The 1980 Mustang McLaren M81 is thought to be one of the rarest Mustangs of all time. LMR walks you through how this turbo 4 cylinder got its following.
---
What Is The Mustang McLaren M81?
The 1980 Mustang McLaren M81 was a prototype Fox Body Mustang equipped with a 2.3L Turbo motor that had been blueprinted, polished, deburred, & reassembled by McLaren engines. It is often believed that the M81 was the first SVO vehicle from Ford's new Special Vehicle Operations division. While 250 M81 Mclaren Mustangs had been scheduled to be produced, only 10 cars were made after the first prototype.
---
McLaren M81 Mustang History
In the late 70s, Ford wanted to bring attention to the 2.3L turbo motor due to the energy crisis and death of big block motors. To help spread awareness, Ford gave the approval to a special project car that would become the showcase car for Ford's new turbo 4 cylinder motor. Todd Gerstenberger & Harry Wykes collaborated on the design of the new M81 McLaren and completed the prototype in the spring of 1980.
Ford had a few requirements for this car which included highlighting the handling capabilities and using current, off the shelf parts inventory. With the massive positive response to the prototype, Ford's Motorsports division and McLaren Engines got the approval for a limited run of 249 vehicles to begin production in 1981.
---
| Engine | Suspension | Wheels & Brakes | Exterior | Interior |
| --- | --- | --- | --- | --- |
| 2.3L Turbo Engine | Fully Adjustable Koni Shocks | 3 Piece 15x8 BBS Wheels | Functional Heat Extracting Hood | Recaro LS Bucket Seats Matched To Rear Seats |
| T-3 Garret Turbo | Fully Adjustable Koni Struts | 255/55/15 Firestone HPR Tires | Chin Spoiler | 14" Racemark Leather Steering Wheel |
| 9.0:1 Compression | Unique Higher-Rate Springs | 10.6" Front Rotors | Active Front/Rear Brake Ducts | SCCA Approved Bolt In Roll Bar |
| 175 Horsepower | Police Packaged Fairmont Sway Bars w/ Tungsten Bushings | Semi-Metallic Brake Pads | Wide Steel Fender Flares | Unique Stewart-Warner Instrument Panel Integrated To Factory Dash |
| 145 lb-ft Torque | | V8 Mustang Calipers | | Small Brass Dash Plaque |
| | | 9" Rear Drums | | |
---
McLaren M81 Mustang Price & Production Numbers
Although the prototype had a surprisingly large amount of positive feedback, the M81 did not appeal to the consumers at the hefty price tag of $25,000. This McLaren M81 Mustang value caused these hand-built cars to come up incredibly short of its approved 249 vehicles by producing only 10 cars other than the prototype. While the M81 did not catch on, it has been thought that it paved the way for the later SVO Mustang.
Mustang M81 McLaren Production Numbers
249 Slated For Production (Plus One Prototype)
10 Actually Produced (Plus One Prototype)

7 Bittersweet Orange
1 Black
1 White
2 Enduros
---