1996 COBRA/GT Cooling Issue TSB- 96-25-12
The below Technical Service Bulletin, TSB for short, was issued for the 1996 Cobra and GT V8 models and contains symptom, diagnosis, and repair information for this issue.
TSB- 96-25-12 was a massive issue for the 1996 V8 applications. With the new change over to the popular 4.6L engines, problems arose with the subpar cooling system these Mustangs were equipped with. Ford fixed these problems with a revised A/C condenser that allowed for better airflow with a lower fin per square inch count (22 to 16) than the stock model.
They also upgraded the cooling fan and the radiator to the larger 1997 counterparts. This fixed all of the primary overheating issues across the board.
ISSUE:
In severe operating environments (ambient temperatures above 38°C/100°F and/or extended high engine RPMs), some vehicles may experience engine overheating and/or enter thermal protection mode. The A/C system will shut off in the protection mode, accompanied by a reduction in engine power. This may be caused by insufficient cooling from the cooling system in these types of environments.
ACTION:
Install a severe duty Cooling System Kit. The kit will increase the vehicle's cooling system capacity to operate more efficiently in extreme conditions. Refer to the following text for additional information.
The Cooling System Kit will include a larger radiator, larger cooling fan, a revised A/C condenser, and all necessary hardware.
One quick way to know if your upgrade has been performed on your Mustang is to check your driver's side upper radiator mount. The 1996 model will be a triangulated mount and is a few inches off of the radiator tank. The 1997-2004 mount will come directly off of the tank.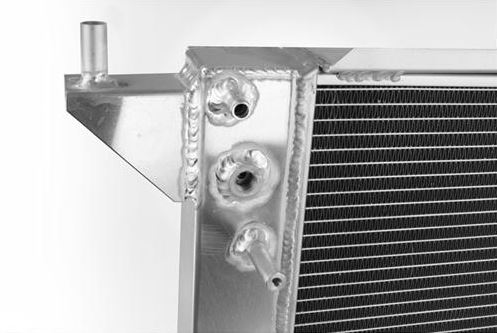 1996 Mustang Radiator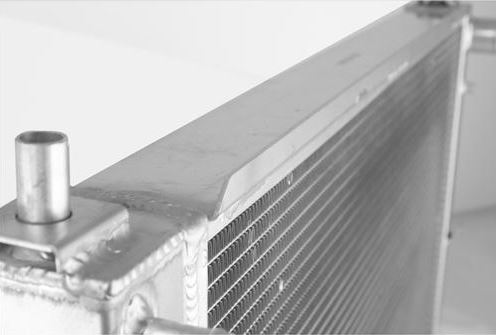 1997-2004 Mustang Radiator
You can also have your local dealership run your VIN to determine if this fix was performed through Ford.
NOTE: THIS TSB ARTICLE PRIMARILY AFFECTS THE WARM SOUTHERN UNITED STATES (ALABAMA, ARIZONA, CALIFORNIA, COLORADO, FLORIDA, GEORGIA, LOUISIANA, NEVADA, NEW MEXICO, OKLAHOMA, SOUTH CAROLINA, TEXAS, AND UTAH).
---